4 March, 2019 | Carp | Anglers
1 Comments
Bianca Venema is 43 years old and lives in The Netherlands, she has been a passionate carp angler for over 25 years and a member of the Dynamite team since 2012.
Name: Bianca Venema
Also known as: Biasso
Age: 43
Hometown & Country: Neede, Holland
Occupation: Retired from business
Mirror PB: 27kg
Common PB: 25kg
Other PB's: Catfish 40kg, Sturgeon 42kg, Grass carp 22kg
Favourite boilie: Monster Tigernut Red-Amo, CompleX-T and The Crave.
Most used rig: 360 rig
Venues fished: Rainbow Lake, Lake Bolsena, Ebro river, Lac de Madine, Grands Pres, Lac de Villedon, Domaine de Bouxier, Michèle's Lake, La Ramade, Etang des Chateliers, Gigantica, Tzaneen Dam SA, Jurassik Carpe, Iktus Ruffaud, Etang 5, De Karperhoeve, Abbey Lakes, The Great Lake, Livardière, Carribean Sea CR, Novomlynska CZ, Twentekanaal, Lage Vaart and many other public and private lakes
Favourite venues: Rainbow Lake, Lac de Madine, The Great Lake, Etang des Chateliers, Lac de Villedon, Michèle's Lake, Ebro River and Lake Bolsena
Target fish you would most like to catch: A big bellied Koi carp
Top carp fishing tip: Use Dynamite Baits!
Aim in angling: To relax, enjoy the outdoor life and share this with friends who love carp fishing.
Highlights of angling career:
Ladies World Record 2012 for Lizette
World Carp Classic world champions 2013 in Italy
First female pair to be world champions in carp fishing history
Runner-up at 2015 World Carp Classic in France
Member of The Netherlands Ladies Carpteam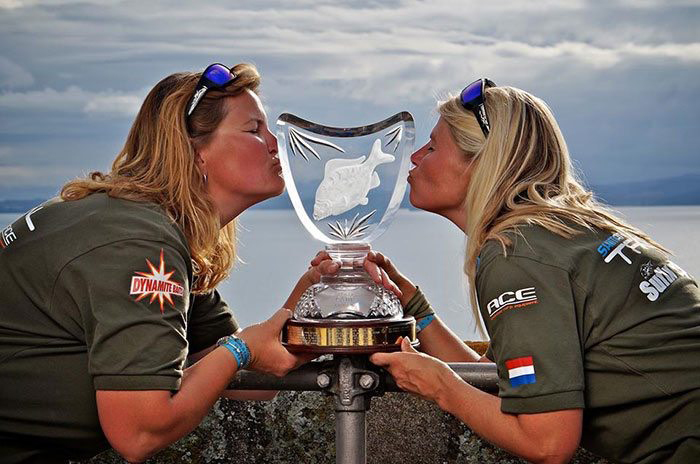 Countries fished: The Netherlands, Belgium, France, Spain, South Africa, Costa Rica, Italy, Czech Republic, Germany and Austria
Other types of fishing: Feederfishing, Big Game fishing
Facebook: https://www.facebook.com/Carptravels/
Instagram: @Carptravels @Lizettebiancarpfishing