29 August, 2019 | Carp | Articles | News
0 Comments
Two Beauties for Dave on Match Lake Return
Yateley carp fishing regular Dave Williams makes a welcomed return to the complex's famous Match Lake and gets off to a great start…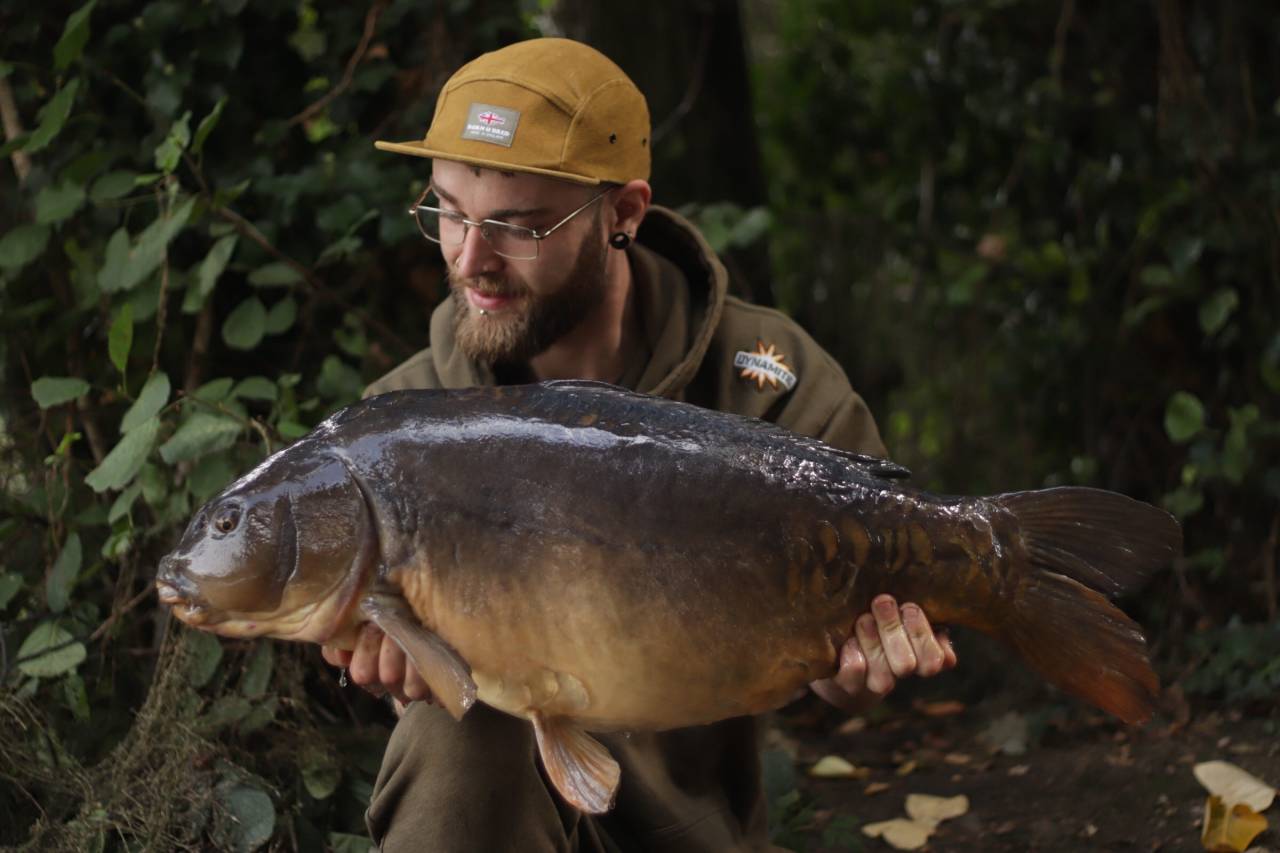 Dave continues…
Unfortunately following on from my success at the new water I was fishing, a rather horrid algae bloom hit the lake and it seemed to stop the carp feeding much. I spent the first couple of weeks of August fruitlessly continuing to fish and bait the spots that I'd caught from before but only catching tench.
I decided to go back and see if the match had quietened off now the weed had got up.
Weeded up..
Fortunately, it had. The weed was right up and a majority of the lake now resembled a football pitch and there was very few other anglers fishing. With that knowledge I set about preparing myself over the following week to return to the match lake and hopefully have a few out.
On the Monday before my trip, my friend Tom managed to land the big ghostie and I was buzzing to get down and see him and help him out with pictures. He then had a mid 30 leather and I decided I was going too double up with him for the night and fish when he left the following day.
He had another 30lb mirror the following morning I set about tying up some fresh rigs ready for when he left.
The rigs..
I tied up my usual rig consisting of a Razor size 5 beak point hook from Carp Spirit as well as their camo skin hook link, 4K braid and Gravity leaders, combined with a big heavy inline lead.
The night passed uneventfully and so did the following morning. I was sat scratching my head as to why I hadn't had a bite when the left hand rod fishing Frenzied Tigers ripped off and I was in battle with my first Match Lake carp of the summer.
She went in the net with relative ease and my friend Jordan came round to help with the photographing and weighing of the fish. She went 30lb 12oz and I was buzzing to be back on the match and straight into the fish again.
The lake to ourselves…
The following week I turned up to find the car park literally empty. I couldn't believe me luck when I walked round the lake and there was barely anybody else fishing. Just my mate Ryan and two other guys.
I set up in a swim called Stew NF swim as it was next to Ryan in the Beach swim and gave me access to a large clear area between two islands with a huge weed bed coming off the back of it, a perfect ambush spot.
I hosted my two usual rigs out, both baited with Tigers and a handful of Frenzied Hemp and dropped. My confidence was high as I settle down for the night.
Another take…
The following morning I was up early in anticipation of a bite. There was fishing showing over my spots and fizzing all over the channel. At about 8:30 my left hand rod fished tighter to the island nearly got wrenched out the rests as I did battle with an angry carp.
With the lead ejecting and the end tackle being so strong the fish went in the net no problem. It was a beautiful 29lb mirror that I hadn't seen before and I was over the moon to catch it. Ryan did me some lovely pictures and I slipped the fish back before re-doing my rod.
I left both rods out all day and night without any action at all. I woke up the following morning however to a complete change of conditions. The blistering heat from the previous day had gone and was replaced with some nice rain and a bit of a breeze. Carp were showing everywhere again and I was confident of another take. Unfortunately another take didn't materialise and I left excited for what September had in store for me.
Dave