25 October, 2021 | Carp | Angler Blogs | Articles
6 Comments
Fishing the NEW Specimen Carp Lake at Float Fish Farm
Father and son duo John and Ethan Cooney recently headed over to Float Fish Farm in Cambridgeshire to fish a big carp lake that's set to open to the public in Spring 2022. Below, Ethan recalls their memorable session and highlights some of the fish on offer…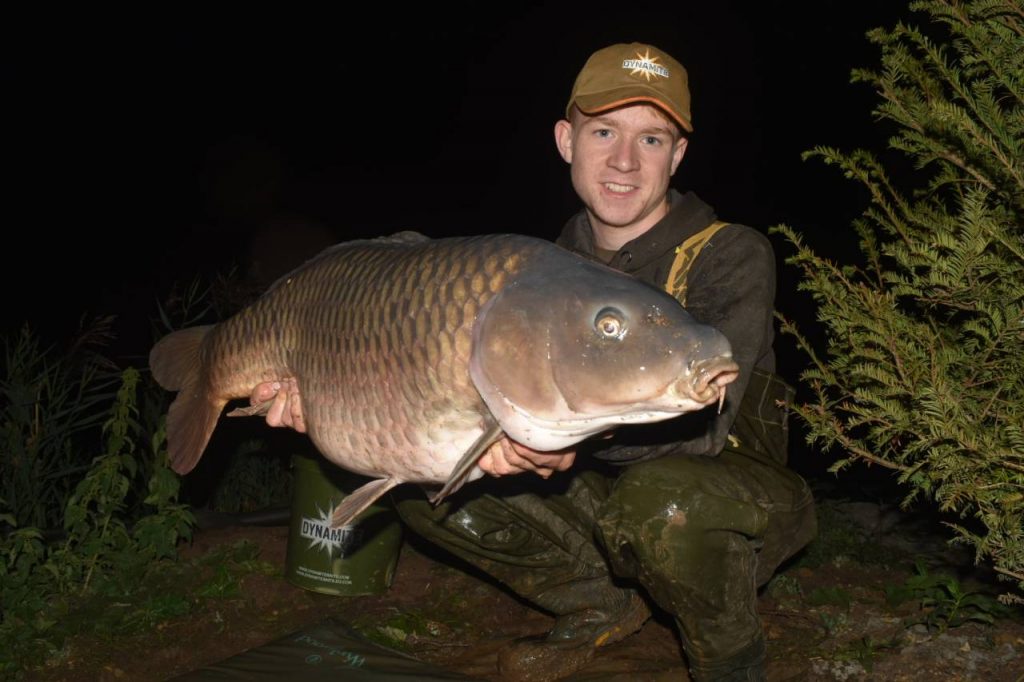 Ethan says…
Firstly, I'd just like to say a huge thanks to Michael Brooker for allowing my dad and I to fish the soon-to-be-opened Kestrel Lake on the Float Fish Farm complex. If our trip is anything to go by, this lake is going to be incredibly popular with day-ticket carp anglers when it opens next year… Onto the session!
After arriving at the fishery towards dark, dad and I unfortunately had little time to look for fish. We did however just about manage to see a few fish jump towards the front of the lake before the light completely vanished so I quickly moved my stuff round to a swim in front of where they showed.
It didn't take me long to find a large gravel area at 14 wraps where I deposited 15 Spombs of 12mm Monster Tigernut Boilies and matching 8mm pellets along with Frenzied Hempseed and sweetcorn before I glugged it all up with the Sweet Tiger Liquid. I then fished three rods on the spot with rigs that all included trimmed down yellow Hit N Run pop ups.
The first bite came at around 1am and after a heavy battle a perfect 26lb 2oz common slipped into the net – a perfect start!
After a quiet night I then woke up early to see if I could spot any signs of fish and have a proper look at the lake. After seeing a fish show a few feet off a reed bed I walked round and baited up the spot with 10 scoops of my Spomb mix for later on and to let the fish feed undisturbed.
The day was mostly quiet for me and dad but at around 6pm I saw signs of fish feeding on the spot I had previously baited up so I decided to drop in a rig. Three hours later the rod this rod absolutely screamed off and I was connected to my second fish of the session and it felt like another decent carp. After a 10-minute scrap I scooped my second 20lb into the net.
Not long after slipping this fish back, my dad's rod was away which resulted in a 19lb 1oz mirror, also taken on a yellow Hit N Run wafter glugged in Sweet Tiger Liquid. Happy days!
Following this, I then put another 10 Spombs out to my rod at 14 wraps and put another five scoops to my reed spot and after another hour the rod positioned in the reeds ripped off again. Even though this fish felt smaller, the site of an immaculate leather carp in the bottom of my net more than made up for the size!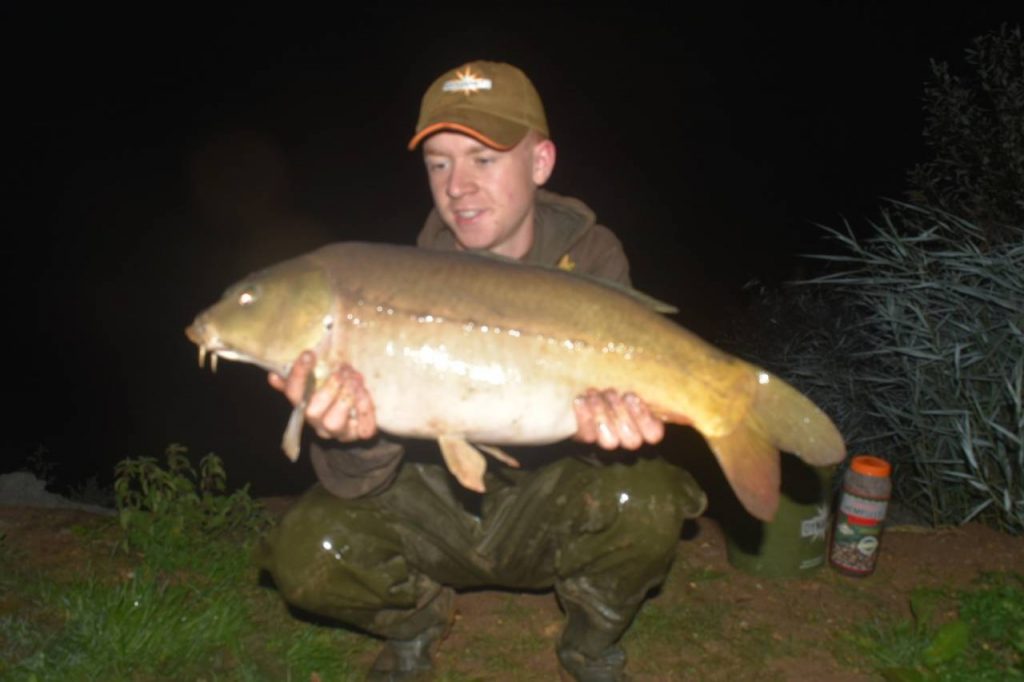 After slipping her back, I put out five more Spombs before I headed into the bivvy for the night but it turned out I didn't get much sleep ad I was awoken early in the morning from a run on one of the rods positioned in the middle at 14 wraps.
Following a short fight I was greeted with a small stockie to finish my amazing trip to Float Fish Farm. My dad also managed a small fish before we were due to pack away which took our total to six for the trip. Each and every one was in mint condition!
Needless to say I can't wait to go back…
All the best – Ethan.