19 July, 2023 | Carp | Angler Blogs | Articles
0 Comments
Claudia Darga and Kristof Cuderman's Czech Carp Trip
Claudia Darga shares with us what happened when Kristof Cuderman invited her to fish a top secret lake in the Czech Republic…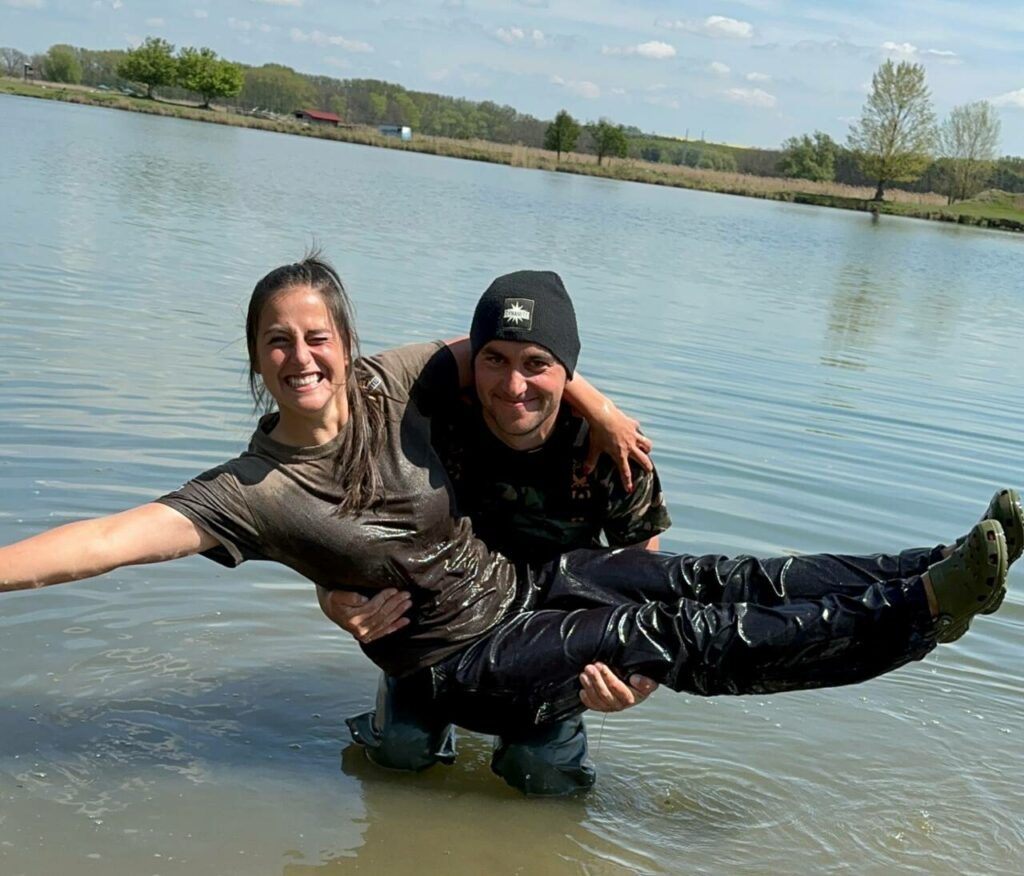 Claudia says…
It was a bit of a spontaneous fishing trip. Kristof told me that he will fish a lake in the Southern region of Czech Republic. I checked my schedule and other things in order to accompany him and hopefully join him for a very successful fishing session.
In general I really enjoy fishing with Kristof. We are a really good team on the bank and have been since the first time we went fishing with each other!
After a short call where we discussed where the lake is located, what we might be expecting to catch and what bait to use, I started to prepare my fishing bag.
Usually I love to be well prepared for my fishing sessions but due to a little kid at home I am not having the endless time anymore to check everything. On other side, I always using the same basic stuff. I always prefer to fish with a simple hair rig and I always have the same pop-ups/wafters and hardened hookbaits in my bag to use. There's nothing complicated in my fishing!
When I arrived at the lake and our fishing spot I was positively surprised. We had a lot of space, it was clean, we had a toilet and a recharge point at the spot. it was the perfect place to stay and fish comfortably for a week.
After checking the lake with a sonar and thinking how best to place the rods, we both prepared to get them ready.
We fished different depths and varying locations as well as using different hookbaits and different kind of feeding approaches at the beginning to keep our options open.
I started with a single 20mm Squid & Octopus Hard Hookbait on one rod and on another rod I placed a 18mm The Source wafter. I always like to start my fishing by using hookbaits with natural colours.
My first rod was placed in a depth of 1.7m where I found a nice drop off and put out four handfuls of Squid & Octopus 20mm boilies around my hookbait. For the wafter rod I repeated the same approach but with 20mm Source boilies.
The first night was quiet followed by a quiet morning. We could see some fish activity where we had some rods which made us feel confident that it won't take too long to get the first run.
We were right and in the evening Kristof had his first run and his first ever fish from the Czech Republic.
I had to be patient until the second morning for my first fish… At around 7am my bite alarm was loudly singing and I managed to get the first fish in the landing net. That beauty went for the Source wafter!
After some quick pictures and short video I released her. These are the moments I admire the most. It has something magical to release the carp!
Over the following days, Kristof and I managed to catch a few nice carp. It was a super successful session together at the lake. If you would ask me which bait was the best? Difficult to say as in the end the fish were attracted by numerous flavours presented to them. Each and every one of them worked!
On our last day we managed to get a double run. Of course we couldn't miss to do some pictures together! We decided to both go into the water for this photo session. After a short while my carp was gaining a lot of power and managed to escape out of my hands – oops!
It was a very nice ending for such an nice fishing trip.
Tight lines,
Claudia
*Here are some other pics from Claudia and Kristof's Czech trip!