8 October, 2020 | Match & Coarse | Articles
1 Comments
Tony Gibson's Specimen Diary – Autumn 2019
In his latest diary Tony recalls his campaigns from last autumn where he meets up with some specimen group members for a social before targeting some big zander and barbel..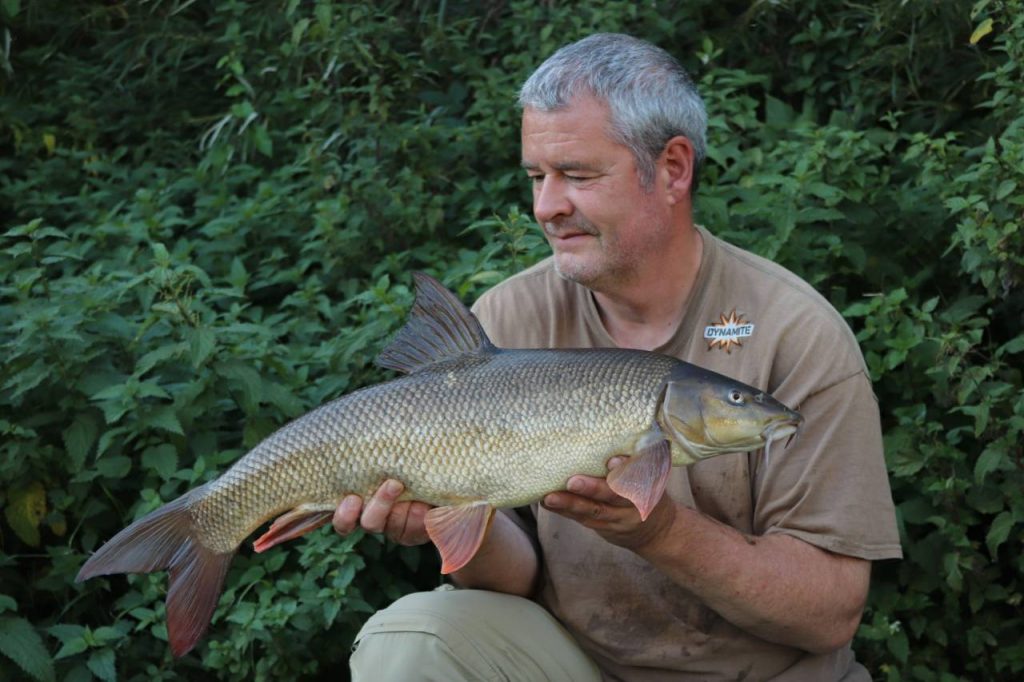 One of the highlights of my fishing related calendar is the annual Northampton Specimen Group (NSG) fish-in/social, which we tend to organise around a weekend in early September each year. For our 2019 'do' we selected a local lake that had been a trout fishery for many years, but had recently converted to a day-ticket carp fishery, with the opportunity to have an exclusive full lake booking for our group members only.
This meant that we could enjoy a good BBQ and a proper social without the possibility of annoying any other anglers if the overflow of noise from the socialising crept up a notch or two. As the group had the lake to ourselves from the Friday morning through to the Sunday afternoon, I'd arranged to meet up with one of my fellow NSG members at the fishery on the Friday morning so that we could have a good scout around before selecting adjacent swims. As neither of us had fished the venue since its 'conversion' we wanted swims close to each other as we'd not fished together for ages and had decided that a good catch-up was in order.
Two swims close together towards the North-west corner looked inviting, with a prominent gravel bar running parallel to the bank through both our swims and plenty of weed around, so we settled there. My swim had the end of the bar and a bit of a plateau which made for an interesting feature, but it was very weedy and required a few hours work with the marker rod and a grappling lead to clear out a small mountain of weed to make the feature weed-free enough to support a couple of end-tackles.
Once I'd got my main target area 'sorted' my tactics were to basically "fill it in" in an attempt to provide a banquet for the tench and carp that would tempt them away from the stocks of natural food. The initial bucket of spod mix consisted of a range of items from Dynamite, including hemp, crumbed, halved and whole CompleX-T boilies, SwimStim and CompleX-T pellets in a range of different sizes from 2mm up to 8mm. A generous helping of the Worm Liquid Carp Food and a good sprinkling of both the Grubby Groundbait Carpet Feed and the dark, peaty Frenzied Hempseed Worm Meal groundbait.
The choice of pellets and the added darker groundbaits means that the spod mix is darker than most, which is something that I tend to aim for, especially on waters that I haven't fished before, or look to have very clear water. The reasons are two-fold. Firstly, the fish may be shy of large lighter coloured areas of feed spread out on the bottom but would be much more tolerant of a darker feed. Secondly, the birdlife, such as coots and 'tuffties', can be a 'nightmare' on some venues once they've found a bed of bait.
so using darker items and darkening it all off with the groundbait makes it less likely to be found by the feathered horrors. Sweetcorn is usually an attractive addition to any spod mix, but again because it's so visual and easily found by the birdlife I added just a handful to a bucket of the spod mix I'd made up. I hoped that the grains of sweetcorn would act as little treats for any fish browsing over the general feed and would be actively searched out, which I hoped I could utilize in my favour by using 12mm CompleX-T hookbaits tipped with a piece of either yellow or pink flavoured artificial corn to try and make the hookbaits appear to the fish as being the most desirable items of food in the swim and shorten the time between bites.
Success after a hard start
After all the commotion of clearing the swim in the first instance and the introduction of the initial bucket of spod mix I wasn't expecting any early action… and so it proved to be. In fact bites were hard to come by for all of us during the early part of our social weekend, but as Friday night turned into Saturday morning a few bites were to be had around the lake and I had my first couple of fish; a couple of average sized tench.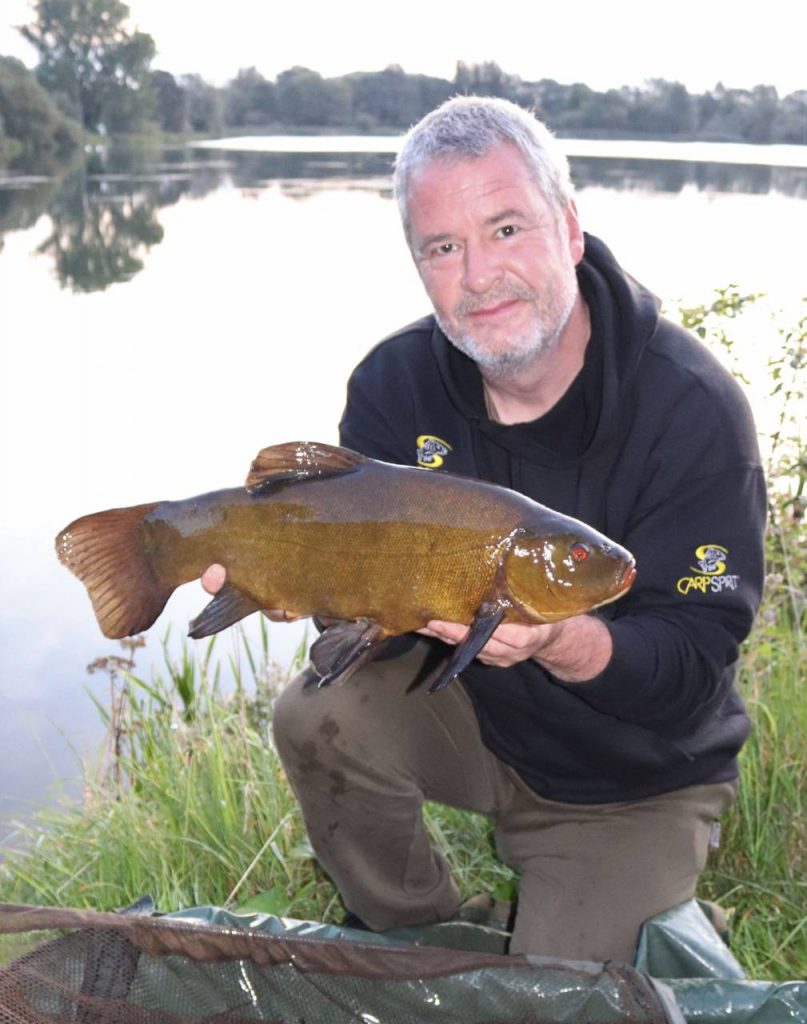 Another quiet spell followed, but 'spombing' out some more feed had the desired effect and another tench and a mid-double figure carp found it's way into the landing net. As a group social weekend it was a resounding success, as the social side of things was totally spot-on and the fishing was very fair, with almost everyone enjoying some action, with plenty of tench and the occasional double-figure carp providing the bulk of the sport.
My spot seemed to simply get better and better as the session wore on and the tench in particular seemed keen to get their heads down… and the more bait I put out there for them, the more bites I received. None of the fish were particularly big, but at times it's just nice to get plenty of bites and it made for some fun fishing and topped off an excellent weekend.
Time for some zeds
My regular autumn fishing started very much in the same way as my late summer fishing had progressed to, as I enjoyed a couple of short evening sessions around the middle reaches of the river Trent for both barbel and zander. Mixing up the species a bit by swapping one of the barbel rods over to fish little coarse fish deadbaits for the zander as darkness fell meant that I had the best of both worlds, as there was usually something out there willing to have a feed and I never had to wait too long before one of the rod tips was signaling some sort of action.
The barbel bites tended to be pretty savage affairs, with the tip suddenly slamming round in a downstream direction, while the indications from the resistance sensitive zander where much more difficult to discern, often no more than a gentle tap or two on the tip, and could easily be missed if I wasn't paying close attention. Tactics for the barbel were quite straightforward, with running leads fished on an Enterprise Tackle Snag Safe Run Ring and 3ft long hooklinks made from Carp Spirit "Kameleon" coated braid ending in a Carp Spirit "Zig and Floater" hook in various sizes between 12s and 8's attached knotless-knot style.
Hookbaits were either Dynamite Bait's CompleX-T boilies in 12 or 15mm, or Dynamite's "Big Fish River Durable Hookers", varied between the range of different flavors available. I also used PVA mesh bags of whole and broken CompleX-T boilies nicked on the hook and as an added attractor a generous blob of one of the Big Fish River pastes squeezed around the lead on each cast.
Fishing in this way meant that it was a simple job to convert one of the rods to fish for the zander whenever I wanted, by simply snipping off the hooklink and tying on a thin wire trace sporting either a couple of little trebles, or a single and a treble to which I'd attach my little roach deadbait. With a handful of barbel to low doubles and a couple of small/medium sized zander as an average return it made for fun and interesting fishing and the sessions spent in this way went way to quickly and I was always loath to pack up as I always felt that another bite was only moments away.
Redfin hunting
One of the targets I'd had in mind for the autumn and early winter period was a big Stillwater roach. I'd not done any serious fishing for big roach for a number of years and I fancied it would make a nice change since I had a ticket for a venue that had produced some big fish the previous season. My first couple of visits to the roach venue were more for getting a feel for the venue and leaning a bit about the different areas.
As it was a large gravel pit, with only a small head of the big roach, location would be a major factor if I was to have any chance of success. With a bit of travelling involved and with past experiences with fishing for big roach on other similar venues in the past, I was pretty certain that the main bite times would be late afternoon and well into the dark hours.
So I planned to do sessions of a reasonable length, where I could be bivvied up at the water for at least a couple of nights and hopefully give myself the chance of being in situ when the roach were willing to feed.
I blanked on my first roach session on the pit, but after that I usually managed to catch a few roach (and the occasional perch), but unfortunately, none of the roach I was catching were particularly big. In fact most of the roach I was catching were really on the small side, which was pretty unusual for this particular venue. This prompted a couple of the regulars to remark how unlucky I'd been; with getting so many bites, but nothing of any great size to show for it!
My standard tactics had been maggot feeders and the mini-helicopter rigs, with maggot on the hook. In order to try and select a larger stamp of fish I did try using more feed, introducing some boilie crumb and corn via a spomb and tried larger hookbaits, such as a single grain of plastic corn. This change of tactic certainly slowed down the small roach, but unfortunately it didn't produce any big ones, but also lead to a handful of funny, twitchy dropped takes and a couple of screaming runs, which I'm guessing were carp, that managed to break the relatively light hooklinks.
As the autumn went on, with the long dark nights and the seemingly never-ending spells of very wet weather that we experienced during the period, my enthusiasm for the roaching sessions started to drop. The prevailing conditions nearly always meant that I'd be setting up in the rain, confined to the bivvy for the vast majority of the session, other than re-baiting and suchlike, or trudging back to the car in the wet for fresh supplies of bait or food… and then packing up in the rain at the end of it all.
Usually, the thought of a potential bite from a big fish or two can keep me sustained during the more difficult times of a campaign, and even after an unsuccessful trip, by the time I've driven home and stashed my gear, I'm eagerly anticipating the next session. However, on this occasion I eventually found that I wasn't really looking forward to the next session with as much enthusiasm as I'd normally have and therefore decided to have a break from the roaching and do something else.
Even with the rivers out of sorts for the chub fishing with all the wet weather, I reckoned that this would mean the banks would be quiet and I could do plenty of roaming around and searching for and baiting up some likely areas. I also decided to get my pike fishing kit sorted out. A day's pike fishing can mean a pretty long day, with an early start and not packing up until it's getting dark, but even then, somehow spending a long day sheltering from the rain under a brolly seems much more tolerable than a 48 or 72hr session spent bivvy-bound.
I'll let you know how my change of plans played out in my next piece. Tony