14 April, 2023 | Match & Coarse | Angler Blogs | Tips | Articles
0 Comments
Tony Gibson – Spring Bream and Tench Fishing
Top Specimen hunter and past Drennan Cup winner Tony Gibson shares his insight and experience into Spring Bream and Tench Fishing. Below, Tony takes us through the ideal conditions for targeting these classic spring species alongside the tackle and bait he uses to fool them…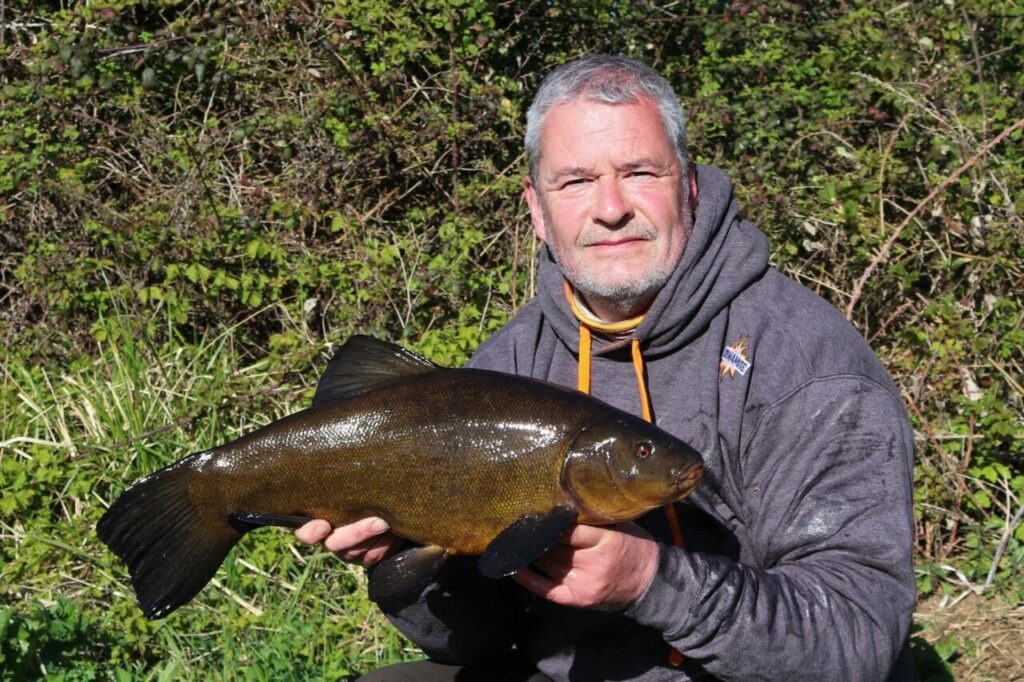 Tony says…
Bream and tench are two of my favourite Spring species and in the right conditions can be pretty obliging at this time of year. Bream appear to wake up from their winter slumber relatively early and can provide reliable early Spring sport on the right venue.
Conversely, tench can be quite tricky in the early Spring, and it sometimes takes a decent spell of warm, sunny weather to get the water temperatures up a little higher before the tench are properly 'up for it'. However, pick the right period and the tench sport can be excellent.
My tackle, bait and tactics for both species can be quite similar, especially on the larger gravel pit type venues that I tend to fish. This can be handy when I'm likely to be switching between bream and tench on a regular basis, as it makes the swapping gear between sessions almost unnecessary.
There's even been instances in recent years when I've had the opportunity to fish for specimens of both species on the same venue. So being able to utilise the same effective bait and tackle combination that works really well and produces plenty of bites on the right day for both bream and tench is a real bonus.
Bream can most certainly be classed as shoal fish, while I consider tench to act more in 'social groups' rather than a proper shoal. However, both species can start to collect in larger groupings, especially towards spawning time. Therefore, unless I'm fishing the sort of venue where the stocks of either species are extremely low and I'm targeting just a handful of remaining outsize specimens, I'm usually aiming to attract numbers of fish onto my baited area and am hoping to create the sort of feeding situation where there's a bit of competition going on and I can get multiple bites throughout the session. So my usual baiting strategy for these situations is to use plenty of bait to attract and potentially keep a number of fish feeding around the area of my hookbaits.
Swim Choice
With a reasonably heavy baiting approach, the choice of swim becomes even more important than it would be otherwise. Once you start to fish, you're investing quite heavily in both the bait and the effort to get that bait out to the chosen mark. This makes any conclusions about having made the wrong swim choice and/or moving swims more difficult. Therefore, time taken to get to know the venue, hopefully finding the fish you're after before choosing a swim and using a marker rod and float to investigate the features, state of the weed and makeup of the bottom, is always time well spent.
If I can, I'm always keen to actually observe the fish I'm targeting in an area before making a swim choice. On certain venues, bream can regularly been seen rolling in the late afternoon/evening. In my opinion they are often travelling from a daytime resting area to where they are likely to feed when you see them at such times, so it's worth trying to follow the direction of travel and take note of the area where they finish the rolling behaviour.
Early mornings are often a good time to look for tench rolling on the surface and/or tail slapping. I think this is more likely to take place in areas where they are happy to feed and simply 'hang out', so I'm always glad to see tench movement like this in areas that I'm considering fishing. Tench can also fizz up an area with loads of tiny bubbles when they're feeding over an area with a bit of silt, so seeing activity like this is obviously a clear confirmation of a feeding spot.
Finding the best potential feeding areas within a swim is also important, and again I like to think that the time and effort invested in the use of a marker rod/float is always justified; with perhaps the exception being on a short session when there's a risk of spooking the fish that are already present in an area… and there's insufficient time for them to come back in and have a proper feed.
The sort of spots I'm looking to present my hookbaits on are clear areas, where I can get good presentation without the risk of weed fouling the end-tackle or masking the hookbaits. I'm quite a fan of large clear areas for the bream, and if I can find a decently sized area where I can fit in two or three end-tackles, especially with a mix of silt and fine gravel, I'm happy. I'm content to fish smaller clear spots for the tench, and if I have to fish different spots for each hookbait, then I'm willing to do so.
Once I've chosen a swim and got my main target area, or spots 'sorted', then I usually try and get a generous amount of bait out there to provide a banquet for the fish and tempt them away from the stocks of natural food.
Baiting Up
I'll often start off with an initial bucket of spod mix consisted of a range of items including a nice mix of particles, whole and crumbed 12mm boilies, pellets in a range of different sizes from 2mm up to 8mm, sweetcorn, a sprinkling of tiger nuts and a generous helping of a CSL-based Liquid Carp Food.
I also like to add a good helping of one or two favourite groundbaits, such as Grubby Groundbait Carpet Feed, or the dark, peaty Frenzied Hempseed Worm Meal groundbait. For tench and bream, I like a good variety of different particles in my spod mix nowadays, rather than going too heavy with the hemp. I've been using loads of Dynamite's mixed "Pulses & Particles" in my spod mix for the last few years now, with my favourite being the "Sweet & Milky" version.
I tend to opt for the darker coloured pellets such as a mix of Dynamite Swim Stim Betaine Green, CompleX-T and Marine Halibut pellets and the darker groundbaits, so that the overall spod mix is darker than most. This is something that I tend to aim for, especially on waters that I haven't fished before, or look to have very clear water.
This for two main reasons. Firstly, the fish may be nervous over large lighter coloured areas of feed spread out on the bottom, but more tolerant about feeding on a darker area. Secondly, the birdlife can be a real bother on some venues once they've discovered a bed of bait. Using darker items, and helping to disguise it with the darker groundbait, makes it a little less likely to be found by the coots and 'tufties'.
Sweetcorn is an attractive addition to just about any Spod mix, especially where bream are concerned. However, as it's so visual and easily found by the birdlife I'll start off with just a small handful to a bucket of Spod mix. If the birds are leaving me alone, then I might be tempted to increase the amount of corn when bream are the main target, as they undoubtedly love the stuff.
When bream are the main target, I'll usually bait up once a day around mid-afternoon; expecting the main bite period to start late afternoon or early evening and last until around midnight.
Obviously if feeding conditions are good, then bites might occur at any time, but I tend to stick with a once a day, mid-afternoon, heavy bait up.
I find tench feeding times more difficult to predict; with bites, especially on gravel pits, likely to occur almost at any time of day. My initial bait up might be a bit lighter, than when I'm bream fishing, but I'll be willing to top up on a more regular basis, especially if I've been getting a bit of action. I've often found that a dozen loads of my Spod mix over the baits can soon get the tench going again when things go quiet. You can go through a surprising amount of bait over a session when you're experiencing plenty of bites, so I always like to carry plenty of spare bait in the car for such occasions.
The Rigs
For most of my gravel pit tench and bream fishing my end tackle is quite straightforward, and is based around carp fishing strength tackle, rather than light feeder fishing gear.
This is because many of the gravel pits that I tend to fish are usually large, can be very weedy, and often the better spots are to be found at quite a distance from the bank. I tend to use a standard lead clip arrangement with anything from a 2.5oz lead up 4oz, depending on the distance being fished.
The end-tackle is nearly always a coated braid hooklink, ending in a size 8 Carp Spirit V-Curve hook, tied with a simple 'knotless-knot' and a little section of silicon tube to hold the hair round the apex towards the point side of the bend (this helps flip the hook over when using the standard bottom or wafter type hookbaits that I usually use).
The hookbaits that I'll usually start off with are generally a 12mm CompleX-T boilie, tipped with a piece of buoyant plastic corn. My hookbait boilies are often glugged in CompleX-T liquid hookbait dip to help them stand out from the feed items, and I have a special pot of mixed size pop-ups, wafters, and standard bottom baits so I can easily experiment and ring the changes to help find the best option. I also experiment with the plastic sweetcorn 'tippers' and have a range of Enterprise Tackle corn in different flavours and colours, kept in little glass bottles, to play around with.
Obviously, every venue is different and can throw up a unique set of circumstances that may require changes to the standard approach that I've outlined above. However, what I've described is my regular starting point and has caught me a very reasonable number of big bream and tench over the last few seasons, so trying something similar may be a good place to start on your own bream or tench water this Spring.
– Tony