10 October, 2019 | Match & Coarse | Tips | Articles
0 Comments
Rob Wootton's Autumn Match Fishing Tips – Scaling down for Success
Dynamite's own match ace reckons that by scaling down your tackle and feeding less, you'll catch twice as much when the temperatures turn cold. Here's how he does it…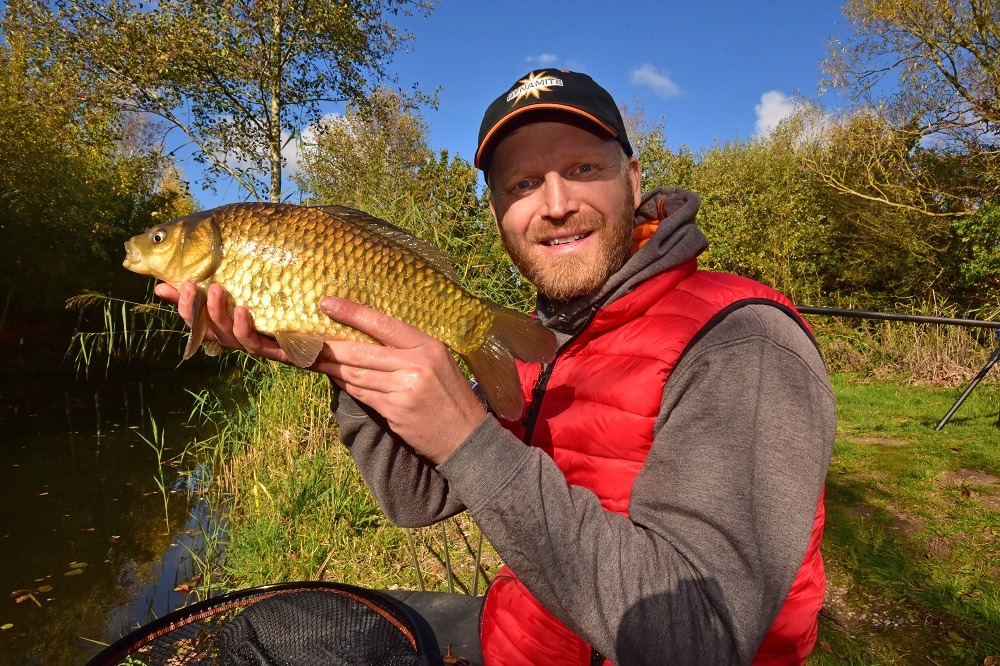 Rob continues…
As soon as the leaves start to fall from the trees and the clocks go back, fish everywhere start to slow down their feeding habits. It's not that they become impossible to catch, but with increased water clarity and cooling water conditions, feeding periods become shorter and when these 'crafty creatures' do decide to feed, they are far less likely to make a mistake.
Snake charmer
For today's session, I've brought the Dynamite baits' cameras to Barston Lakes. Barston is very famous for its big lake, the venue for many big competitions and the home to some fantastic fish, but it's the often forgotten about Match Pool – nestled at the back of the complex – is where I'm fishing today. This lake is fairly typical of many snake-style lakes up and down the country, being that it's around 13-meters wide and stuffed with fish!
The majority of the stock is made up of carp and F1's, both of which, are species that like to ball up and stop 'playing', once the water gets cold. The good thing about targeting these smaller lakes in the colder months is the simple fact that you know the fish are never too far away from you.
I could've quite easily sat on the big lake today and remained biteless, as the fish did a disappearing act into the several acres of water they've got to roam around in. But here, on this small pool, they can't go that far and even if they do have a wander around the other side of the island, I'm sure it won't be long before they come back around again.
A softly, softly approach
On arriving at the lake, I'm a little unsettled when I see how clear the water has gone since my previous visit, a few days prior. The lake is not far off tap-water clear and with a photographer and myself banging around, I'm not sure whether the fish will stick around…maybe I'll be proved wrong?
Taking the clarity of the water into consideration, I've got with me just two baits – maggots and groundbait. We all know how good maggots are at catching all species, in all conditions and I've got a pint or so of reds with a few whites mixed in for a change bait.
The groundbait I'm using is something that I think needs careful consideration. Firstly, when fishing in cold, clear water, the mix just has to be black and I don't mean just black, I mean jet black! The dark colour gives the fish more confidence when they're sitting over and feeding on the mix; it must be something to do with their natural survival instincts – after all I guess they would stand out like a sore thumb to any overhead predators if they were to sit over anything that was lightly colour.
A fine mix
The next thing my groundbait needs to be is fine, but also full of attractants, without being too rich or oily. Fish really struggle to digest oils or rich food during the colder conditions due to their metabolism slowing down, so it's pointless using that high protein meaty or fishy mix that worked so well during the summer. My choice is Dynamite Baits' new F1 Sweet Coolwater.
This is a groundbait that has been produced specifically for fishing in such conditions. Based on the 2018 best-selling F1 Sweet, the new F1 Coolwater only it is a much darker mix, which has been dumbed-down a little so it is not as potent when the water is close to freezing. For me, it's a groundbait that ticks all of these boxes I've mentioned, plus I've been catching plenty of fish when using it, on both feeder and pole tactics, so it is rapidly becoming my 'go-to' clear water-cold water groundbait.
The rigs
My kit also reflects the fact that the fish could be tricky to tempt today. A size 16 hook is tied to a 0.12mm (3lb 2oz) hooklength, which is my standard set-up for carp at this time of year. I have found that F1s don't mind this presentation either. My mainline is 0.14mm (4lb 4oz) and the elastic is the new orange Reactacore from Middy- a very soft elastic, so I should lose less fish through hook pulls etc.
The float is a 4×12 Malman Roob that is shotted with strung-out No10 slot shot. This allows for a slower fall of the hookbait, which should help catch a fish's eye in the clear water. The depth I've decided to start at is three feet. During the summer, I'm sure you'd be able to catch in less than a foot, across to the island on this lake, but at this time of year, the fish will definitely be sitting a little deeper.
I've had an extensive plumb around and found two swims – one at 11 o'clock and another at two o'clock – that are the same depth. This is very important regards my plan today as it allows me to quickly swap between the two, without having to swap rigs. This will also help keep the bites coming as I'm not plundering one line all day.
Getting things going…
To kick off both swims, I'm going to feed a palm full of loose groundbait and around 30 maggots. The important thing to remember about feeding during the winter is that less bait often gives the best results. This means I need to wipe my brain of those summer bagging sessions, where I would be feeding large pots of groundbait everywhere!
By cutting back and feeding just a pinch of groundbait and a few maggots after each fish, it will be more than enough bait to tempt the next one. It takes an agonising forty-minutes before I finally get my first bite…which I promptly and expertly miss!
Ten minutes later – while targeting the left-hand swim – the float dips for a fraction of a second, prior to the orange elastic pouring from the pole tip. The culprit proves to be a small f1, which I quickly scoop up.
I then feed the left-hand line with another pinch of loose groundbait and around a dozen maggots, before switching my attentions to the right-hand swim.
This time, as soon as the double maggot hook bait settles, I get a bite, seeing me playing something much bigger this time. Following a nerve-wracking couple of minutes, a lovely common carp of about eight pounds pops up, proof that by taking your time you can land some very large fish on light set-ups.
Getting into a rhythm
Over the next couple of hours, I get in to a routine. This follows the lines of hook a fish, before re-feeding with a small amount of loosefeed. I then swap to the other line, where I can – hopefully – quickly repeat this process. By fishing the peg in this way, it means that the fish I am taking from each swim have a little time to settle, especially as the water is close to crystal clear today too. As I said earlier, if I were to try plundering one area of my peg in such conditions, it would've been the kiss of death after a just a couple of fish.
Short session success
After only a few hours, I've ended up having a cracking day's fishing, catching some beautiful fish and all on less than a pint of maggots and half-a-bag of groundbait.
As is so classic regards cold water conditions, as the sun starts to dip behind the trees, the fishing slows down rapidly.
The sun tends to warm the water by a few degrees, but once it drifts behind the trees, its effect quickly diminishes. Still, that said, my little and often, line-swapping tactics have worked brilliantly and I've ended with around 60lb of fish – a mixture of silvers, f1s and carp. Proof – if proof were needed – that by scaling down and cutting back, you'll increase the bites you'll get.