21 febrero, 2017 | Match & Coarse | Novedades
0 Comentarios
Traducción nativa francesa no disponible para esta publicación, ¿le gustaría que lo traduzca la máquina?
Last weekend Will Mc Carnnor went to the river Wye at Hereford for the first ever under 25's Wye Festival sponsored by Diawa. It was a two day event and each angler had one day at Belmont and one day at Bartonshom.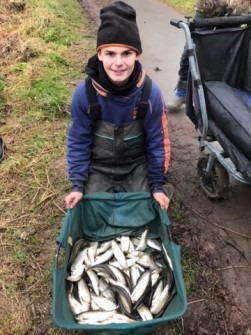 «On the first I drew peg 92 at Belmont, which was a mediocre peg in the section but I felt I had a good chance of a decent result. I set up 2 Perfect Gloucester floats in a 3g and 4g float for catching dace at 13m and a 4g flat float to try and catch some of the big resident perch, I also set up a Bolo rod and a waggler rod just in case the fish backed off the pole line. At the start I threw in 10 balls of a 50/50 mix of Dynamite Frenzied Hempseed Match Black and molehill soil, packed with heepseed, casters and maggots.
I started to catch some good stamp dace almost straight away and I continued to catch for the next hour. After this I started to struggle a little bit and I soon became aware that this was because there was a huge pike in my swim. I fished this swim for the rest of the match and just tried to get as many fish as I could past the pike. I finished with 16lb 10oz which was good enough to win the section, with 12lb coming second.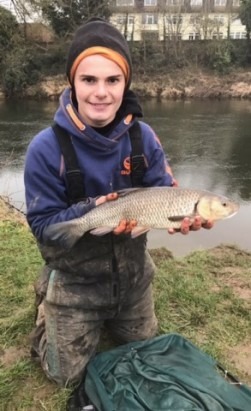 On the second day I drew peg 7 at Bartonshom which really had struggled the day before and the lad on it only caught one minnow. I set up a maggot feeder with a 5ft hooklength on to cast 3/4 away across the river and a waggler rod just in case a few chub decided to feed. To cut a long story short, I've chucked the feeder for 4 hours and 50 minutes without a bite and then all of a sudden my tips gone round and I've had a chub. My chub weighed 3lb 9oz which was enough for 3rd in my 7 peg section as only 2 others had caught.
This left me on 4 points and 2nd overall in the festival which I was really pleased about as the class of anglers there has been really high. It was a really good experience I'm really looking forward to getting back there soon.»
Will McCranor