3 septiembre, 2018 | Carpa | Artículos | Novedades
0 Comentarios
Traducción nativa francesa no disponible para esta publicación, ¿le gustaría que lo traduzca la máquina?
He began life as a match angler and now he's targeting the biggest prize in specimen carp angling. As excitement builds for the 2018 World Carp Classic final, we caught up with Golden Ticket winner Alex Lister, who will be representing Dynamite at Madine…
Profile
Name: Alex Lister
Age: 35
Town: Beckbury
PB carp: 80lb France 50-08 UK
Favourite rig: Flouro combi
Banks sticks or pod: =Banksticks
Bait boat or spod: Spod
Favourite venue: That's a hard one! Acton or The Bowl fisheries
Day ticket or syndicate: Syndicate, but currently doing the day ticket scene
Favourite Dynamite bait: CompleX-T
All time angling hero: Such a hard one!! My Dad who is a match angler and where it all started for me. In the carp world, one angler that I have learnt so much from is Wayne Dunn.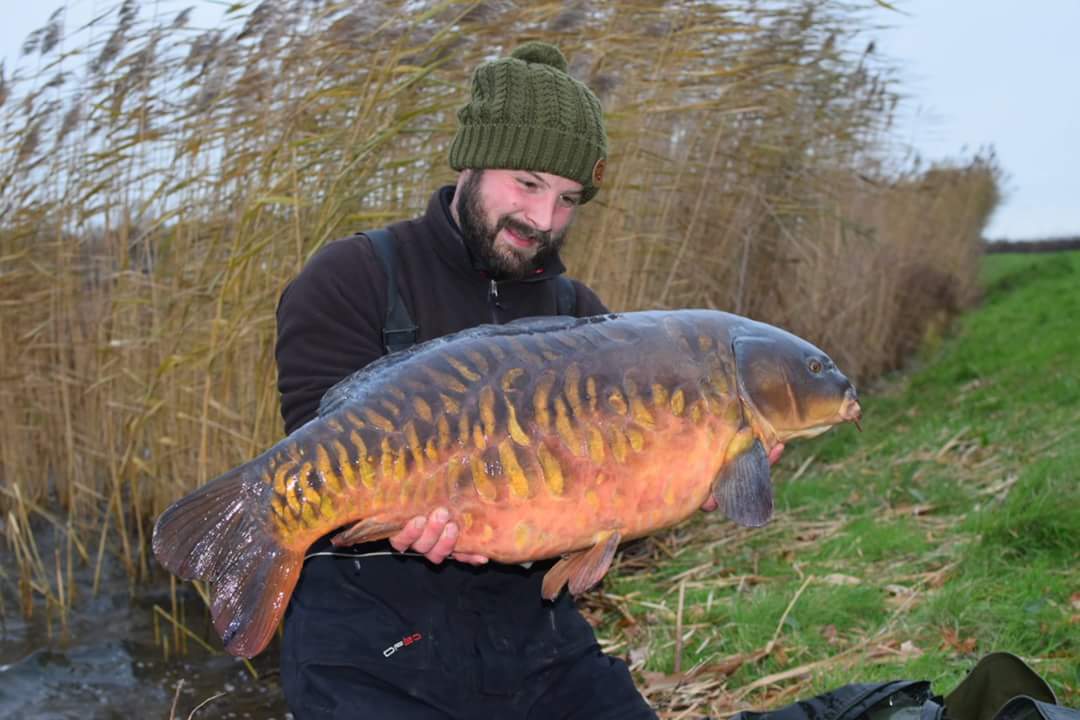 Q1. What's the most memorable carp you've ever caught?
A: Eric's common from the famous Rainbow Lakes in France. Seeing the sheer size of it in the net was some experience I can tell you!!
Q2. What countries have you fished in before?
A: UK and France, but I definitely favour places like Belgium and I fancy going on some real adventures around Europe.
Q3. What's top of your carp venue bucket list?
A: 100% Cassien! I still can't believe I've not done it yet!
Q4. What carp fishing competitions have you entered before?
A: I generally fish one each year, which have been BCAC and Eric's in the past. I Would love to do more but with a young family and a distinct lack of time I'll keep to the one. There is just something about the buzz, the highs and lows of competition fishing that I'm addicted too!
Q5. We understand you work in fishery management, what's the most interesting part of your job?
A: Must admit I have changed jobs, I currently now distribute fishing tackle across the UK, but yeah before this I was a manager at RH Fisheries for 6 years.
Being involved with so many different lakes was certainly one of the highlights, each water offered something different for the angler. But by far the most interesting thing was how the fish would go missing on lakes for a long time then show up again. Some of these fish would evade capture for up to three years from some of the best anglers out there! Even young stockies, I watched go into a lake at 4-5lb, only to avoid capture and come out at 25lb some time later!
Q6. Following advances in science and fishery management do you think the UK carp record will ever top 80lb?
A: Honestly, I don't think so, but wold love to be proved wrong! There are some amazing massive fish about in the UK, but even then, they are a long way from getting to 80lb plus. To me it comes down to two things, venue size and climate, which without going into an essay I think here in the UK we lack a little on both parts.
Q7. Do you normally fish alone or with friends and how did you pick your WCC team mates?
A: Normally i just fish by myself, I do love a good social from time to time though! As for picking my partner it's been hard I needed about 10 tickets!!
With a short time to plan and prep for the match, it's been slightly tricky to say the least. Last year I fished a match with Carl Sharp, so i picked him as he has the experience, we get on well and have known each other since going to Rodbaston, College some 18 years ago when we studied Fishery Management.
Q8. Which of our baits will you be taking to Madine as part of your prize why?
A: An easy choice for me this one as the CompleX-T is a cracking bait! I've been using the shelf life for a bit now and been catching well, in fact since not on a syndicate and just doing the day ticket scene I've taken it to nine different waters up and down the country and caught from all with it!
Q9. What research have you done about Madine and the WCC and what do you think your chances are of winning it?
A: With so much to do, I've not had the chance as much as I'd have liked but I have spoken to people who have fished it before in the past for advice and this has massively helped me prepare. My next job is to watch 'on the bank' as they filmed it there last year and have a good look on YouTube for more advice and tips about the venue.
The WCC is certainly an interesting one and I can't wait to get going. I think we have a couple of things which make it easier for us, the first being the tournament is judged on the three biggest fish, which means everyone is in with a shout at winning. Secondly, it's not a draw with any watercraft involved, so with a bit of luck at the draw and a decent peg we have just a good a chance as any of winning it.
Q10. The WCC is a week-long event, what's your tips for staying focused and how are you going to approach this?
A: I suppose first of all, I feel very lucky to have won this, I still think it's all a wind up!! So, I'm going to embrace it and enjoy it, as only a few days ago I had nothing planned for September at all!
Now that I've got the opportunity I shall be giving it 110%! As for tips for staying focussed, well there is £15,000 for the winner!! I'd stay awake all week if I have too! Joking aside, winning the prestigious award would mean a hell of lot more than the money and with this fantastic opportunity I'll be prepared and focused from day 1. Having not seen the venue, my approach is very much open minded, I'm preparing for anything and taking everything!
2018 WCC Final, Lac de Madine, France, Sept 17th -22nd
Keep up to date with the 2018 WCC news including updates from the final on www.dynamitebaits.kinsta.cloud or our Facebook page: @DynamiteBaits