5 febrero, 2018 | Pin | Carpa | Anglers | Professional
0 Comentarios
Traducción nativa francesa no disponible para esta publicación, ¿le gustaría que lo traduzca la máquina?
Name: Rob Hughes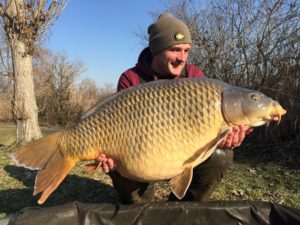 Also known as: Huge / Hughesy
Age: Not tellin ya!
Hometown & Country: Shrewsbury, Shropshire
Occupation: Lawyer / TV Presenter
Mirror PB: 75lbs 12oz (34kg 500)
Common PB: 70lb 10oz (32kg 100g)
Other PB's: UK pb 48.14 (22kg 200g)
Favourite boilie: Shrimp and Prawn
Most used rig: PVA bag style – Fox Reflex braid in 15lbs with a size 7 Edges wide gape beaked hook.
Venues fished: Literally hundreds all over the world from small English silty estate lakes to some of the biggest natural lakes in the world (e.g. Balaton and Lake Ontario).
Favourite venues: In the UK, runs type waters where I can push to get a few bites. Overseas I prefer the challenge of big public waters – eg Cassien, Balaton, Madine
Target fish you would most like to catch: Any 32kg (70lb) plus fish from a new country.
Top carp fishing tip: Always keep your eyes open and act on your instincts. The chances are if you think you should be doing something… you probably should.
Aim in angling: This year (2018) it is to catch as many big fish from as many countries as possible. I'd like to have a chance to beat my PB both in UK and overseas, but it isn't going to be easy. In general it is to win a 3rd World Title / Gold Medal and lead the English teams to more victories in international events.
Highlight of angling career: Being able to promote my sport and my country. Being chosen to represent England at the highest level in both and angling and a managerial capacity – and of course winning the World Championships twice (1996 and 2015). Gold medals are addictive!!
Countries Carp Fished: England, France, Germany, Spain, Italy, Romania, Serbia, Croatia, Poland, USA , Canada, South Africa, Morocco, Czech Republic, Hungary.
Other types of fishing: I fish for all sorts but am a carp angler first and foremost. I love stick float fishing on rivers, lure fishing for predators, and have recently started fly fishing. They're all really enjoyable…. but carp fishing is the best.
Facebook: robhughescarp
Instagram: @robhughesangler