17 octubre, 2017 | Carpa | Novedades
0 Comentarios
Traducción nativa francesa no disponible para esta publicación, ¿le gustaría que lo traduzca la máquina?
On my recent trip to France on Abbey Lakes Marco Pinto and his fishing partner Dan joined a charity competition called the Forces Carp Classic.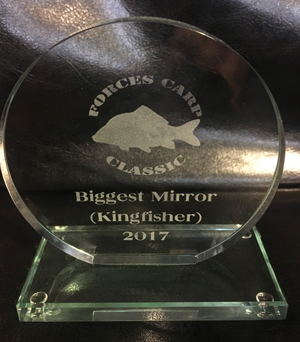 «The draw for the lake took place on Saturday and we were 28 out of the bag so most of our favourite swims were gone. We drew Kingfisher lake which wasn't my favourite but it would do.
Once I got to the swim we watched the water for a good hour before setting up. Straight away I realised there was a lot of catfish showing and they were very lively, so decided to approach with 2kg of 18mm Monster Tiger Nut boilies in a spread area at 80 yards out on 24ft of water.
Things were very quiet in the lake with only one fish out in the first two nights but with lots of cats so I decided to spod some boilies in a tighter area. Just an hour later I had a 50lb catfish so I knew had to find a way to fish a bait it would spit without getting wiped by the catfish. I used a jar of hemp and 10/18mm Monster Tiger Nut boilies and added a litre of Garlic Liquid Carp Food and that really made a difference.
On Thursday evening my rod melted and I could feel that it wasn't a cat. It felt like a heavy one and when I landed it I knew it was a PB, a nice mirror at 52lb 14oz… game on.
The next evening Dan my fishing partner landed another at 34lb from same spot and I managed to lose 2 fish on Friday the 13th which would have guaranteed 2nd place but guess it wasn't meant to be. However we did manage to finish 3rd on the lake and I won the trophy for the biggest fish.»
Marco Pinto