20 febrero, 2018 | Carpa | Anglers
0 Comentarios
Traducción nativa francesa no disponible para esta publicación, ¿le gustaría que lo traduzca la máquina?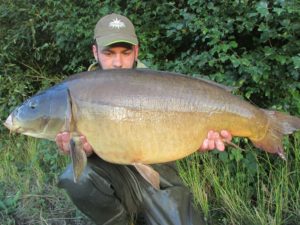 Name: Jake Lund
Also known as: The tackle slayer
Age: 27
Hometown & Country: Basingstoke, England
Occupation: Head gardener
Mirror PB: 39.4oz
Common PB: 46.4oz
Other PB's: N/A
Favourite boilie: Monster Tiger Nut
Most used rig: Simple bottom bait rig
Venues fished: so many as I like to flit about but first to mind would be Frimley, Silvermere, Papercourt, twynhersh and park lakes.
Favourite venues: Papercourt Angling
Target fish you would most like to catch: Any big old carp with character
Top carp fishing tip: Never rest on your laurels, always give as much effort and thought as you can towards your fishing.
Aim in angling: To carry on enjoying it
Highlight of angling career: My fishing isn't a career. However, my most most memorable catch would have to be, catching the brute from Papercourt after a slow weeks fishing. Once a year I treat myself to a full weeks fishing and that particular week was emotional.
National records: Jaffa cakes eaten in one session!
Other types of fishing: Dabble fishing for most fresh water fish when time is limited .
Facebook: N/A
Instagram: @jakelundfishing