23 junio, 2017 | Carpa | Artículos | Novedades
0 Comentarios
Traducción nativa francesa no disponible para esta publicación, ¿le gustaría que lo traduzca la máquina?
After chatting too some good friends, I was persuaded to buy a Farnham angling ticket and target the Match lake in Yateley. This lake still holds a dozen or so 'originals', as well as a good head of 30lb-plus fish and a couple over 40 too. This seemed a perfect water for me to move onto.
I decided, rather than targeting specific fish, I would look to aim to average a fish per trip throughout the spring, summer and autumn.
After picking up my ticket, I headed straight down to the lake for my first 48-hour session. After a lap of the lake, I found some fish in an 'out of bounds' area, a typical 'fish sanctuary' and so I decided to fish a swim the had access to most of the water in front of the it. Having found a couple of spots about 30-yards out, I baited both with a good helping of 15mm Complex-T boilies, soaked in Garlic CSL liquid. On the hook, I fished half a Hardened Complex-T Dumbell on both rods, confident in this method, as it had already caught me several stunning fish from a little club lake in Winchester, between getting my Farnham book and catching one of target fish, Seven Scales.
The first 24-hours went by uneventfully, but I sat tight knowing I was as close to some fish as I could be. I had a restless night's sleep of liners and fish showing just behind the rope in the sanctuary. Then at 6am, I had a violent take which caused the rod to come out of the rests. The fight was fairly tame and as I scooped the fish up in the half light of dawn, I figured I'd got a low 20lb 'stocky'. Upon lifting the fish out of the water, it became apparent that I actually had a 30lb-plus Redmire strain common!
I was made up with this, it was not only my first Yateley carp, but also my first common over the magical 30lb mark.
Upon my return the following week, I couldn't get back in the swim I'd had the success in the week before, so, I settled for a swim that I had been told had done a few fish over the weekend. I fished with the same tactics I had previously, finding two spots and baiting them heavily with CompleX-T.
Despite willing the rods to go off, I unfortunately notched up my first blank. Still, can't catch every time!
My third trip down was destined to be a success from arrival. The swim I'd caught the common from was free and there was plenty of fish in the area. Fortunately, I remembered where the spots were and fished half Complex-T Dumbells over a bed of 15mm garlic soaked Complex-T freebies again. The night passed with nothing more than a catfish to show for my efforts and just as I was about to reel in and do a lap of the lake, my left-hand rod wrenched round allowing me to land another good common. This one was completely different to the Redmire common I'd had two-weeks previously. It had a big floppy tail, oversized-fins and a twisted old back. Unbelievably, it was another 30 at 30lb 4oz, making my first two fish from the Match both 30lb-plus commons…ideal!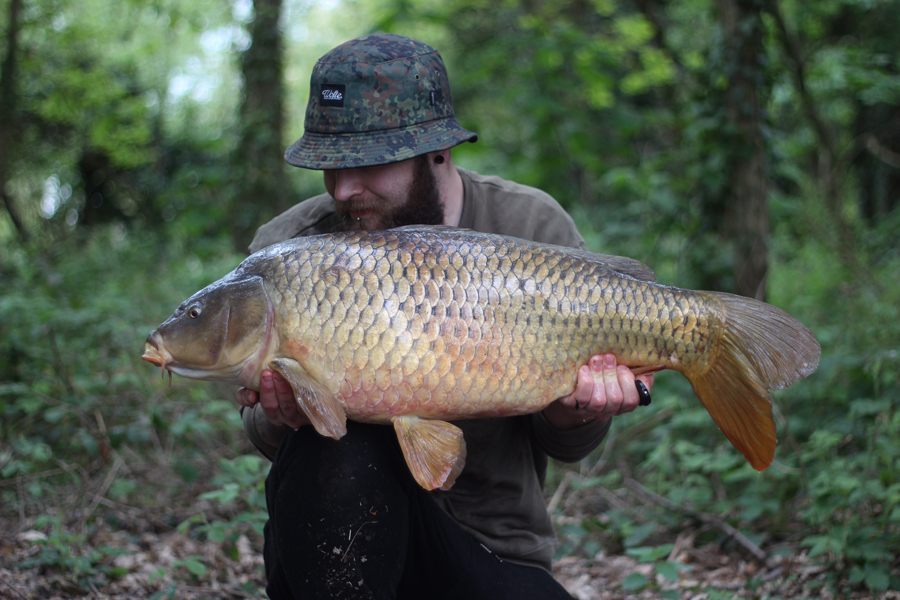 I put the rod back out and baited it again, before I sat back expectant of another bite. Sure enough, the same rod was off again about 2am and I landed a low 20lb mirror that wasn't the most stunning carp I'd ever caught, but it was welcome all the same. I was now back on track to achieve my target of averaging one fish every trip, having done three trips for three carp landed.
The next time I got down was a bank holiday and almost every swim was taken. I found myself backed into a corner, in a swim called The Gate. I found a lovely little spot up my left-hand margin and another out in open water. I baited both rods in the usual way and was feeling relatively confident considering the situation. For the whole 48-hours that week, I watched carp showing just out of my swims range and set off home disgruntled having another blank despite being so close to fish.
I managed to get in a swim that would give me access to the water I'd seen the fish showing in the week before, on my 5th trip. Again, I found two lovely spots and set about baiting them up with a big spread of boilies.
The first morning I had fish showing all over me, but I just couldn't get a bite. I noticed a particularly large common showing down my right-hand margin most of the morning. I found a spot almost exactly where I'd seen the fish showing and put three Spombs of chopped Complex-T on it. I was so confident in getting a take on this rod that when I got a bite at 4am, I was overly panicky. It felt a big heavy fish and I was sure I'd got the big common I'd seen showing the previous morning. Unfortunately, it turned out to be another catfish and it seemed to scare all the carp out of my water as I didn't see another fish all trip.
Trip 6 and I settled in a swim called the 48's. It was late on a Monday night and although I hadn't seen any fish, this swim seemed a good choice as it was right on the receiving end of a warm south-westerly wind that had just started blowing. I found two spots in relatively close and baited them with 15mm Complex-T, hemp and sweetcorn. I saw nothing on my spots that following morning, but there were fish in the area, so I set about positioning the rods better and sat back for another night.
The following morning I was getting some savage liners. My spots were both bubbling away and I was sure it was only a matter of time before I had a bite? As it turns out I'd got a shoal of tench in front of me and saw 30-plus tench rolls before I packed up that afternoon. Another blank!
I then had a stag do for my good friend Matt. We had booked Junction 12 Lake, run by Reading Angling Club for the occasion and I was buzzing to have a good social with some sound lads. This turned out to be one of the best weekend's fishing I'd had. Not only were loads of lovely big carp caught, but the social was one of the best. I managed two lovely 27lb mirrors on Complex-T Fluro's, fished on Chod rigs over a good spread of 15mm freebies.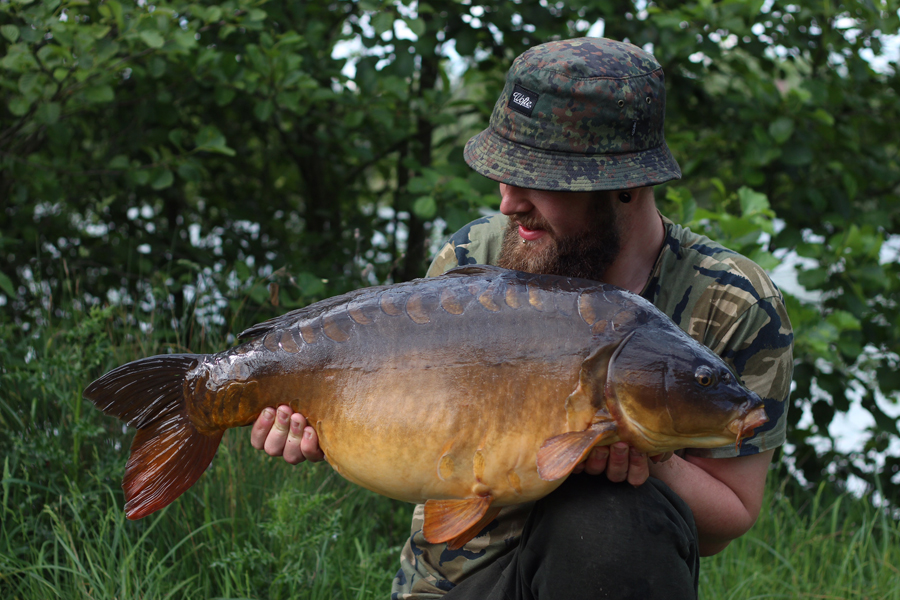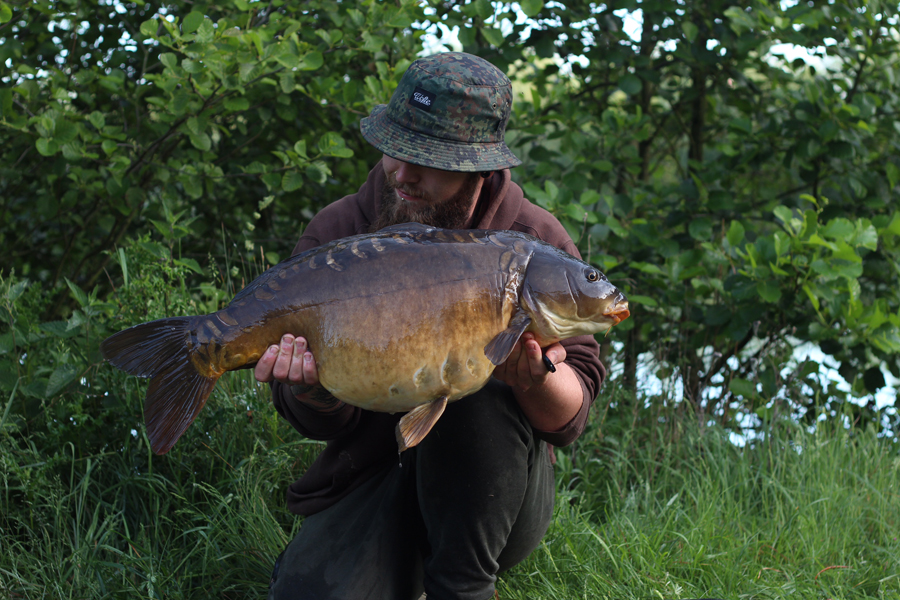 My 7th trip to the Match now and I knew that the fish had been spending a lot of time up the middle of the lake. I walked round and sure enough found a few fish sat out in the weed. I found one clear spot, at about 40-yards and fished both rods on this. One rod was fished with a tiger nut and the other was fished on a Complex-T Dumbell. I baited the spot with about 5kg of Complex-T 12mm boilies, tigers, hemp, sweetcorn and a good glug of garlic CSL.
I had a catfish that first night and figured my chance of a bite were blown, so I brought the rods in at 11 and did a lap of the lake to see if I could find a number of fish anywhere else. Upon returning to my swim, I saw two carp show over my spot, as it was bubbling away. Classic, they'd moved onto the bait when I reeled in and now I had to wait until they'd stopped. In the meantime, my friend Ryan, who was fishing next door managed a brace of mirrors, one being 25lb and the other being 39lb. I helped him weigh and photo the fish before putting my rods backs out and baiting the spot again. I was determined to leave them out then until I had a bite.
At 9am the following morning, the rod fishing the Complex-T dumbell was away and I managed to land a 32lb mirror!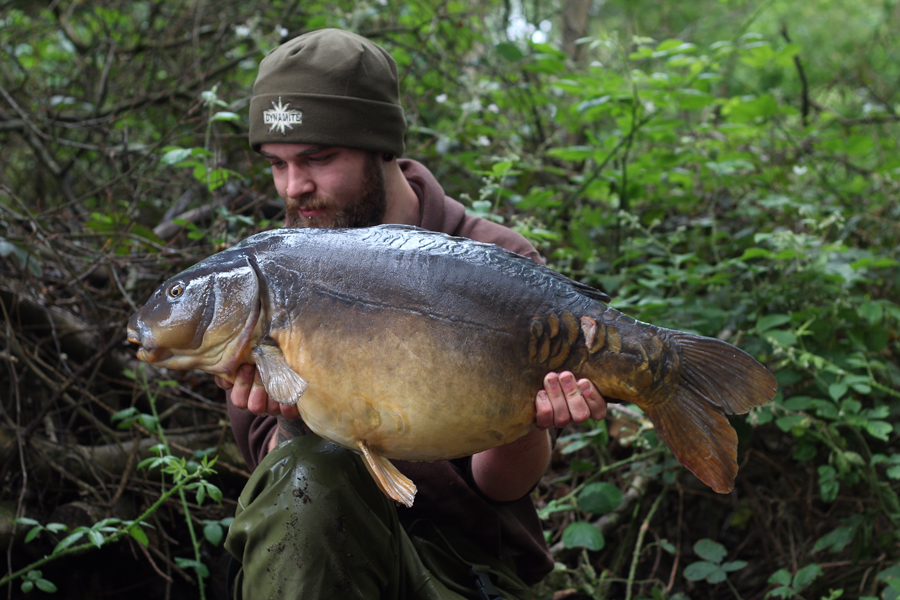 Ryan came and helped with the photos and I got my rod back out in hope the fish wouldn't have gone too far and I could get another bite. Sure enough, at 11am the tiger rod was away and I slipped my net under my second carp of the trip. Upon closer inspection, this fish turned out to be one called 'Happiness', as was one of the originals!
I was completely in awe of the fish as we did photos. It's melted little fins and pale sandy skin just concreted how old this fish really is. I slipped her back and couldn't believe my luck. seven trips for five carp, one of which was an original!
My spring was going very well.
My latest trip down there was planned to be spent in the same swim I'd fished the week before. Predictably, it was taken when I got there, so I settled for a swim opposite. I found an area very similar to the one I'd been fishing from the swim opposite and fished it exactly the same, with two rods – one on tigers and the other with a Complex-T Dumbell. At 3am I awoke to the sound of my reel smashing into my alarm. I lifted into what was clearly a very big and powerful fish, stripping yards of line off my tight clutch. Pulling it through weed beds, my stomach sank as I realised I was actually playing a dirty great catfish.
It was more than double the size of any catfish I'd caught previously, so I braved weighing it and getting a quick photo.
At 55lb, it was the biggest fish I'd ever caught!
Unfortunately, the carp started spawning the following morning, so I packed up and left.
My spring on the Match Lake had gone better than I had expected…roll on summer!
David Williams