9 May, 2022 | EcoChoice | News
1 Comments
Dynamite Begins Major Eco Drive
As part of our huge push to become carbon neutral and a more sustainable company, we believe charity begins at home, so where better to begin our charge towards being more environmentally friendly than at HQ. All the staff here in Nottingham have been busy over the winter formulating a number of ideas that can be introduced on site and in our local community to help save the planet.
Leading the fight and overseeing the projects is our Head of Operations, David Spence, who said:
"Although for years we have, as a company encouraging people to enjoy the outdoors, been very conscious of our actions and the impact on the environment, we have now began to drive forward more aggressively than ever with our sustainability project as we push towards a future of carbon neutral bait manufacturing. The team at Dynamite are all really passionate about the outdoors and the environment especially as most are anglers so needed little encouragement to come up with some great ideas on how we can be more sustainable and eco-friendly."
In order to take into consideration as many areas of the business as possible, our entire team have been involved from the off. We began with a communal ideas pool and asked all staff to send in any ideas no matter how big or small that would help reduce our environmental impact.
Some of these became quick easy wins, some more long term and some simply not viable at the time, however, this is an on going process and as we develop as a business we continue to do so with our CO2 neutral goal at the forefront of our minds.
Below shows our initial ideas pool to give an example of some of the processes and ideas our staff came up with: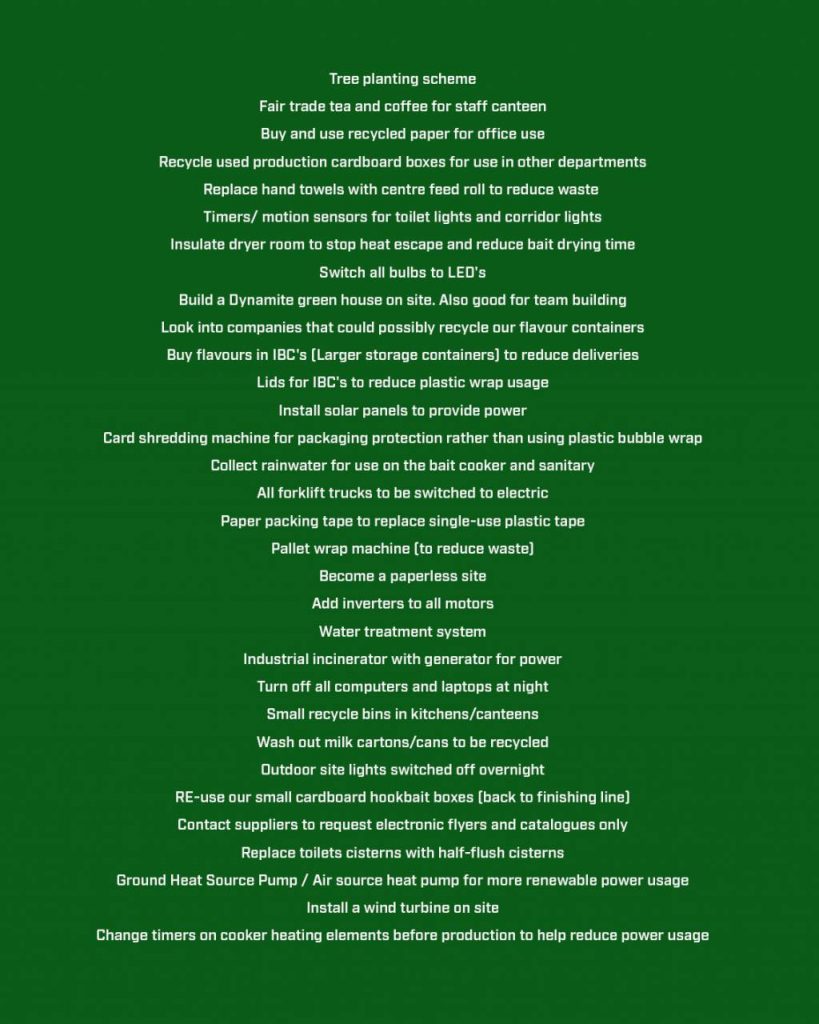 Several of the projects were the brainchild of Dynamite's joint Managing Director, Duncan Lennox including making the switch from diesel to electric forklift trucks on-site. He said: "Even small things like switching off computer screens at night and turning off laptops can make a huge difference. Since we began down this path I have already been amazed at how much energy and money we have already saved by going green. Switching to electric forklifts was a no-brainer especially once we begin creating our own electricity on site. This move also creates a cleaner, less noisy atmosphere for the staff on site."
The majority of these actions will be in place on site by the last quarter of 2022 said Dave: "Things like reusing cardboard boxes for use in other departments are an easy project to complete and these have already begun. Other more complex initiatives like heat pumps and wind turbines take a little more preparation but we are determined to get these in place so we can become fully sustainable in the next few years" he added.