2 März, 2018 | Karpfen | Anglers
0 Kommentare
Die Übersetzung in die Muttersprache steht für diesen Beitrag nicht zur Verfügung. Sie können hier eine maschinelle Übersetzung mit Google durchführen:
Name: Clive Dandridge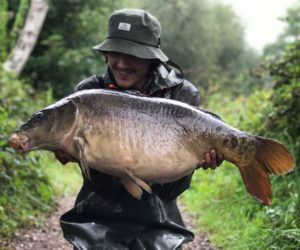 Also known as: Clive
Age: 22
Hometown & Country: Farnborough Hampshire
Occupation: painter
Mirror PB: 31lb
Common PB: 31lb
Other PB's: sturgeon 37lb
Favourite boilie: complex T
Most used rig: The German Rig
Venues fished: Hollybush lakes, club waters and day ticket water down south.
Favourite venues: Basingstoke canal, Deux Iles, Firgrove Manor.
Target fish you would most like to catch: Double Row Lin (Church Farm Back Lake)
Top carp fishing tip: Take your time choosing a location when you first arrive at the lake but in all seriousness have FUN! Other wises what's the point
Aim in angling: Catch a carp from a boat and fish RainbowLlake!
Highlight of angling career: Getting my girlfriend into fishing and teaching her the ropes making great memories over the last few years travelling around
Other types of fishing: Pike fishing then it's super cold!
Instagram: @clive_d_carper