15 May, 2019 | Carp | Match & Coarse | News
19 Comments
New 2019 Dynamite Products Set To Launch This Summer
With summer finally here its time to talk new products! We've been ultra busy at Dynamite HQ over the past few months in order to bring you a host of new carp fishing, match fishing and specimen fishing products for summer 2019.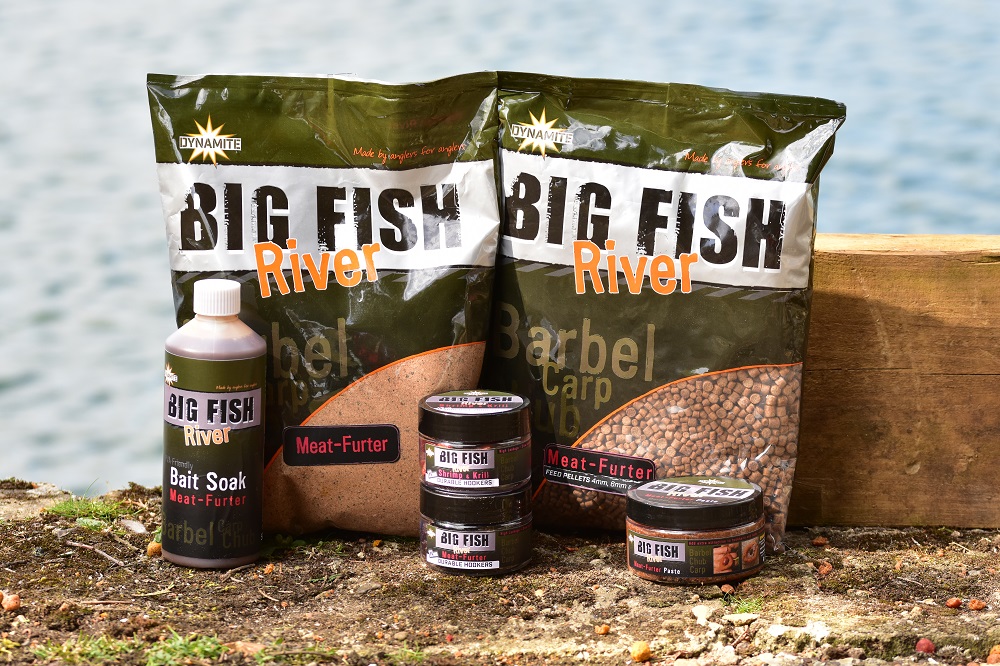 Anglers will be able to get their hands on several exciting new products when they are stocked in tackle shops across the UK and dozens of countries around the globe over the coming weeks.
For the carp or specimen angler…
New Floating Pellets
Designed for surface fishing, we are introducing three new 11mm floating pellets for carp fishing under the Big Fish banner. There are three exciting flavours which carp just love – Krill, Sweet Tiger and original Fishmeal. They come in 1.1kg large bags.
Big Fish Floating Durables
If you are using the feed pellets above, then these are a super addition. These durable hookers are soft enough to hook direct but tough enough to hair rig and cast long distance. They are designed to be a hookbait that stands out and leak lots of lovely flavour on the surface. Available in three flavours to match the floating pellets – Krill, Sweet Tiger and Fishmeal. 12mm size approx.
For the match angler….
Swim Stim Pinging Pellets
Gone are the days of struggling to catapult your pellets in a strong wind or when fishing at long distances. The new Swim Stim Pinging Pellets are the pellet waggler or bomb angler's new best friend! These bad boys have been specially designed to be of a high density for extra weight when feeding pellets on commercials. Still the same classic Swim Stim flavours including Betaine Green and F1 Sweet and with the same fish-loving Koi Technology. Great for venues like Boddington or Barston!
For the specimen angler….
Meat-Furter Range
After the successful launch of the Big Fish River range last season with Cheese & Garlic and Shrimp and Krill flavored baits we are equally excited about the new Meat-Furter range of products. A spicy sausage flavour bait that is proven to be a successful barbel, chub and carp catcher. Just like the other two flavours there is a groundbait, bait soak, Buster hookbaits and a paste but we've also brought out new matching pellets for all three flavours as well as a durable hook bait (more details below)!
Groundbait
A high food value, heavy mix designed to attract big fish on fast flowing water
Same as the other Big Fish River groundbaits its packed with coarse particles including pellets to create a bed of attraction on the river bed
Rich brown colour, highly flavoured
1.8kg bag
Bait Soak
Spicy sausage flavour bait soak designed for mixing groundbait or flavouring pellets/hookbaits
Maximises leakage and attraction
PVA Friendly
Buster Hookbaits
Same as the other busters in the Big Fish River range but spicy meaty flavoured.
High leakage but slow breakdown
14mm approx. size
Come with 20mm of oil in the tub to keep them highly flavoured and fresh when not in use.
Paste
Spicy meaty flavoured paste, great for wrapping around leads or hookbaits
High leakage, medium breakdown to ooze flavour downstream and attract big fish
Big Fish River Pellets
Also for summer 2019 is a new bag of mixed pellets to match the three Big Fish River ranges – Cheese & Garlic, Shrimp & Krill and the new Meat-Furter. The 1.8kg bags include a mix of 4, 6 and 8mm pellets designed to hit the deck hard and attract fish from downstream. These highly-flavoured pellets can be used straight out of the bag or dampened and fished in a feeder. Great for those barbel fishing fans.
Big Fish River Durable Hookbaits
Also available for all three Big Fish River flavours is our new Durable Hookers. These are designed to leak flavour into the water from the moment you cast in and are around 12mm in size. Soft enough to hook direct but tough enough to hair-rig the baits have a medium to long breakdown time so might be ideal for hair-rigging, perhaps alongside the matching Buster hookbait to achieve the best of both worlds. A great bait for barbel or chub fishing on all rivers.