17 December, 2019 | Carp | Match & Coarse | News
5 Comments
A Bundle of New Dynamite Products For 2020
With turn of the year finally upon us its time to talk new products! We've been ultra busy at Dynamite HQ over the past few months in order to bring you a host of new carp fishing, match fishing and specimen fishing products for the new year.
Anglers will be able to get their hands on several exciting new products when they are stocked in tackle shops across the UK and dozens of countries around the globe by early March.
For the carp angler…
Our popular Hit N Run range just got bigger with the arrival of some new pop-ups and wafters. All the colours and flavours will now have 12 and 15mm pop-ups as well as a wafter. Previously wafters were only available in red colour which was also previously without a pop-up.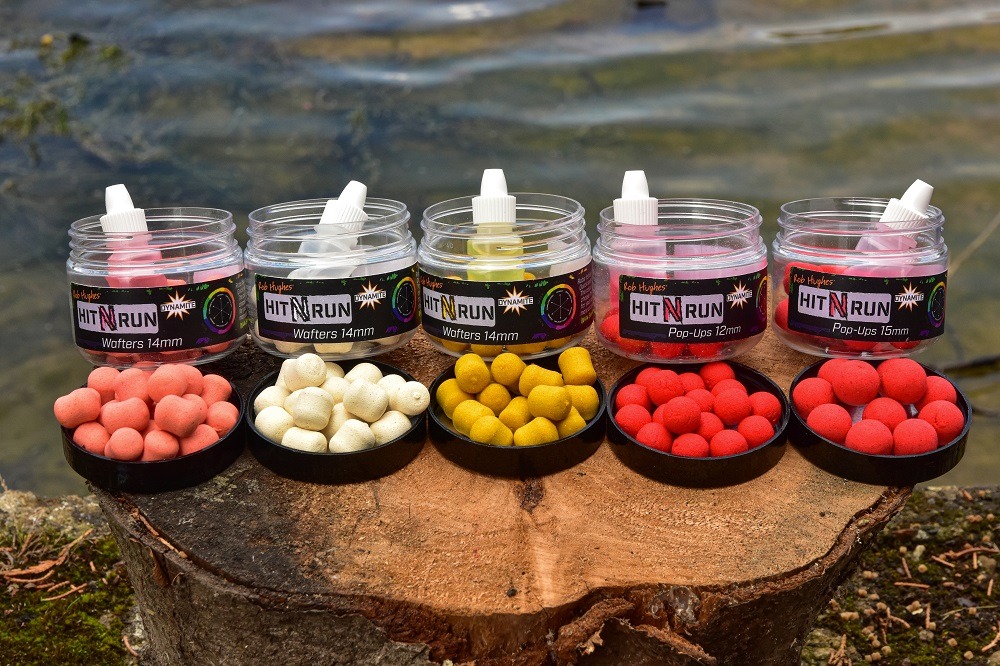 All the Hit N Run hookbaits will now include a pop-up in 12 and 15mm as well as a wafter..
Hi-Attract turns into Big Fish with two new flavours for the UK
Our popular mid-range boilies which include the likes of Spicy Shrimp and Prawn and Robin Red Flavour will come under the Big Fish range of products for 2020. The bags will also grow in size, moving up to 1.8kg from the 1kg offering. As a bonus the range will also include two flavours which were only previously available outside the UK. Mulberry Plum and Hot Fish & GLM, two fantastic baits which have gained quite a following on the continent as big carp catchers.
For the match and specimen angler….
Swim Stim Sticky Pellet Syrups
We are really excited about these. For those who have trouble with their pellets not binding to the feeder or sometimes watch in horror as the pellets drop off their Method feeders while casting these will be a god send. The syrups come in all the classic SwimStim flavours including Betaine Green and F1 Sweet and are designed to bind your pellets together for casting or feeding small balls but then break down quickly once hitting the bottom. A squirt of the syrup after you've soaked the pellets is all you need. A real game-changer!
Wowser Hookbaits
You've seen Speedy Washters so how about a hi-vis version? There are four colours/flavours in the range and they come in 7 and 9mm sizes. Great for the Method feeder, traditional feeder work or even the waggler. The hookbaits contain essential oils that fish just love and being hi-vis they make it easy for hungry carp to spot on the bottom.
9mm Speedy Washters
Our popular Speedy Washter range just got bigger with the arrival of a 9mm version. Available in all three of the current flavours/colours. The larger size make them perfect for waters where larger carp are the quarry such as Barston and Barford.
DB1 Binder
For those who love balling in on rivers or deep lakes these binders are the easy way of preventing your balls of lovingly mixed groundbait from breaking apart before they have even touched the water. They come in three flavours to suit the target species including roach, barbel/chub and bream and can be poured into the mixing water or directly onto already dampened groundbait on the bank for an instant effect.
Robin Red Durable Hookers
Following the success of the SwimStim Durable Hookers and the introduction of the Marine Halibut version we have decided to create a Robin Red variety. Available in 6, 8 and 12mm versions, these are soft enough to hook direct but firm enough to hair rig and stay on the hook when casting long distances. The smaller versions will suit match and pleasure anglers while the 12mm version is perfect for barbel, chub or specimen carp.