12 January, 2022 | Carp | News
3 Comments
A Bundle of New Dynamite Products For 2022
A New Year can only mean one thing folks… its time to talk new products! We've been ultra busy at Dynamite HQ over the past few months in order to bring you a host of new carp and match products for 2022.
Anglers will be able to get their hands on several exciting new products when they are stocked into tackle shops around the UK and Europe, very, very soon.
New Frenzied hookbaits that are the nuts!
These new products are the nuts! Our range of Frenzied particles is about to get a whole lot bigger with the introduction of four preservative-free boosted hookbaits. Better yet, they come supplied in easy-to-carry 500ml jars that're perfect for short sessions or the carper who likes to travel light. Each hookbait has been given an added boost, by being cooked in a supper attractive liquid.
Here's a quick overview of what each hookbait has to offer:
Naked – Skinned tiger nuts give them a washed-out look, to help fool wary fish and as a stand out hookbait amongst your feed.
Jumbo – An oversized Tiger Nut hookbait to stand out better among your feed bait and easier to be picked-up by bigger carp and to avoid smaller nuisance fish.
Black – Contrasting natural dark coloured Tiger Nut hookbaits. A great optional change hookbait that will stand out among your feed. Can also be used as a snail imitation hookbait.
Peanuts – Premium whole peanuts perfectly prepared in a unique sweet and salty syrup, a proven carp loving bait.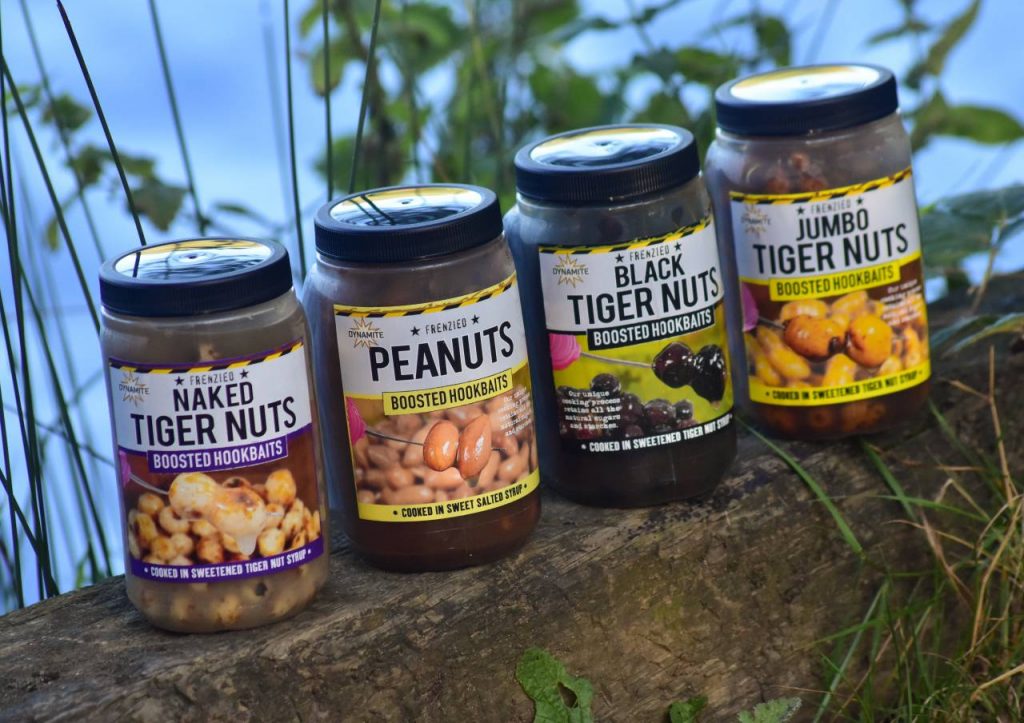 For the carp or specimen angler…
You asked, we delivered! Our premium range of boilies (CompleX-T, Monster Tiger Nut, Red-Amo and Source) will now include smaller 12mm Food Bait pop-ups! These little gems are super buoyant and resilient to nuisance fish. They're also great for tipping off snowman presentations. All pop-ups come supplied with a concentrated liquid booster.
The 12mm CompleX-T pop-ups have already helped Lorcan Davenport to bank this stunning park lake common…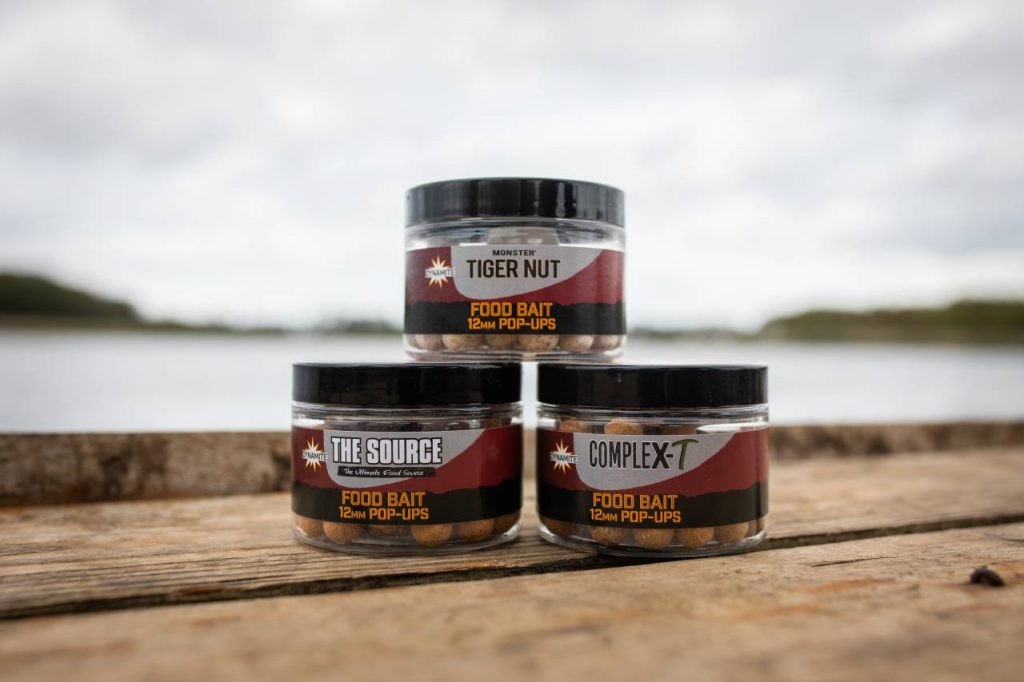 Extracts that pack a fishy punch!
Liquids can make all the difference when trying to fool wary fish like big carp and barbel. That's why we have put hours of research and development into these premium, highly concentrated liquids containing real Tuna and Shrimp extract. Perfect for glugging hookbaits, coating boilies or boosting PVA bags. Pre-digested protein packed Tuna extract and soluble shrimp for added maximum attraction these glugs have a powerful aroma to help attract your target fish.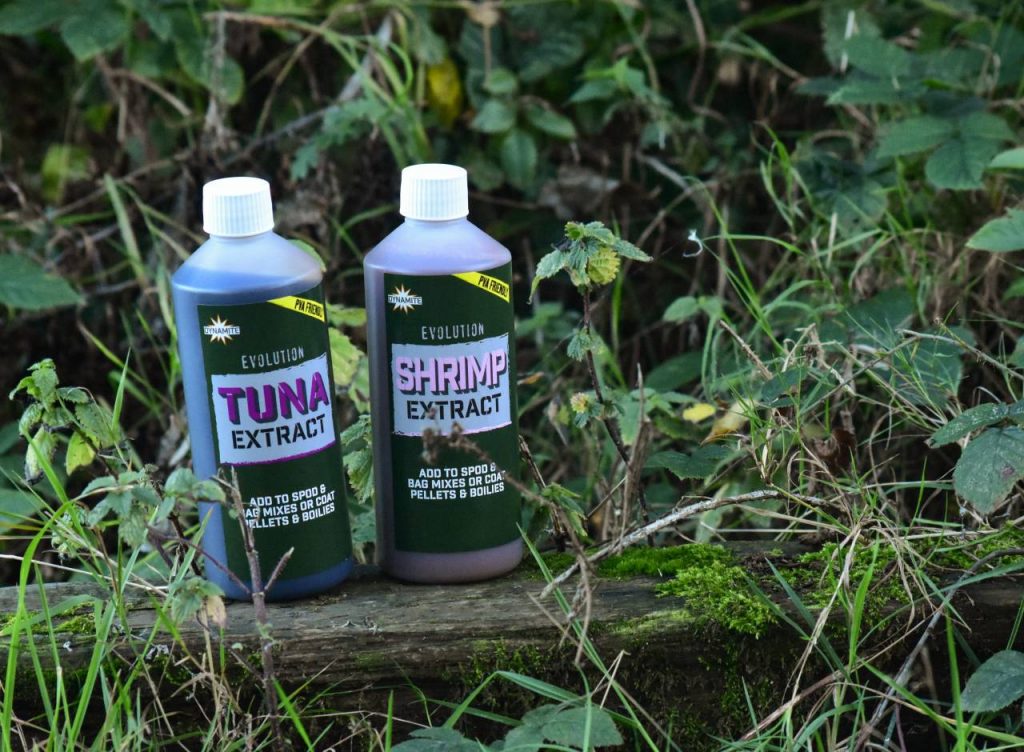 Same great bait, smaller packaging for short sessions…
Our incredibly popular Sweet Tiger Liquid and boilies range will soon include smaller 1kg bags of boilies and 500ml bottles! Similarly to the new Frenzied Nuts, the smaller packaging will save lots of space in your carryalls and are ideal for those single day or winter sessions where lots of bait isn't needed.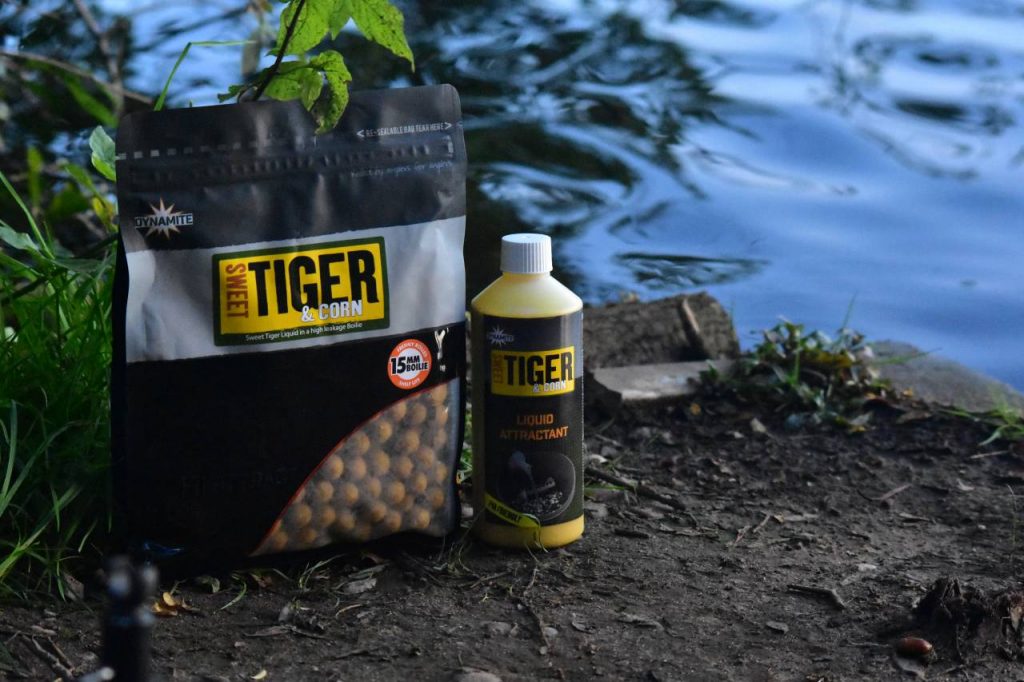 Liquid Carp Food gets a new addition…
There's a new sheriff in town.
Premium Belachan Liquid Carp Food is a highly pungent liquid flavouring that's ideal for boosting spod mixes, injecting into PVA bags and coating hookbaits. It contains fermented shrimp for a strong, salty taste that oozes in the water and draws fish into your swim. A fantastic companion to our Liquid Carp Food range.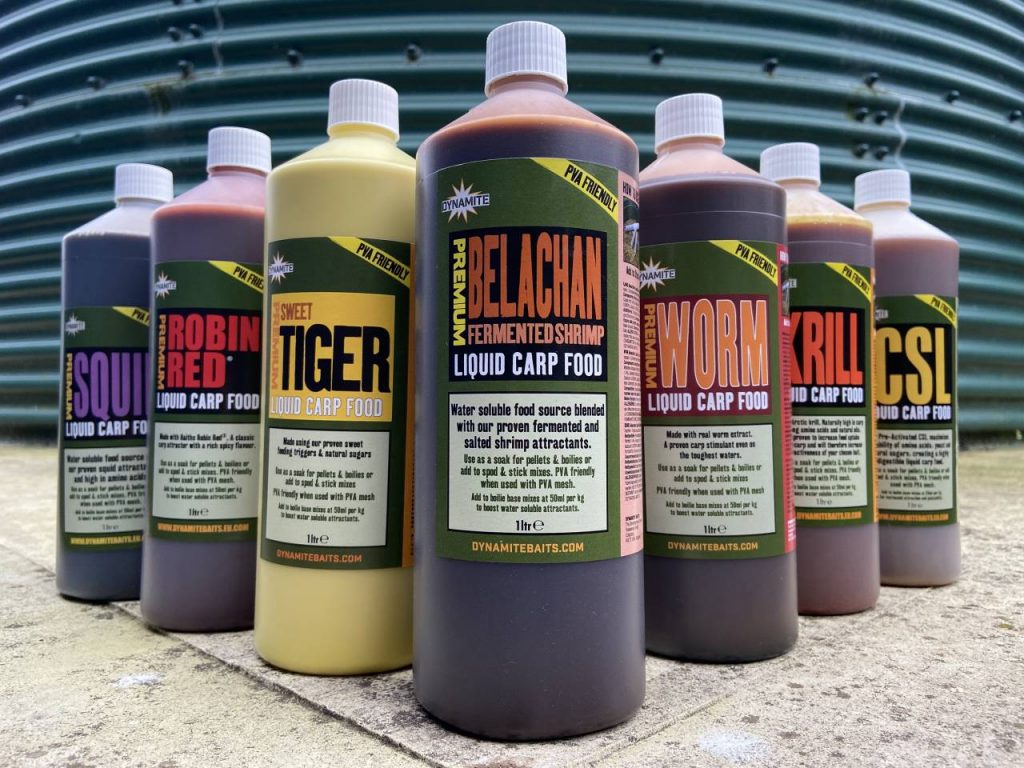 For the catfish angler…
The Belachan flavour is so effective we've decided to release three products to cater for the catfish angler! The first is an extra-large sinking hookbait designed for targeting big moggies on stillwaters and rivers. Extra pungent with a very slow breakdown, these hookbaits come in 22mm and 30mm sizes and can be hair-rigged for fishing on most standard carp-style rigs.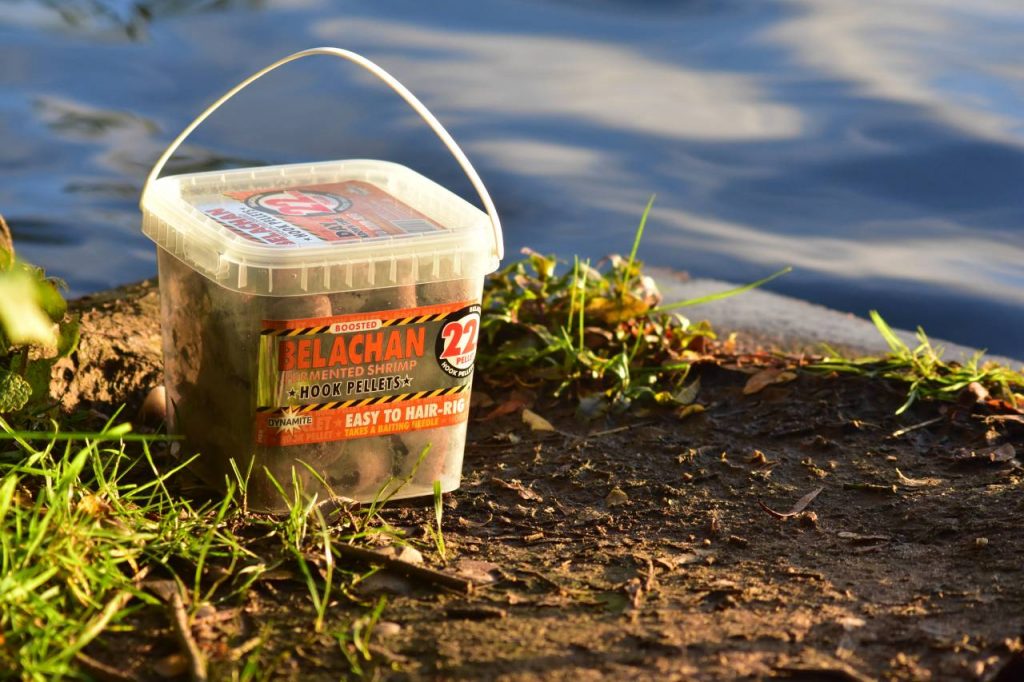 Now this stuff absolutely stinks! The Belachan Catfish Hookbait Dip is a highly concentrated liquid that's perfect for glugging hookbaits for added attraction. It's extra pungent and highly viscous for a slow release of attractants into the water. This dip will draw cats from all corners of the lake into your swim!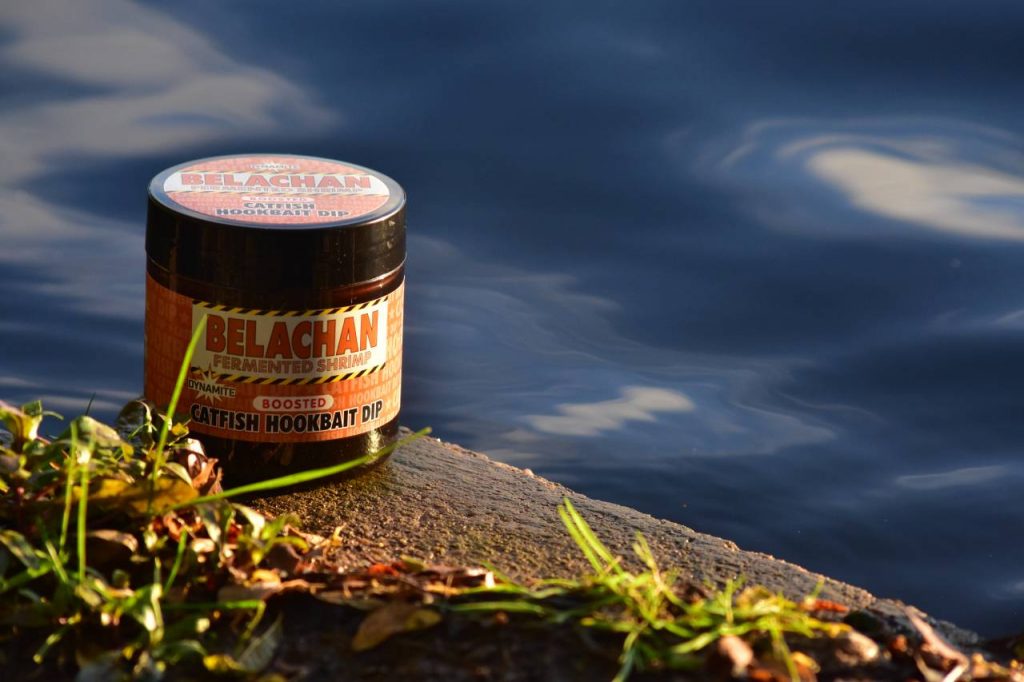 We'll also be adding 22mm Fluro pop-ups to complement the Belachan Hookers! Highly vibrant with the same, stinking Belachan scent, these pop-ups can be hair-rigged on their own or added to multiple large hookbaits or deadbaits to help pop them up off the bottom…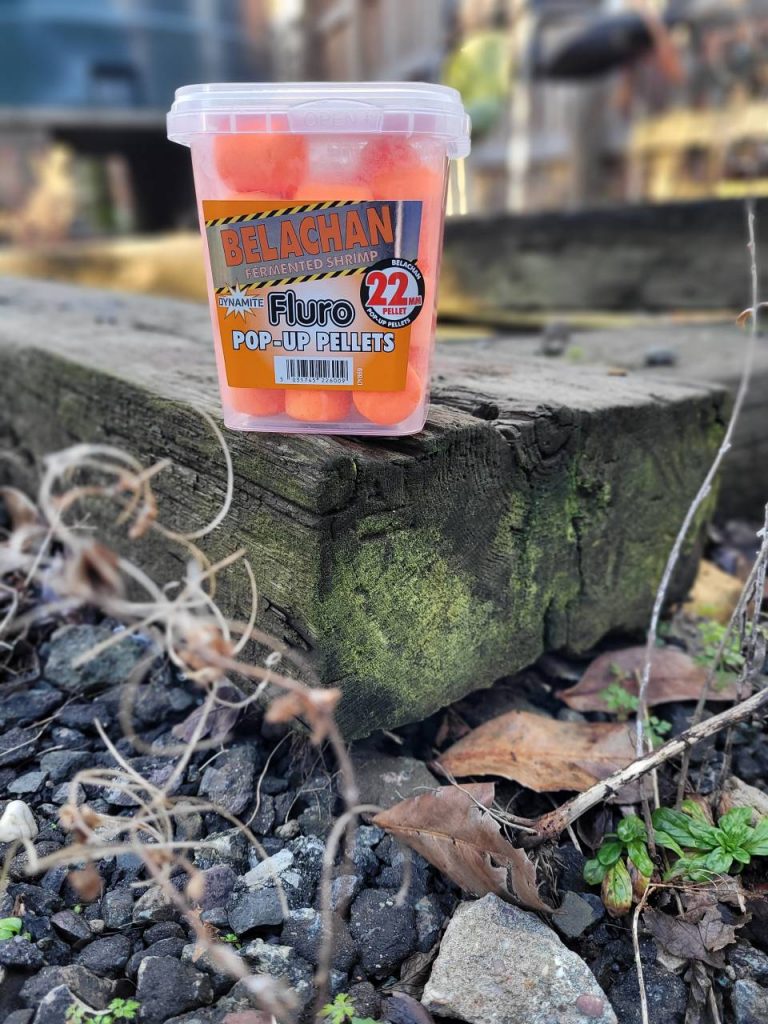 Getting ziggy with it!
To compliment our Big Fish Milky Mix and Sweet Tiger & Corn Zig Clouds, we've added two premium oils – Fish and Nut. These have been designed specifically for carpers for adding to spod mixes to help draw fish into the swim and create an attractive, coloured slick in the water column. They're also incredibly useful for injecting into PVA bags for added colour and attraction…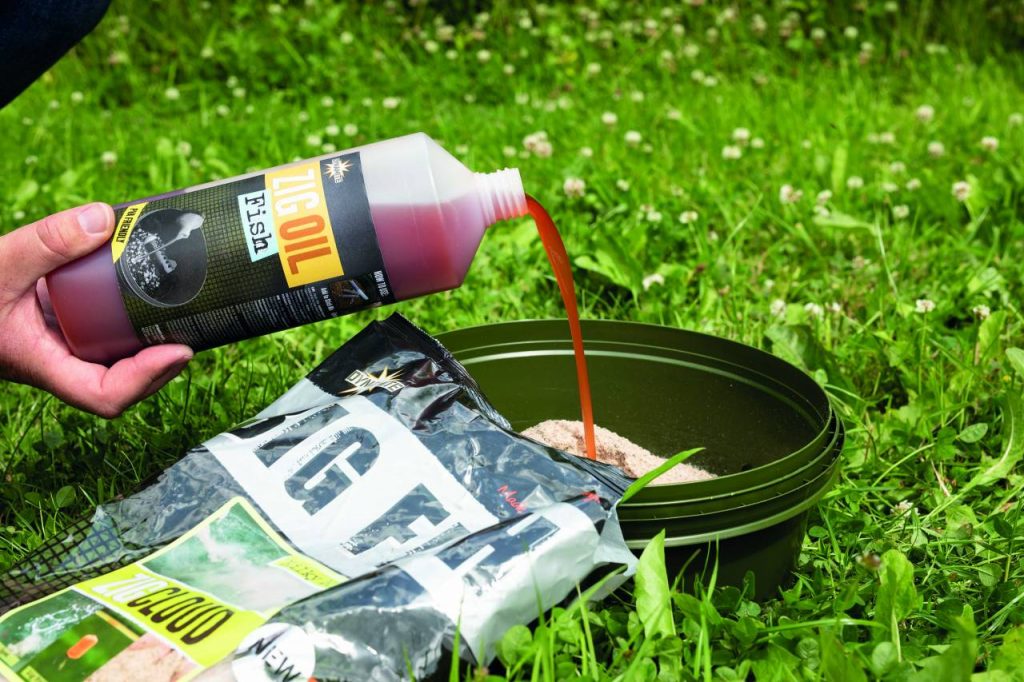 For match and coarse anglers..
Ping to win..
Our new Cata' Pellets are the perfect choice for those who fish the pellet wag or bomb. Specially selected pellets, these are hard and dense – great for making a splash and attracting those hungry carp. Available in 6mm and 8mm size they are part of our Big Fish range and available in a bumper 1.8kg bag to give you enough feed for when the fish are really having it!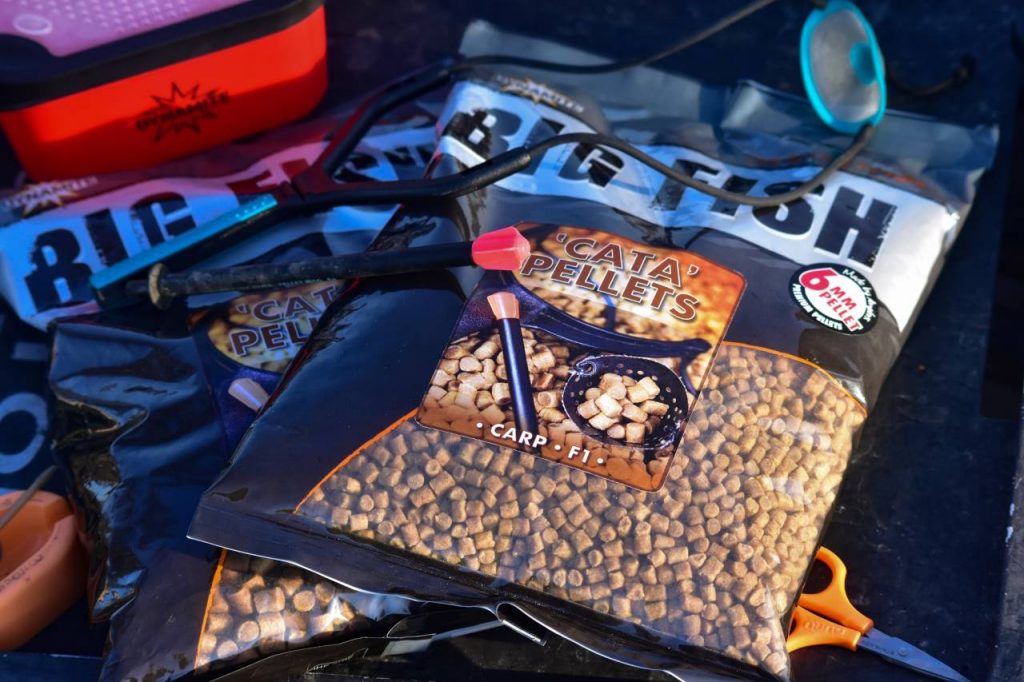 There's Method to our madness
You asked, we listened!
The perfect blend of pellets to suit fishing the Method. Easy to prep, this product provides the perfect mix of pellets which bind to the feeder as well as creating an enticing bed of feed once the feeder hits the bottom. We recommend flavouring/colouring these with one of our SwimStim Pellet Soaks.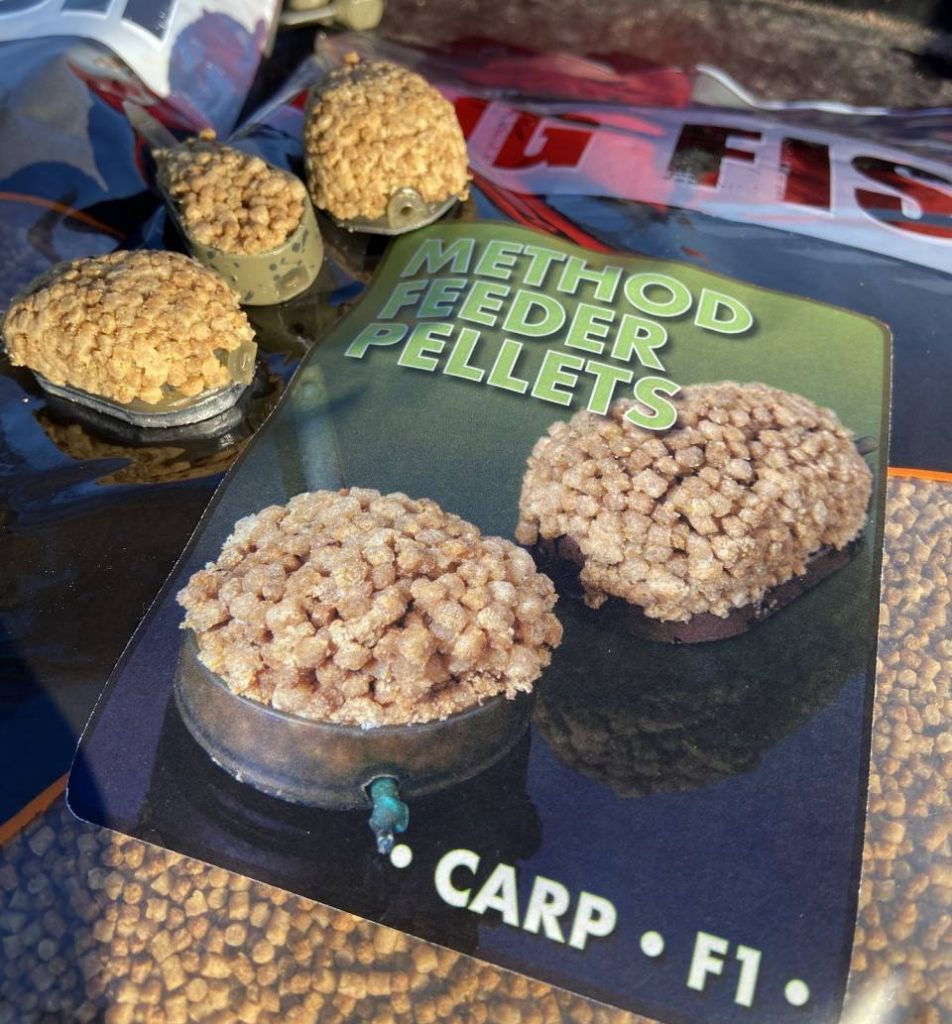 Swim Stim just got bigger and better!
Say hello to a fantastic new feeder version of the UK's biggest selling Swim Stim groundbaits! We've taken three of our most popular Swim Stim flavours, F1 Sweet, Betaine Green and Red Krill and given them a continental makeover. These feeder versions feature the same fish-loving, Koi Technology as the normal Swim Stim groundbaits but we've added fishmeal and larger particles to suit big waters on the continent when targeting a mix of species including carp. Available in Export countries only…