14 February, 2021 | Carp | Match & Coarse | News
12 Comments
A Bundle of New Dynamite Products For 2020
With turn of the year finally upon us its time to talk new products! We've been ultra busy at Dynamite HQ over the past few months in order to bring you a host of new carp, match and specimen products for 2021.
Anglers will be able to get their hands on several exciting new products when they are stocked in tackle shops across the UK on March 1st and dozens of countries around the globe by January.
For the carp or specimen angler…
We're launching some new pop-ups and wafters! There are two new classic flavours – Tutti Frutti and Squid & Octopus along with two current flavours, Mulberry Florentine, Pineapple & Banana. Each flavour will have a pop-up and wafter for you to try. Highly attractive, highly visible and with a superb smell that will make you want to eat them!
There's a new Big Fish boilie in town!
Our Sweet Tiger Liquid is so successful we decided to base a boilie on it! With corn being so deadly for carp we also decided to add some this too. Sweet Tiger & Corn complements our Big Fish range nicely. Like all our other Big Fish boilie ranges there is a 5kg and 1.8kg bag in both 15 and 20mm sizes. As part of the range, carpers can also get a matching pop-up, hard hookbait, zig cloud and specimen style groundbait!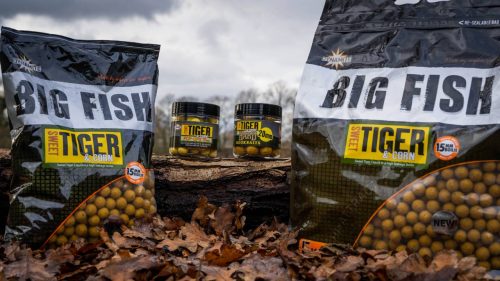 Go hard or go home..
Lots of you have been asking for specific sized Hard hookbaits in pots for our Hero range of boilies so we decided to make a change. Instead of one pot of mixed sizes as was in 2020, each of the flavours, Source, Red Amo etc will have two versions of Hard hookbaits. One pot will contain specific 20mm size baits and the other a mix of 14-15mm baits.
And for the International market…
You asked for it, we listened! Our Big Fish boilie ranges now offer a Hard hoookbait (Export only). 20mm in size, these are great for when you need a hookbait which offers the same high attractants but with a slower breakdown time.
For the match or pleasure angler…
Our super visible, highly attractive Wowser hookbaits have a new colour/flavour. Yellow ES-F1 joins the ranks adding to pink, purple, orange and white. Each colour has it's own unique flavour created using essential oils. Great for feeder fishing, waggler and bomb work.
And a new size!
Great news! Along with the new flavour, each colour will now be available in a new 5mm to supplement the current 7 and 9mm versions!
Chocolate Orange
A proven match fishing flavour is now available in our Big Fish 1.8kg groundbait range. Dark, sticky and sweet this groundbait is ideal for feeder work as well as balling or cupping in particularly during the warmer months when big carp, F1's and bream are the target. There's also a matching XL liquid to help add that extra instant boost to your mix. (see new XL liquids)
Three new XL Liquids
Our extensive XL Liquid range just got better with the introduction of three new flavours. Chocolate Orange to match our new groundbait above as well as Cheese & Garlic and Sweetcorn & Hemp. They come in the same 250ml bottle with squirty nozzle as the other flavours.