29 July, 2019 | Carp | Match & Coarse | News
1 Comments
Hughes and May in Carp Versus Match Fishing Fish-Off
Rob Hughes and Andy May try their hand at opposite disciplines for TV at Drayton reservoir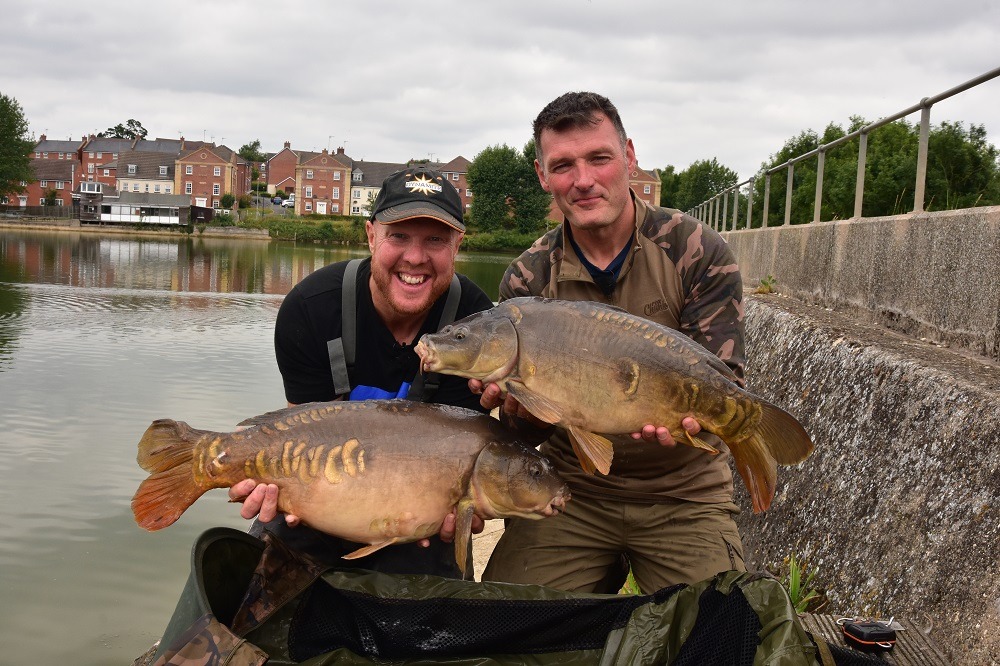 The pair fished in front of the cameras for one of Rob's forthcoming episodes of BT Sport's 'On The Bank' (Monday's at 9pm).
The aim of the day was to put a carp angler up against a match angler with the added twist that each angler must swap tackle halfway through the match so that each man has to test their skills when fishing a totally different discipline.
Rob planned to fish zigs, while Andy would fish the pellet waggler to see which tactic came out on top on a water which suits both carp and matchmen.
With a day ahead of them it took no time at all to get the pegs rocking with some hard fighting massive Drayton carp and Andy very quickly nailed a load. 'Big wobbly ones' according to the match ace.
Andy started quickly catching steadily with fish over 20lbs on the pellet waggler at 40 yards using 6mm XL Carp pellets and Swim Stim Betaine Green Pinging Pellets fed over the top of a banded pellet.
In the peg next door Hughesy put together a mega spod mix of Zig Cloud, Sweet Tiger Liquid and some Marine Halibut pellets to draw in an absolute frenzy of feeding corp. it was carnage.
To coin both a match Angling and a carp angling phrase they 'smashed it up'…….. and then it was time for the test. Which method was the best. However there was a twist, and Hughesy took to the box to try the pellet Wagler whilst May had his first ever go at zig rigging and spodding.
As you can imagine it took the lads no time at all to get right into the swing of things and start catching carp with Hughes he even managing a 20lb plus fish in the float and Andy nabbing a few on the zigs.
Both Andy and Rob said it's been a real eye-opener, and despite the fact that match angling and carp angling are seemingly very different, the reality is they are actually very similar in the way we catch carp, it's just the methods we use that are slightly different.
The show will be aired on BT Sport in August. Look out for On The Bank every Monday night at 9pm with repeats in the week