18 January, 2021 | Carp | Articles | News
0 Comments
Chasing Dreams – The story of a River Thames Carper PART 3
In the third installment of Ash Geden's story, the river carper relives his third season on the Thames, recollecting some more amazing captures and the stories behind them…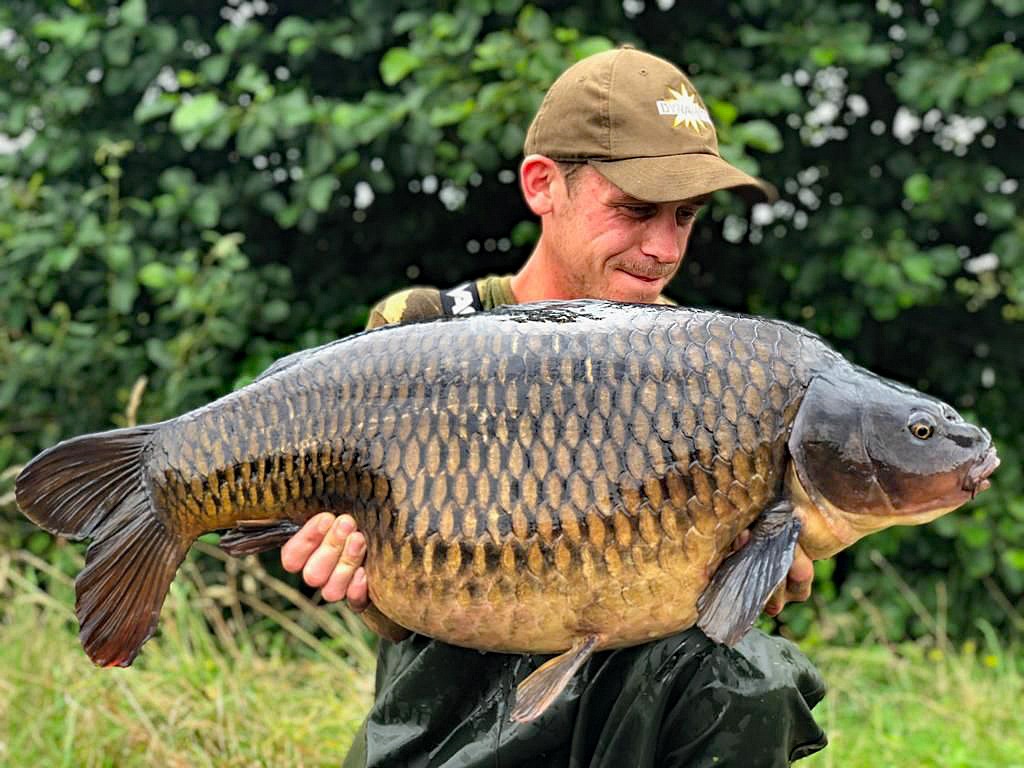 Get me down that river boi!
On the 9th of June 2019 I bid my syndicate water a farewell for another short while. With a stupidly large smile and a see you later (Couldn't Wait To Get Away From The Place!), having just finished off my time on there from last autumn, up to and over the winter and into the spring, with plenty of punishment, some brilliant socials spent in brilliant, brilliant company, (You know who you are).
With the bonus of a good run of captures, including a couple of real unexpected and special ones, on this particular morning, I just felt I had now done my time and leaving on such a high I really felt was the right vibe to take to the river with me. I could hear it calling me louder and louder by the day and boy was I oozing with confidence.
That very afternoon upon arriving back home from the lake and over the next couple of days I sorted all my gear out, re-spooled reels, terminal tackle stock up, bait order on route, swim and snag clearing tools gathered, camo nettings back out the tonne bag, check what bait I got in the shed. Great the mice have been at it again!
Leadcore leaders spliced, few rigs tied, everything was sorted and on the 11th June there I was trying to skip down the river with two catapults round my neck, a throwing stick strapped to my back like a samurai sword, a boilie caddy filled with rather large spombs, wrap sticks, a spod rod and just over 25kg of bait split between three buckets. It don't half hurt your shins if you haven't tried…
I was down there in no time anyway for my first bait up mission of the campaign! Obviously the approach was far from that and it's not just the case of loading up a spot and seeing what comes along, as soon as the first buds are on them trees and spring is here, I am down that river searching long and hard, day in, day out and also at night for the fish!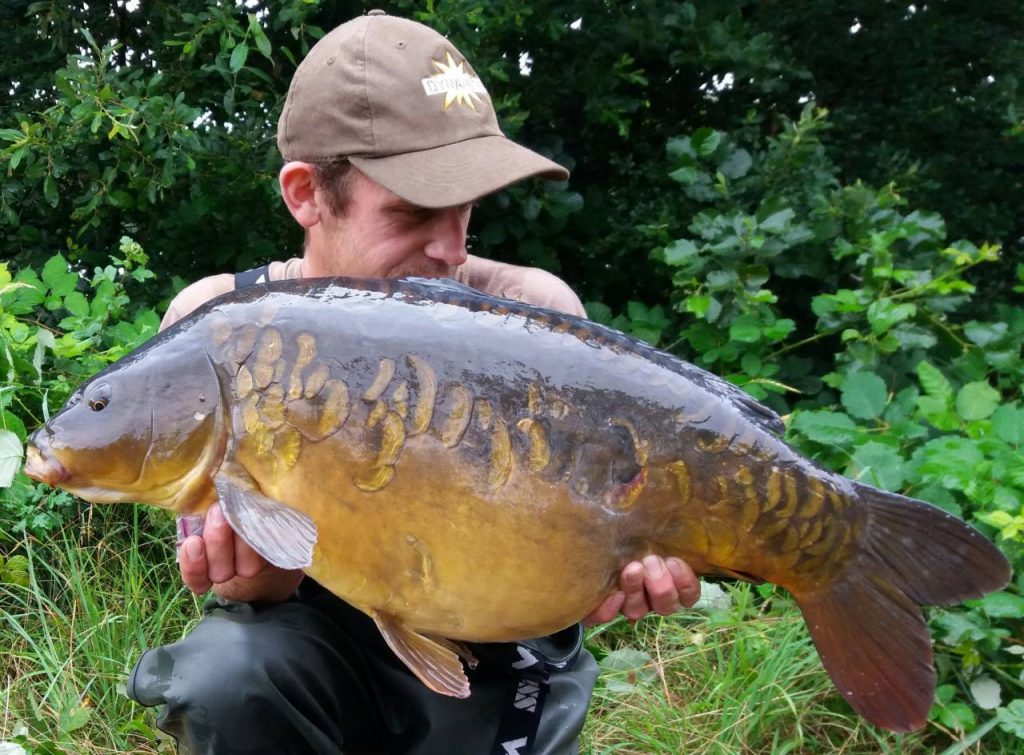 If you don't find them then look again and if you still don't find them after all of that, then look again! Yeah sure you find carp in the river, you feed them and you will catch them, simple as that but I can play the numbers game another day, there is certain ones I dearly would love to catch from the river.
So it can be a real tough choice when it comes down to searching out my chosen area to commit to a baiting campaign, I don't know what was going on but it seemed that everywhere I went, I would locate carp but not the ones that really sparked anything, that I could actually physically see of course.
Half of them were fish I recognised and knew roughly what gang was what and who hung about with who, having either caught or witnessed or simply just knew of them certain individuals. Some may have moved stretches, some new ones may have also turned up, either way it was pretty clear what I was looking at and I ruled out a fair few areas from the start.
These were those holding predominantly the smaller ones at the moment and so I could only direct my attention to a handful of areas where I felt a few secrets were hopefully holding up at the time. I only had to think back to last season's madness and what I already knew deep down.
The spots
I had settled on three completely different areas over two stretches for these three buckets full of bait destined to be taken in different directions along the towpath, my original Plan A, the raised area out in the middle of the river where I had my very first 40+ and a string of captures from last season.
Then Plan B, where I had that breathtaking linear and brace from, mainly due to the image firmly embedded in my head of that even bigger one bolting off upon stalking a group of fish one morning and hooking the linear for the second time a few hundred yards away from the campaigned spot whilst I was trying to locate them and stumbled upon some last season at one point.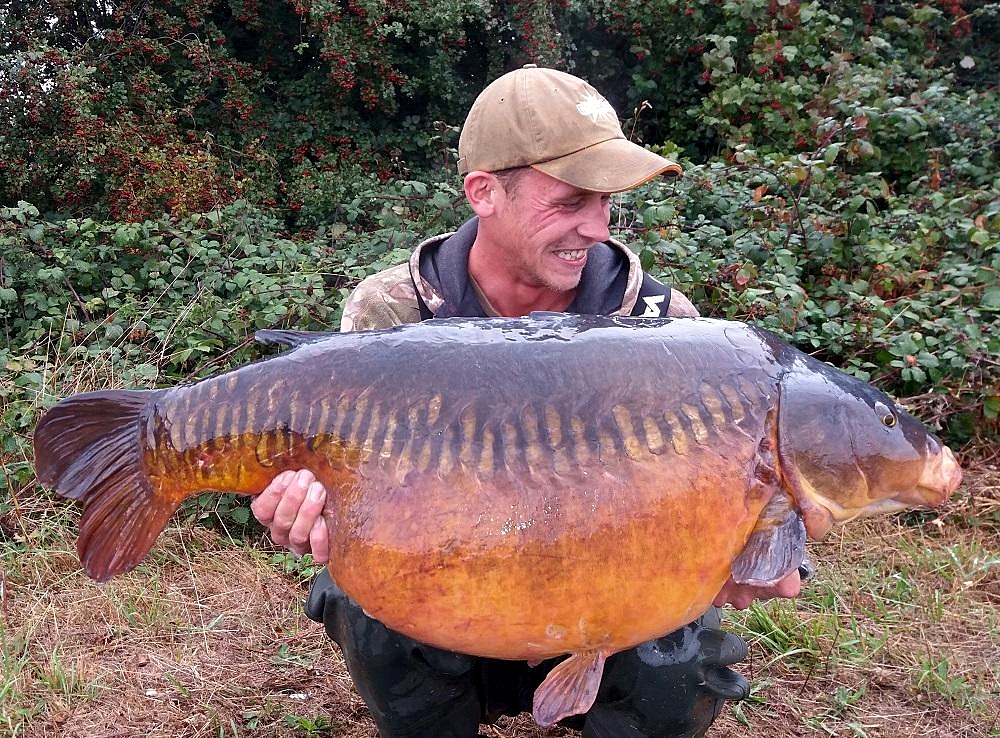 The new Plan C was another interesting area, situated on a deep, weedy bend, it screamed carp and looked the part and do you know what, within five minutes of that last spomb hitting the water on that first hit of bait, I actually saw one poke its head out, nothing massive like but it was a Carp!
With all three areas loaded up, I set off back home to get the next hit ready, with the annual kick off only being a few days away as you can imagine, I was already well excited.
Motor Troubles And Spanners In The Works
It was late afternoon on the 15th of June and I was all loaded and counting down the remaining hours in readiness to set off to the river, with the intention of being all settled in and sorted for them rods going out at midnight. All I had to do was hit a quick shop stop then It was a go go go but guess what, my motor had other ideas. It decided to dump a couple of litres of engine coolant into the foot well from a split pipe within a couple of minutes, so as you can probably imagine, with it now being a Saturday evening and with no chance of the problem being sorted now or over Sunday at all, I spent the next few hours upside down, swearing in the wet, greasy foot well!
After exhausting a fair few words, and using a few meters of high temperature silicone tape, I finally managed to get by for at least a bait up trip, it was a bit of a risk going kitted out for the originally planned session, as much as I really wanted to but if the coolant didn't stay where it needed to be then I would have to instantly pull over of course and that would be game over.
I had no problem leaving a couple of buckets of bait in the motor for the night if I had to though, it had been 4 days since I had baited the area I had intended to be on first, so I really needed to get it out there on that raised area to do its thing, luckily I had already been out and baited the two other areas early that same morning, that was a touch! The new plan went smooth and 5kg of particle, 3kg of CompleX-T boilie and a couple of hours later, I was back at home, job done for now.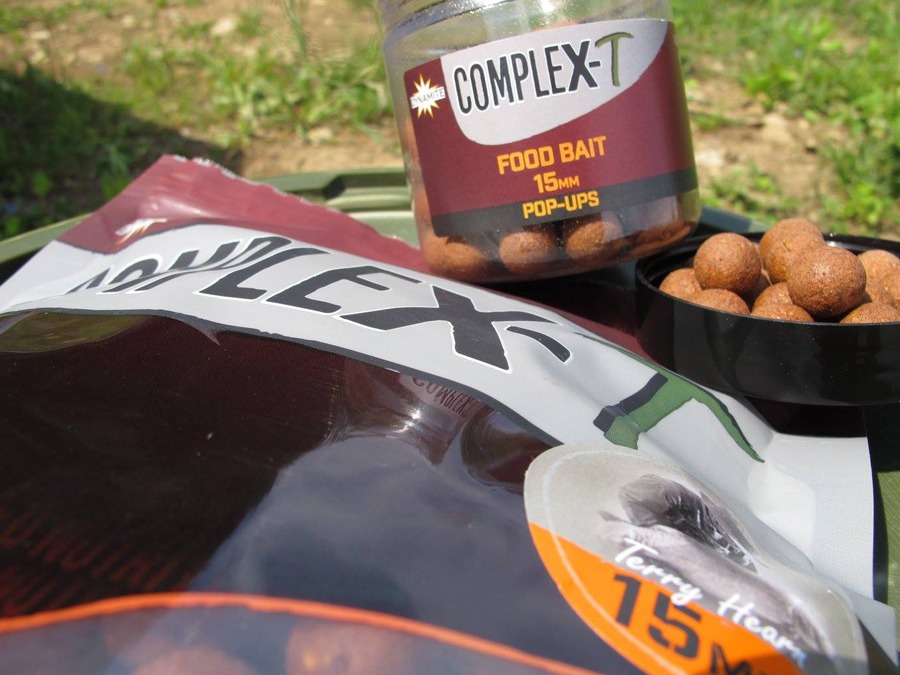 Problem solved
The motor problem was all sorted by early afternoon of the 17th June and I was on my way in no time at all, for a couple more nights longer than originally planned too I was absolutely buzzing for my first session. Well to cut a long story short, despite fishing six nights on the bounce over the three well primed zones, with me being on active carp each time, for a few reasons and other, things just didn't feel right.
With the odds not in my favour and nothing going my way, I felt I needed to give it a bit more time, something wasn't quite right and sure enough within the next couple of days of that hot weather I'm sure you can remember had been with us for a while at the start of the season, they started to spawn. I decided there and then that the fishing was instantly scrapped and it would be a further three weeks until I would return, keeping up with the baiting ratio and visual hunting as standard, right on que for the best part of July's partial lunar eclipse moon phase.
I had done well off the Plan A last year on a full and just had a feeling. I knew I was going to be on for another good'un or two from the river this season if I worked at it, I really didn't expect it to be on the first session of my return though…..
Lunar allure
Finally, 17th July and I was all settled in on Plan A by early evening a few hours after the partial lunar eclipse was at its peak. I had been out and about learning and spotting plenty over the previous three weeks and during that time I had witnessed actively feeding carp on all three of my zones, more and more by the day, as their priorities in life turned back to eating.
It had been a funny few weeks and the annual ritual really wasn't a quick process for them that season, as the temperatures did vary a lot with not much consistency at the start of it. I had popped down the evening before just to check the area before arriving early the next morning and within a couple of minutes, one come out heading sky ward from the spot, almost as if to say, come on then you …. !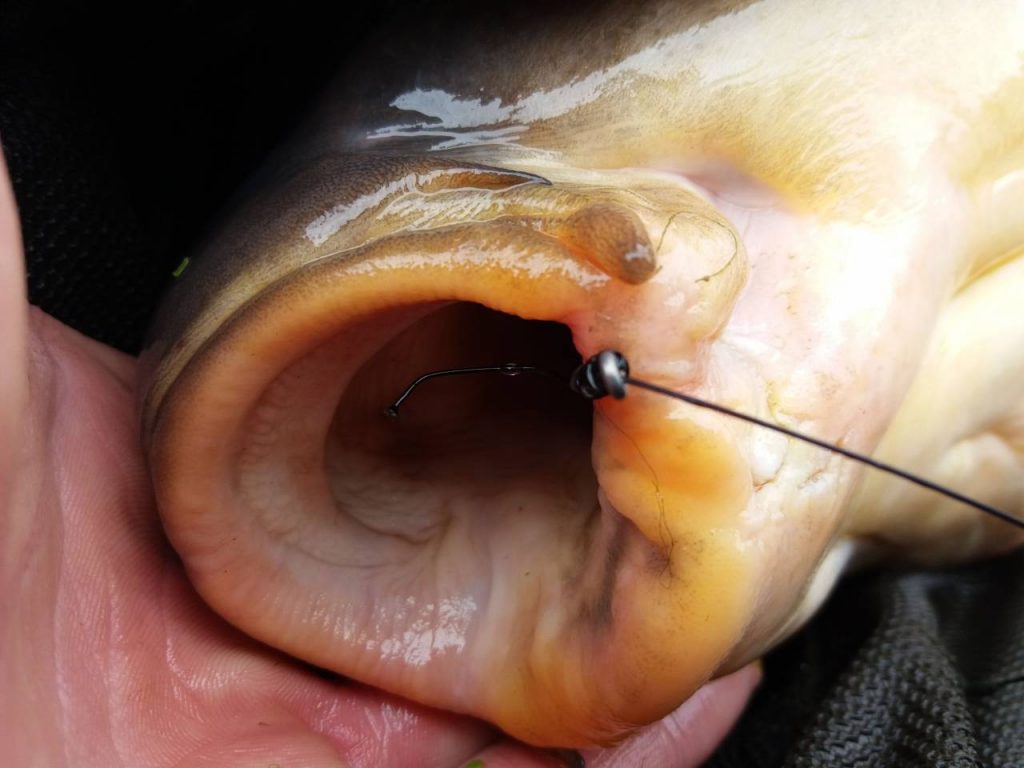 Three rods were positioned on and around the raised area with 30 spombs (around 5kg of particle and a couple of kilo of Worm Carp Food Liquid glugged boilie) deposited on top.
The weed growth was already pretty mad by then compared to last year and it was still pretty mucky round the sides and at the back, with lots of ribbon weed and cabbage preventing crisp drops on the left and right hand rods positioned either side of the tightly baited zone.
if I didn't hit the clip right in line with that exact horizon marker etc it just didnt sit right, so I opted for my trusty CompleX-T Fluro's on stiff hinge popup rigs with size 4 hooks, 25lb mouth trap and 7 inch 20lb amnesia booms for them two, right in the centre of the spot. It was so clean down there still from last year and with the amount of bait that had now gone out in that area over time the area was actually getting dug out and the coating on my lead was battered within a couple of crack downs.
I had been smashing it over on my syndicate on bottom bait D rigs so I was more than confident in rigging one up on that middle rod, also a size 4 hook and 7 inch of 20lb amnesia, to which a Worm glugged CompleX-T 18mm Hard Hookbait was tipped with a fluro dumbbell popup.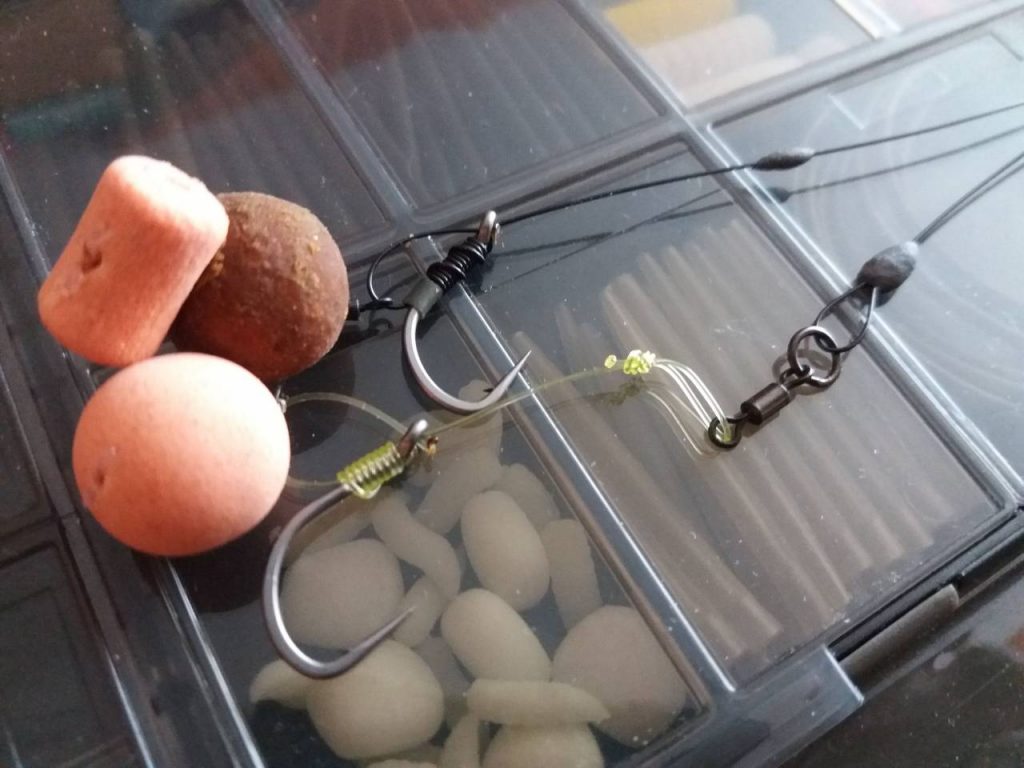 It really would drag on if I was to mention about all the barbel and chub every time, so I prefer to just skip them bits but if you haven't done any of this river fishing, its bloody hard work at times staying motivated and getting them rods and bait back out there. I have had some fantastic barbel over the years though from my big baiting campaigns!
And we're off…
Back to the Cyp's, 0430 18th July and we are off! definitely a carp this one, I mumble to myself, over the churning of clutch, as I slowly tighten up to gain control and engage the backwind. I had lost count of the amount of times I had been in and out the bag throughout the night but I did not feel tired one bit, if you had been hearing and seeing what I had been all night, then you wouldn't either.
The Carp were here alright, and I had heard a couple of real big ones nut out during the hours of darkness and confidence was booming. For a while I was a bit confused though as to what I had hooked here. This fish had now changed tactic and was going a bit bananas, as it just kept charging off, left and right in sudden bursts like a pike would but in the gloom. As I teased it in front of the net I glimpsed an abnormally long, torpedo shaped, bronzy thing. Barbel maybe after all?
A couple more lunges later I had it in the net and I flicked on the head torch, peered in, awesome, it was a common and at 22lb 2oz, a great start to the campaign, on the middle rod too.
I got that rod back out with a top up of bait in no time. By this point it was now light enough to get a couple of pictures so with that done and him thanked for the memories, I slipped him back, had a couple of cups tea and I passed out on my bed chair to what was turning out to be a beautiful and peaceful morning.
The next thing I remember was waking up to the receiver going into absolute meltdown around 10am. The butt of the middle rod had actually somehow plucked out of the butt grip and it was like as if everything was going in slow motion, as I went flying down the bank in a panic. Half in my waders but mostly not, just as the butt eye started grinding the EOS like It was in a club on the dance floor, I snatched the rod and bent into the beast!
What a relief, fish on, fish on! Well, this one was going like some steroid pumped up, roach, rocket, hybrid thing. Looked like it too, when I finally got it in the net after it had wiped out my other rods and dragged them about 30 yards back from the spot along the bottom of the river! I couldn't help but rub my hands together and chuckle to myself though, having seen this one a fair few times over the years hanging out with his much, much bigger mates, I knew I had a very good chance here, despite the rest of the day being quiet and a fairly uneventful following night.
As predicted just before 0830 the very next morning (the same as last year), I was eagerly perched on the bed chair in my waders, watching the tips as the liners built in strength, especially on the middle rod.
The line suddenly pinged from the clip and the line sliced up through the water as the 3oz captive back lead broke free, I took that deep breath and lifted the tip just as the spool slowly started to tick a few times and as the rod hooped over to full compression. There was a stalemate for a couple of minutes, just nothing, no movement, all I could feel was the line vibrating through the rod.
After what felt like a life time, there was a huge plume of bubbles and sediment that rose to the surface at the back of the zone, followed by strands and stands of ribbon weed, I was now in full contact with it! As I lead it back from the middle of the river it stayed deep. It felt like just a real slow and heavy fish and it was under control just by using its weight.
For a good 15 minutes in the pouring rain, I was repeatedly flat rodded down the margin and just as I would tease it back and get ready for netting, off it would go again, staying deep throughout the whole scrap. It was no surprise after a couple more attempts, a mirror of huge proportions suddenly appeared throwing its head from side to side at the base of the marginal shelf as it started to rise up through the water.
The two-tone colours on it were unreal on one side and it was one that I recognised instantly. I didn't quite think it was going to be that big though, as in the past, nearly every time I had seen her, she be lurking down low! In the net it sure went and my 3rd take from my first well prepped area this season so far turned out to be my 3rd Thames 40+ at 41lb 4oz! It's only 18th July and I have done it again! I have made some seriously special memories up and down this river over the years that's for sure!
With the rain still heavy at the time of netting the old plodder, I transferred it from the net and secured it safely in a retainer whilst in the margins of the river and then quickly got all three rods re-positioned with a light top up of bait over the top (around 2kg). A quick tea and the rain was now easing enough to get some quick shots and footage, not that the memories will ever go like.
It must have been no more than five minutes later after releasing the old mirror and watching it waddle off back into the depths that a stuttering take on the left hand rod this time had me flying back down the bank, a bit caught off guard if I'm honest but when they are on you they are on you and action comes fast!
A typical spirited initial first run for the river and then it was just the case of leading it back in slowly, as a lovely, scaly, 23lb 2oz Mirror being number four, wrapped up another session of a life time. I could have stayed on for another night but not wanting to rinse it and be a greedy sod, I deposited the remaining 5kg of bait I had on me and I headed off for a lovely carvery and a few too many pints with mates to celebrate!
Whether I had proved something, if anything at all to myself or anyone else, not that I care or feel I have to prove myself to anyone at all, other than make sense of things to myself but I had a feeling that targeting that area again like last season around a full moon phase would pay off. It made sense last year, being a shallower, hard area out in the middle of the river, at times it's always a check point or an area of interest to the carp.
They can't miss it sort of thing. But by also conditioning it into becoming a larder, that is the key anyway to this river carping but maybe it comes down more to the fact that it's an area that they will search out in particular of most importance or almost certainly hang about near for even longer periods of time on the lead up to and at the back end of favourable lunar moon phases.
For the next handful of sessions I made quick recce overnighters on other parts of the same stretch. It was just whilst I let the bait do its thing on the other spots on a different stretch (got all this planned out you see!), I struggled to locate any major groups of fish though, despite the weather being fairly consistent and in terms, ideal Thames spotting conditions.
Gut Instincts And An Old Friend
With a new moon now coming up on 1st August, I was eager to say the least in getting onto Plan B and C for the cycle over the next few nights. Having done extremely well last season on the darkest of nights in this area of the river i was really excited. The plan was to do 48 hours on B and then move a couple of miles downstream to the newest of the spots which is C, also for 48 hours.
Starting off with B, again, same spot, same bait, similar approach, similar lunar cycle, albeit different months, you couldn't write it, honestly! 30th July and I had that usual bubbly, anxious feeling building up inside me again, just the premature knowledge of something occurring in what you have worked so hard for on for so long now, you basically get in sync with the creatures, as mad as it sounds, its true.
Also, I had just purchased a set of new reels and it was their first outing and all that but I weren't going to let all them new tackle curses get into my head or nothing of course! I have already mentioned in particular how much more ahead the weed was this season compared to last term and I really struggled to get clean drops until I pinpointed certain areas. Although this season there was a bit more weed growth as I said, I actually got three absolute smack downs within three cast on all 3 rods spread across the river, 10-15 yard, 30 yard and one at 45, just as before. This was followed by three pouches of mixed Worm glugged CompleX-T boilie and Frenzied Chili Tigers. I was dangling!
What a night, I caught nothing but the liners were ridiculous, almost concerning, making me think something was wrong but I knew it was a waiting game, there wasn't many carp feeding down there but what was down there was massive. It was a long, sleepless night spent sitting on my hands perched on the edge of the bed chair, watching all three bobbins pulling up and dropping back time and time again from the clumsy liners.
It was at around 0430 when a fitting, clumsy, stuttering take on the middle rod occurred as I heard the line ping from the clip and the bobbin this time smashed into the butt eye of the rod and disconnected away from the line. I was on it in a flash, I watched in slow motion as the rod was snatched downwards as some serious weight charged off from the spot upon pick up the rod, two huge whacks of the tip later and all fell slack! I felt absolutely violated.
Believe it or believe it not, it was around three hours later that the same bottom bait snowman on that middle rod was away again and this time I landed what I had originally lost, my old friend the Linear at 44lb 8oz for the third time! The remaining night was dead quiet, I didn't have a single bleep. Funny old game ain't it…
Plan C And The Big Bad PB That Nearly Made Me Whitey
For my next couple of nights and the back end of the new moon, I moved down onto Plan C and again, my first night was spent wide awake, quite frankly in shock with what I was hearing. It wasn't the liners as such but what I gather was a couple of different carp in particular out there. Honestly the chills these sent down my spine as they crashed out all over the general area time and time again, I would just start to nod off and then suddenly your startled again and thinking the cows are falling in. They must have been really, really enjoying their food I had been laying out for some time now!
I put the reason in not having a take that first night down to my rigs being dragged slightly out of position, with this area I was situated on the outside of a bend, fishing nearside, centre and across to an interesting feature on the far, inside of the bend. Although everything seemed fairly okay up the rod end, apart from it all being a bit tighter than I liked with a bit of weed naturally building up under the tips and around where the lines enter the water directly down to the back leads, there was a lot of weight on the lines that had built up and the rigs were smothered upon a midday re-chuck.
The rods were back out there and rocking come late evening, having spent a couple hours just upstream of my spot earlier on in an inflatable, getting rid of a few held up rafts of weed that were destined to dislodge and float downstream throughout the night at some point. I would now have a lot less build up and hopefully a lot better presentation for my rigs for a few extra hours.
It was just getting dark and I spotted the Big Ghostie I had caught the previous season. It was right under the rods, as they were positioned solid in the water amongst the thick reed bed. I had not long ago catapulted out some extra juicy, Worm glugged CompeX-T and Chilli Tigers and washed my stinking hands by the rods, so he must have been straight in on that taste of blended up loveliness!
I weren't after him anyway and I did ask him kindly if he would please leave it out mate, seemed to work anyway. The sleep deprivation was really starting to kick in and affect me now, having been kept awake for two nights now, with me catching only a couple of hours sleep before it got too hot in the day after the liners chilled out at first light.
I became an absolute jittering mess throughout the night, rushing on sugar and caffeine and had already written myself off. I was now too tired to even sleep and besides, the cows had been falling in all night again! I didn't know what to do with my self like. It was just getting light and whilst I was sat there on the bed chair in the brolly with my head being held up by my knees, the right hand rod fished right across the bend to the interesting feature went into meltdown.
It was not like a normal meltdown but a seriously scary melt down. I've never known a take that powerful, how fast this must have took off I would love to know, even just by the sheer power of the take on a locked up set up before I even had a chance to react and move towards the rod, I knew this was an animal of serious calibre!
I very much doubt this one had ever been hooked before, it was as if it didn't really know what was going on, all of the mad scrap that followed over the next 10 minutes was right up on the surface. Within the first few seconds of thinking I had gained control after slowing it down on the take, its huge square framed body just shattered the calm, morning surface of the river and straight away I thought, I've hooked my 40lb Thames Common!
I know we can all only really say is, ohhh it proper pulled my arms off, you know, heart was pounding, might have had the knees knocking a tad, all that… Nah, I couldn't feel my arms, I felt like I was going to have a heart attack and my knees were like two wrecking balls smashing into each other.
There was so much weed building up on the line as it swung in from the other side on the surface and flat rodded me down my own very weedy margin, at speed and heading upstream. The 3lb TC Sniper rod and 18lb Syncro mainline was just moaning and groaning under the strain. My head was spinning, everything was turning black and white and my mouth was starting to water, as I struggled to keep myself up right in the margins of the river and sweat poured from my forehead.
My whole body was soaked and I just remember thinking to myself come on, it will pass. A few more seconds and all this will be over, just take deep breaths, you don't need to be sick and whatever you do, do not let go of that rod no matter what, I was in serious trouble! I really can't explain the relief of that one going in the net, it felt like it was just never going to end. It was like we were going to be locked into some sort of mad eternal battle. The power from these creatures and the electrical atmosphere of it all. The stuff you put yourself through whilst chasing them just to hold them for a brief few seconds. It's powerful stuff!
I'm sure you can tell by the picture what I mean, built to survive that thing! 3rd August and my first take on my second morning from my third well sourced, long term pre-baited spot was a spawned out, new PB river Common going 32lb 8oz.
Over the following days, after I had eaten something and caught up on sleep, it was a struggle to pick up anywhere to fish. Over the few sessions I did, I found the Lin again and managed to get some footage of it and a few others in the water, which was awesome but I knew my next calling would be back to Plan A for the August full moon.
Back To Plan A And Until Next Time
14th August and I was back on the shallower raised area for a couple nights under the big moon. I can remember them being extremely active up on the surface around the spot. Something I had been noticing up and down the river over the previous couple of weeks was how much time they were spending thrashing about and not really feeding until certain times.
The weather was really hot and the river was turning a real mucky colour. Never easy conditions on a low, late summer river. Nevertheless, my confidence grew with the spot being a shallower depth. So hopefully, therefore more favourable even more so for them to drop down and have a feed when they feel the need to.
The rods were out there already and primed with the usual 30 spombs deposited on top, who's hungry? The night was fairly quiet but I knew it was going to happen come morning and so it did. Just after 0830 that middle rod was off again. Not the chunk I had visualised but a 20lb common. Of course I'm not going to complain.
I then went on to have a hook pull a couple of hours later on that same rod, which was absolutely gutting but you can't have them all and later on that same night I went on to re-capture that 23lb 2oz scaly on from the 19th July, that one come back for more! The power of campaign baiting in the right area.
The season was starting to turn out very hard indeed. Conditions were not improving with the relentless, hot and dry weather we had hanging over us. The weed was terrible and was now starting to get scorched by the sun and in quick time, uproot, drift off downstream and continuously wipe out my bloody lines on all three of my primed zones.
It was an absolute nightmare and with the added algae blooms and all other un-favourable additives to the already bad situation, bites again were a real struggle right up until just after 1330 on the 18th August, after a night spent hearing them cows falling in all night again at Plan C.
I know deep down that I lost a fish of not possibly just the season but I had just lost something I seriously didn't want to lose. You know when you just know. I felt absolutely defeated at this point and you try not to let a fish loss get to you at the end of the day because it is what it is and it's all swings and roundabouts in our mad pursuit in chasing these magical creatures. Not just up and down this river but all over the country too, some you just really don't want to lose them. I've seen things, very big things!…
I did persevere for a couple more weeks but the novelty of repositioning the rods every hour got the better of me and with very little sighting's and nothing to go on, the campaign was over and it was back to the syndicate for plenty more punishment and some much needed social fishing.
Part Four?
Yeah why not sure!