28 september, 2022 | Match & Coarse | Angler Blogs | Articles | News
0 Reacties
vertaling is niet beschikbaar voor deze post, wilt u dit graag automatisch laten vertalen?
Amer Jawad: Fishing the Wout Van Leeuwen Festival
Match fishing maestro Amar Jawad shares how he got on in the recent four-day Wout Van Leeuwen Festival over in Holland…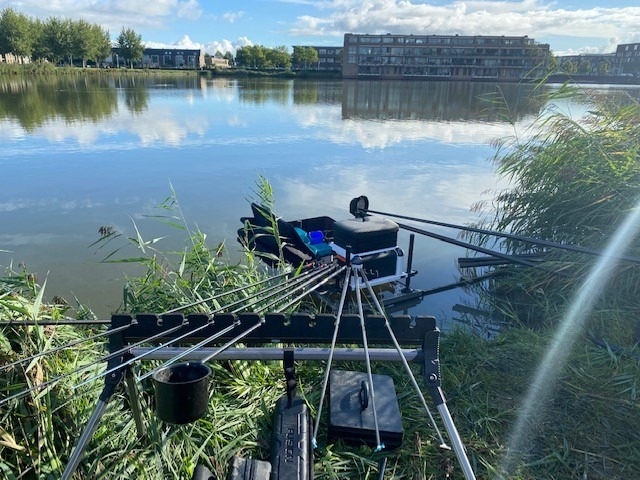 Amer says:
It's been three years since I travelled over to the outskirts of Rotterdam (Holland) to fish the Wout van Leeuwen 4 day pole only, silverfish festival: It's a festival that is run by a local tackle shop and central to all 3 venues used for the festival. 3 years ago I managed to come second overall in this festival, after winning two of the days overall but fell short after a slow first day. So I was hoping to go one better this time!
Day of Arrival
I travelled over to Holland with my friend Ben Lawrence. As we arrived a couple of days earlier than the festival was due to start we chose to have a practice in the afternoon on one of the canals that is to be used (Vlaaringse Vaart) and a practice day on the Berkelse Plas Lake which is also being used on the festival. The other canal we can't practice as there is a locked gate which means we can't access that section.
The afternoons session on the 35m wide canal was much harder than what we expected it to be. I managed about 8lb of mainly roach and a solitary late bream. Maybe not the great confidence booster we both wanted but it gave us food for thought.
Our second days practice on the Berkelse Plas (Lake) was more positive with plenty of small roach and skimmers coming off two lines fed with the new Dynamite Baits Silver-X Naturals ground bait. I used the same mix the day before and decided quickly this was a versatile enough mix for both the lake and canals. By the end of this session I'd amassed 18lb of small silvers which would be a good section weight.
Confidence
As our two practice sessions were over we chatted about the overall approach to all three venues. There were definitely more roach in the system than what we experienced three years ago. I felt a few of the pegs on the Boonervliet Canal were worthy of a few bream, but the lake and other canal we felt odd bream, possibly late on would be the plan. Overall we felt quite confident of our approach to all three venues – just a few nice draws needed now!
Day One
Always an early draw time of 7am over there as the venues are a bit far apart. My first day draw put me on the Boonervliet Canal and on an end peg! The only thing was that the other end is the favoured area of this section, but I couldn't complain as end pegs always have an advantage more often than not. Ben drew next peg to me too!
My plan was to fish 3 lines. Near shelf, down the shelf at 8m and at 13m. I fed positively with Silver-X Naturals on the 13m line as bream are the target species here and hemp and casters on the other two lines over a lesser amount of the same mix.
Ben had a great start catching two early bream on the long pole line! I struggled for an hour catching just odd small roach and Ide. The second and third hours were better as I caught a few bigger roach and a couple of bonus Carassio.
Going into the final stages of the match I fished further out, onto the 13m line in the hope I could catch a bream or two. I knew I was slightly behind the early pegs on my section as they all had bream early on. The plan to switch worked well as I managed 4 late bream to go with my small silvers and Carassios. The scales arrived at my peg, looking at the weigh sheet it was apparent that the early two pegs threw up bream with a 33lb weight and a 23lb weight. I tipped my fish on for a weight of 26lb and second place in the section. So not a bad start to the festival.
Day 2
My day 2 venue was the Vlaaringse Vaart Canal and another end peg draw! This peg was literally the next peg to where I sat on the afternoon practice session when we arrived. I struggled then but felt maybe I'd gone a bit too positive.
So with this in mind I opted for two short lines and a 13m line to give myself a chance of a bream. The same mix of Silver Fish Naturals and casters/dead maggots and very few chopped worms on the long line, less ground bait short and only casters in the mix with hemp and casters fed over this.
I had a lovely match switching between the two short lines, catching small roach, perch and skimmers. I kept looking long throughout the match for a bream but always knew if I was going to snare one it would be late.
I sacrificed a few small fish late on to try for a bonus bream. This ploy paid off again for the second day ruining as I put two very late bream in the net! I won the section with a weight of 18lb! A very pleasing match and at the mid way stage, sitting well up on the festival with 3 points.
Day 3
Today was my turn on the Berkalse Plas Lake. I had a very good practice session here and felt confident for a weight today.
My peg 19 draw was pleasing, a lot more wind on the lake today which had also switched around into us. I kept it very simple just feeding two lines. A short line at 6m and longer 11m line.
I fed the same tried and tested mix as the previous days on both lines and opted on loose fed casters and hemp. A very steady match catching mainly small roach and odd skimmers, alternating both lines. I weighed 24lb of silvers for another section win! So going into the final day which is a random draw, I am sitting in first position. But as you can drop your worst result it means a couple of other anglers could snatch the win! I needed a win on the final day to make it certain.
Day 4
My random draw put me on the Boonervliet Canal. I was quite pleased with my draw as not the day before a lot of bream showed along this section. But I knew it's the only section I have fished which I haven't won yet in the previous two visits here.
End peg 1 has twice been my nemesis and today Simon Van Der Kolk has drawn it, he also needs a win to overtake me! Unfortunately for me my simple bream approach on this day never materialised as I only managed 1 bream and a few roach to weigh 10lb. Simon on peg 1 did brilliantly well targeting roach, two fish of 2lb each! To weigh 18lb and take the section win that he needed. So Simon ended up on 3 points to my 4 points. Well done mate!
Result: Top 6
Simon V D Kolk – 3 Pts
Amer Jawad – 4 Pts
Bep De Bruijn – 5 Pts
Sjaak Ijdo – 5 Pts
Mark Cox – 6 Pts
Cor Kraaij – 6 Pts
A Great Festival
Well after a week of great fishing, great company and a well organised festival by all at Wout Van Leeuwen Hengleaport in Vlaardingen, I can only say thank you to all the organisers and competitors.
Well done Simon on the win. Bridesmaid again for me but €440 second prize helped lesson the blow!
I will certainly be back next year!
Thank you all for reading
-Amer