2 novembre, 2018 | Uncategorised
0 commentaires
La traduction en langue maternelle n'est pas disponible pour ce post, vous pouvez traduire à l'aide de Google ici:
Andy May's Top Winter Match Fishing Tips
Want to keep the bites coming this autumn and winter? Andy reveals his top match tips to keep your nets filled in the cold..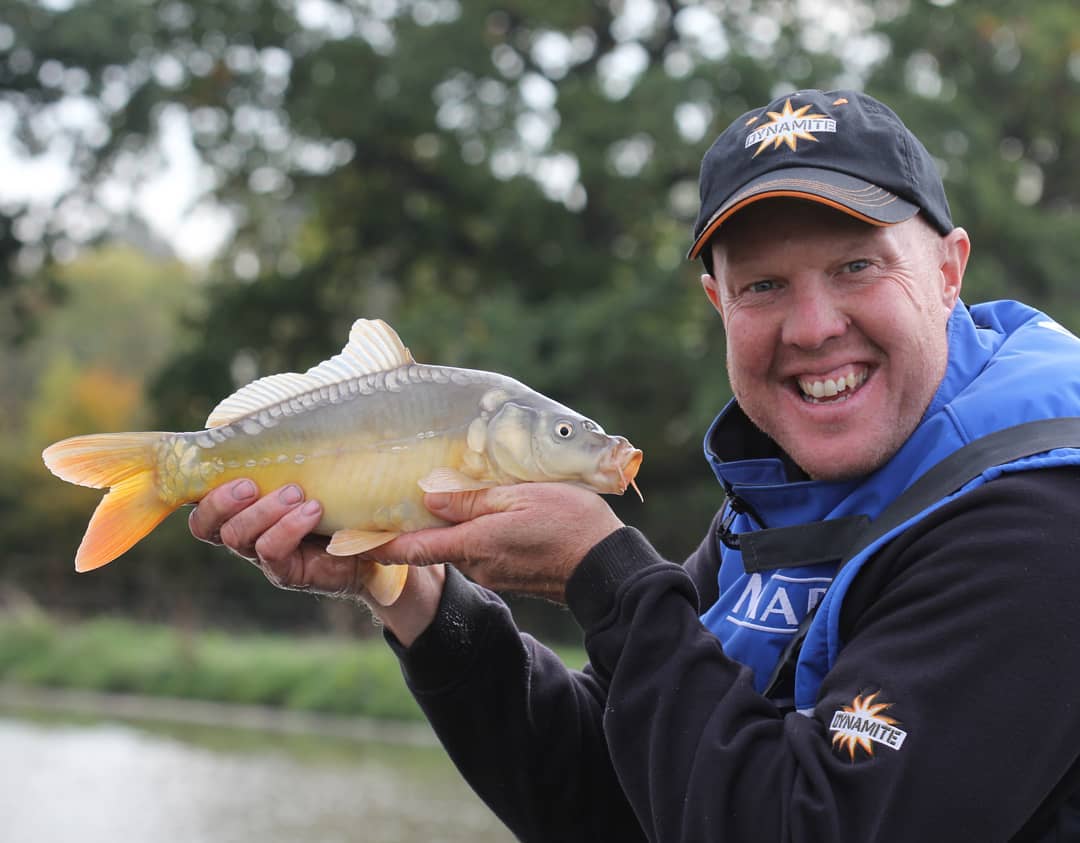 « Ok you lovely lot, gone are the days of fishing 12 inches deep, oooshing loads of bait in and extracting hundreds of pounds of fish. We now have a winter of dobbing bread and feeding 3 maggots to look forward to…ooops, 3 maggots, overfed it in one, ha-ha! I thought I would share with you some tips I've picked up over the years to keep on putting fish in your net even during the coldest of cold days »
Tip 1 – Feeding
Along with presentation this is the key area to get right, especially now that the fish aren't really in a feeding mood. Having said that, natural waters are completely different to commercial waters, so I will talk through both.
Generally, in the summer you can't give the fish enough feed but that changes in the winter, for a typical commercial venue snake lake I would start off dobbing bread, find 3 to 4 foot of water, plumb to dead depth and then take 6 inches off. Start by dobbing a 6mm piece of bread or a 6mm white Amino Durable Hooker pellet and see how that goes.
Head to the deeper water
If there's a few fish around, then try introducing 8 to 10 maggots and and see what the response is. The main area on a snake lake will be down the middle in the deepest water. From the start of the session introduce 20 to 30 maggots and feed this line every 20 minutes until you are 2 to 3 hours into the session, then have a go. If you haven't had an arrival keep the bait going in and eventually they will turn up.
A great tip and one that has been working really well for me is to put Dynamite's Krill Liquid or some SwimStim Krill Groundbait over your maggots the day before, fish absolutely love the coating on the maggots especially those big wobbly F1's and slimy skimmers!
Natural Venues
For natural waters I would target the feeder or waggler to start with. A fantastic groundbait mix for this time of year is the new SwimStim F1 Sweet Cool Water mixed 50/50 with Silver X Skimmer Mix. Wowsers, this has transformed my fishing since I started using it and the mix is so versatile and more importantly all fish love it!
A couple of tangerine sized balls on a 13 or 14.5 metre pole line with a few pinkies and casters in the mix will be bang on to start with and again I would leave the swim a good two hours before trying it whilst fishing further out, either loose feeding 15 to 20 casters every few minutes on the waggler at around 20 to 25 metres or casting a small feeder every 10 to 12 minutes.
Tip 2 – Rig Presentation
Rigs must be bang on this time of year. For the dobbing rig, use a heavy float something like a 4×14 or 0.4g with a wire stem and a rugby ball shaped body. Place the main bulk of shots directly under the float and then have 2 or 3 number 12 shots as droppers.
Lines need to be light and I use 0.15 mainline and 0.10 hook lengths with 18s hooks. For fishing maggots over the same line in 3 to 4 foot I would use a 4×10 or 4×12 stretch rugby ball shape float depending on wind and shot with a strung-out bulk of number 11s or number 10s depending on which float your using. Change main line on this rig to 0.13 and hook lengths the same.
Down the track
For the main swim down the track I've found a 4×12 slim bodied float is best shotting with 3 number 11s and a bulk of 6 number 10s, with the bulk no more than 20 inches away from your hook, again 0.13 main line and hook length remains the same and hooks, but, on this line try experimenting with longer hook lengths, I quite often use 8 or 10 inch hook lengths when it's really cold and it will make a difference.
Elastics need to be light this time of year and I use MAP twin core 3 to 6's until it comes really cold then I will use single 6s and single 8s elastic as hollow elastic doesn't react the same in the cold weather.
Tip 3 – Ring the changes
Quite often moving around in your swim will put more fish in your net especially on commercials on the three to four foot lines. Literally two or three foot left and right of where you have been fishing will see you get bites.
I will only have one main pole swim down the middle on a snake lake though and the same on natural water on the pole at either 13 or 14.5 metres and wait for them to turn up. However, casting a feeder or waggler a little further on natural waters can sometimes work if the fish back off too.
Tip 4 – How to keep warm in winter
If your warm, then your comfy and can concentrate much better. I've been in situations over the years where I can't feel my feet, face, hands, hair…wait! Its not a nice experience, so now I dress up like the Michelin man and carry 12 flasks with me…ha-ha!
Layers
Start off with base layers. These have been a revelation for me and really keep the heat in, next up some jumpers then a windproof fleece, bib and brace and some nice warm welly bobs with lining in them, 6 pairs of socks should do the job too! Oh, and of course if you have a haircut like mine you must have a bobby hat! Check out the Dynamite webshop for some great winter hats and clothing.
The main thing to bear in mind with winter fishing is to just stick at it, eventually the fish will turn up, feed a lot less and fish much lighter.
More from Andy May…