26 février, 2018 | Pêche Anglaise & Carpodrome | Conseils | Articles
0 commentaires
La traduction en langue maternelle n'est pas disponible pour ce post, vous pouvez traduire à l'aide de Google ici:
Cold winter days can mean tough, clear conditions on rivers in winter so its vitally important to get the feeding right in order to maximise your chances.
In this article Rob Wootton shows you how to mix his 'go-to' silverfish running water groundbait mix in order to help you keep bites coming in the winter. Its a mix that Rob says is one of the best for winter river fishing especially when targeting species like roach, perch and dace as it has a low feed value and a dark coloration. Rob Continues….
Its vitally important to have you mix dark as the fish are just not comfortable sitting over a light coloured mix when its clear particularly in the current climate of heavy predation. My approach on a normal winter river session revolves around catching two main species, roach and perch. One groundbait which works really well for this is Frenzied Hempseed Match Black mixed equally with brown crumb and then a little molehill soil added to the mix to add weight and also help it all bind so I can add loose offerings without overfeeding the fish. I like to use some chopped worm, maggots and casters as loose offerings.
CUPPING-IN
Unlike a lot of river match anglers I like to cup my groundbait in via a pole cup rather than ball it in. I prefer this as its super accurate and also balling-in often gets the attention of unwanted pike.
HOW TO MIX IT UP…
STEP 1: Pour half a bag of Frenzied Hemp Match Black into a bucket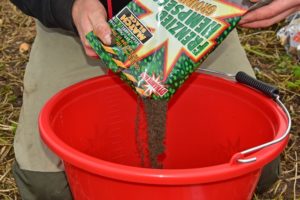 STEP 2: Follow it up with the same amount of Brown Crumb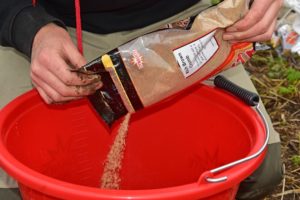 STEP 3: The mix should have 50/50 oSf each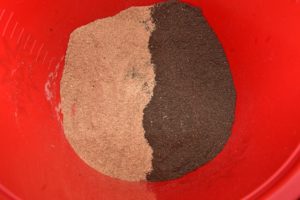 STEP 4: Add some molehill soil. Around half a kilo

STEP 5: Add water bit by bit and mix thoroughly until you get a damp texture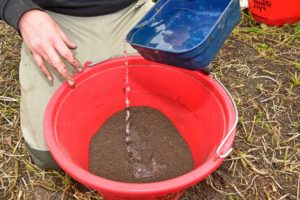 STEP 6: Riddle the mix to remove lumps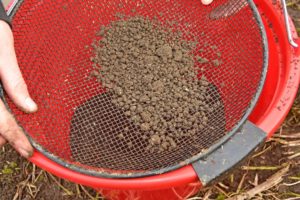 STEP 7: The finished mix, ready to add your loose offerings.