5 března, 2021 | Soutěžní & Běžný Rybolov | Tipy
0 Poznámky
Nativní překlad není k dispozici, chcete strojový překlad?
Alex Dockerty's Early Spring Margin Fishing Tips
With warmer weather just around the corner, Angling coach and match maestro Alex Dockerty discusses the baits and tactics he uses down the edge in early spring…
Thank god it's that time of year again! The temperatures are on the up, the snow and ice have finally gone and the fish are starting to have a chew and respond to bait.
Here, I'm going to discuss a tactic that is key to accumulating a lot of weight all year round, but I'll also share a few tips and tricks with regards to feeding and bait that might just help you put a extra few fish in your net.
The tactic I'm referring to is edge fishing, which is one of the most exciting aspects in angling as it gives you the chance to target some of the bigger fish in the lake that can take you from hero to zero within a few casts or put-ins.
However, it is a tactic that can catch you out at this time of year as the temperatures fluctuate which can make the fish moody, but I'll show you how to get it right…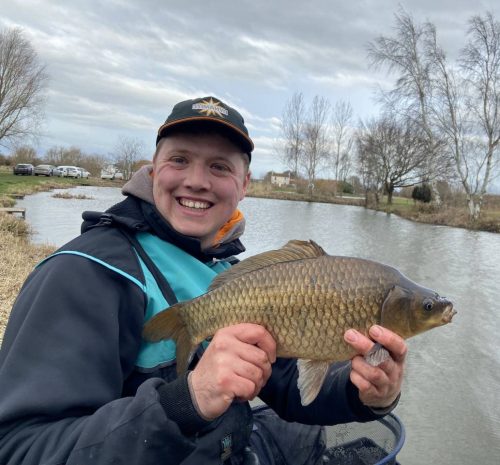 Go Easy on the Feeding
Firstly, and this is said in terms of early spring margin fishing, it is not always about ploughing bait into the swim and seeing lots of tails waving at you.
Quite simply the carp will not have woken up to that extent and be searching for bait as aggressively as they are in the warmer months. For that reason, bait selection is very important and for this piece I'll discuss a few of my favourites and the situations in which I'd look to use them.
Pellet Approach
The first bait is pellets and no matter what time of the year it is, there's a 99% chance you'll find them on my bait tray! Whether it be micros, hard 4mm or 6mm pellets all depends on the situation. The main point though is that pellets are a staple bait for all commercial carp and F1's and certainly shouldn't be ignored.
Firstly, micros are a fantastic attractor and great for getting fish into the peg due to the small particle size. The beauty of these is they can be fed in a variety of ways, including loose in a small sprinkle pot or large cupping-style pot or in small balls if you're presented with deeper water.
However, they are not always the best bait when you're trying to be selective as most species love micro pellets. For that reason, unless I'm feeding them in large quantities to act as a groundbait or if I'm not wanting to be too selective about what I catch, I'll often steer away from them when I'm after a larger carp down the edge at this time of year.
This brings me on to the larger pellets in 4mm and 6mm sizes. Often I'll choose a 4mm pellet for F1's as I can feed a small pinch and set a trap to catch a single fish and then repeat.
This is a brilliant way of fishing as you're never at too much risk of over feeding the peg and simply feeding for one fish at a time can help minimise those line bites and foul hooked fish.
The other option would be 6mm pellets which I'll use when larger carp are the target, as these can be a brilliant bait to feed as your sit there patiently for a larger fish. Though, I often leave this till a bit later in the year for reasons I'll touch on later.
Sweetcorn Approach
Now for one of my all time favourites – sweetcorn. The brilliance of this bait is its visibility and the fact that by changing the grain size you select for the hook you can be more selective, or use a smaller grain to target everything.
I find this bait compliments micro pellets brilliantly and is my go-to bait in the spring months when I'm margin fishing. I feel it lends itself perfectly to both carp and F1's and the fact that it is predominantly water based means that within reason, I can't really overcook the peg by feeding too much.
Maggot Approach
Whilst sweetcorn is my favourite for targeting larger carp and F1's, if the water I'm fishing is an out and out F1 lake and I'm looking to target these fish I think there is no better alternative than maggots.
I can feed them aggressively as everything eats them. They can be big potted, thrown in or fed through a pole pot. The brilliant thing about these is the noise factor. And that because of the slow fall the attractiveness of the bait can be immense at this time of year as the fish are beginning to wake up.
Groundbaiting
The last bait in my armoury for this style of fishing is one that cannot be ignored and that is groundbait. As you have all probably seen from the Dynamite anglers my favourite mix is the 50:50 mix of green swimsuit and marine halibut.
It's a lovely heavy mix that is non-intrusive with a subtle dark green colouration. The brilliance of groundbait is the attractiveness it offers without overfeeding the fish. However, at times particle baits can be better and this is what I'm going to go on to discuss.
What to feed?
A question I get asked most weeks when coaching is whether to opt for groundbait or particle baits when fishing down the edge. Quite simply it's a question that can't be answered without knowing a few key fundamentals about the peg.
First up is the depth. Anything over 2-3ft then groundbait simply isn't an option as the peg is too deep and fish will sit off the bottom if you start introducing it into the peg.
Secondly, is the time of year. Only once it has begun to warm up significantly would I opt for groundbait in the edge over baits such as maggots if I'm after F1s, or pellets and corn should an odd larger carp be the target.
I'm not saying you wouldn't catch over groundbait but often in those early months as a fish's metabolism is on the rise, particle baits can be the key to catching them
How to Feed?
In terms of how to feed…well, you could write a book on this! However as a general rule, if I'm looking to target an odd fish I will always opt to pot my bait as accurately as possible, but if I am looking to catch numbers of fish that is when loose feeding can be at its best as when you hook one you can introduce more bait and line them up ready for the next bite.
I hope this has helped and that I've introduced you to a few baits and tips that will help you catch more down the edge in what can be a tricky time of year for edge fishing. Bare them in mind the next time you're out on the bank and hopefully it'll help you put those extra few fish in the net.