12 října, 2016 | Kapr | Novinky
0 Poznámky
Nativní překlad není k dispozici, chcete strojový překlad?
Ashley James just got back from his usual weekend trip down his local club water, but little did he know he would finally bank his four year target in the shape of a stunning 39lb 4oz mirror…
"I arrived at my local club lake at 1:30pm on the first weekend of October. The swim I had in mind to fish was free so I jumped straight in there. The swim was called "Three Up" and I'd had some recent success here just two weeks before so I thought this would be a good shout. This wasn't my only reason for choosing this swim, the main reason was that it looked out to a rope that separates the sanctuary to the open water. The fish would always gather behind the rope as if it were was a safe zone.
Once my kit was in the swim I didn't waste any time and I got the three rods and spod rod clipped-up as close to the rope as I dare. The rigs I decided to use were quite simple, a basic KD rig with two corked-out tiger nuts on one rod and blow back rigs fished snowman style on the other two – both with the Complex-T 15mm bottom baits, one tipped with a pink 10mm Crave pop-up and the other with a white 10mm Source pop-up.
Once I'd cast my rigs out I could finally think about putting my bait out, a mixture of the Source, Complex-T, hempseed, tiger nuts, maple pea's, pigeon conditioner and a bag of the Amino Black Swim Stim Groundbait to give my mix a cloud as it falls through the water.
After the back and arm aching hard graft of an hour of spombing I could finally sit back and enjoy the evening with a cup of coffee. Watching the water for a few hours seeing a few jump I went to bed feeling confident, but nothing happened that night. I wound the rods in at around 11am to find nothing wrong with my rigs. I decided to tie three new rigs in the same styles as before because of the success I'd had in the two previous sessions and chucked them back out.
Night started to fall and I'd still had no carp but a few fish were showing so my confidence started to build again. Around 11:00pm I had a bream like take. I hit the rod only to find out it was a big old slab of slim! Unhooking it in the water I flicked the rod back out and got myself off to sleep.
At 4:00am I had a take on my right hand rod that defiantly wasn't a bream. As I lifted into the rod this was instantly confirmed, the fish plodded left and right and I slowly managed to gain line on it. The fish never took any line off my reel, it just came in hugging the bottom. I got her in by the net and she made a few lunges before I lifted her over the net cord. I tried having a look in the net but it was too dark to clearly see. However what I did see was a fairly large black shape sat there, sulking.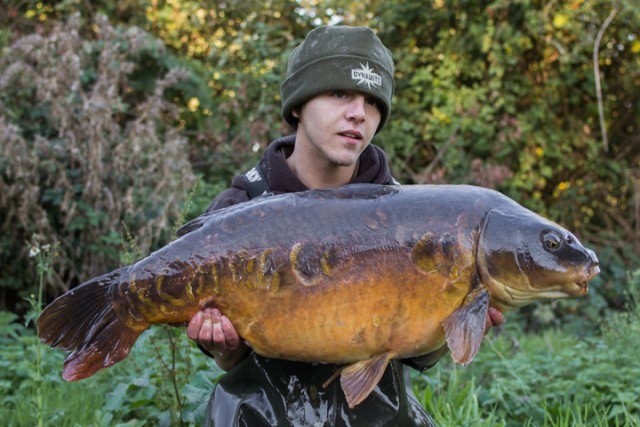 So excited I ran straight to the bivvy to grab my head touch, this revealed it was the fish I was after known as "Small Boys Hand"! With that I gave it one almighty "yes" which woke a few people round the lake (sorry about that guys). Buzzing to find out what weight I had her at I got her straight up on the scales which showed a respectable 39lb 4oz – smashing my personal best by exactly two pounds.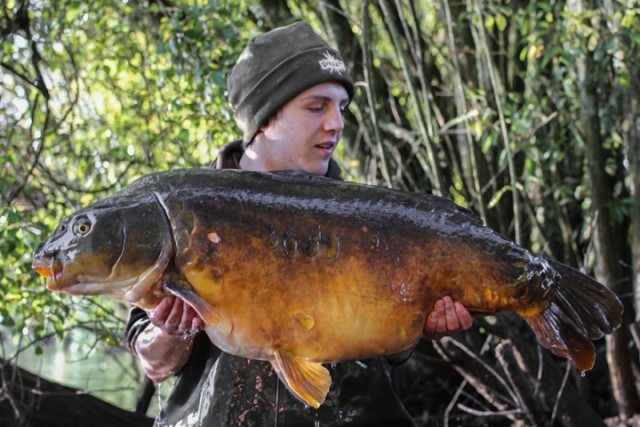 I quickly put her in the retainer so I could tell everyone what I had caught. Everyone I spoke with agreed to come down in the morning for photos and just to share the buzz. All I could keep thinking about was the four years I had spent chasing this fish, that it was all worth it in the end. Never give up on trying to catch that target fish you've desperately wanted, your time will always come! The winning rig was the blow back rig with the Complex-T bottom bait topped with a 10mm pink Crave pop-up… Lovely"
Ashely James