21 srpna, 2018 | Kapr | Články
0 Poznámky
Nativní překlad není k dispozici, chcete strojový překlad?
English duo Matt Eden and Jacob Dale recall their summer of competition carp fishing including French endurance event: Open De Chalon…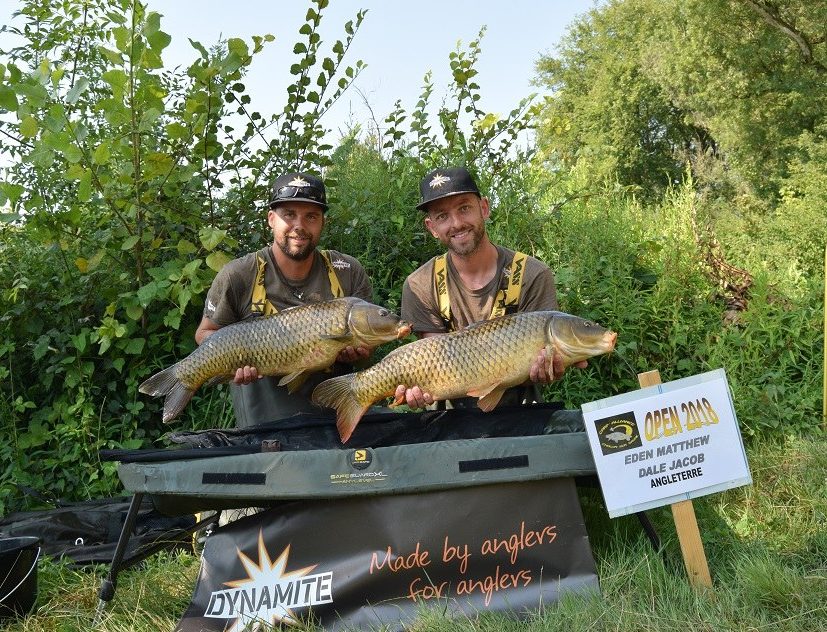 The Open de Chalon 2018
River Saone – France
July 28th to August 4th 2018
Matt continues…
Can anything in carp fishing beat the excitement of new adventures, new water, new friends and huge carp? Below is our story of one week in August doing just that…living the dream!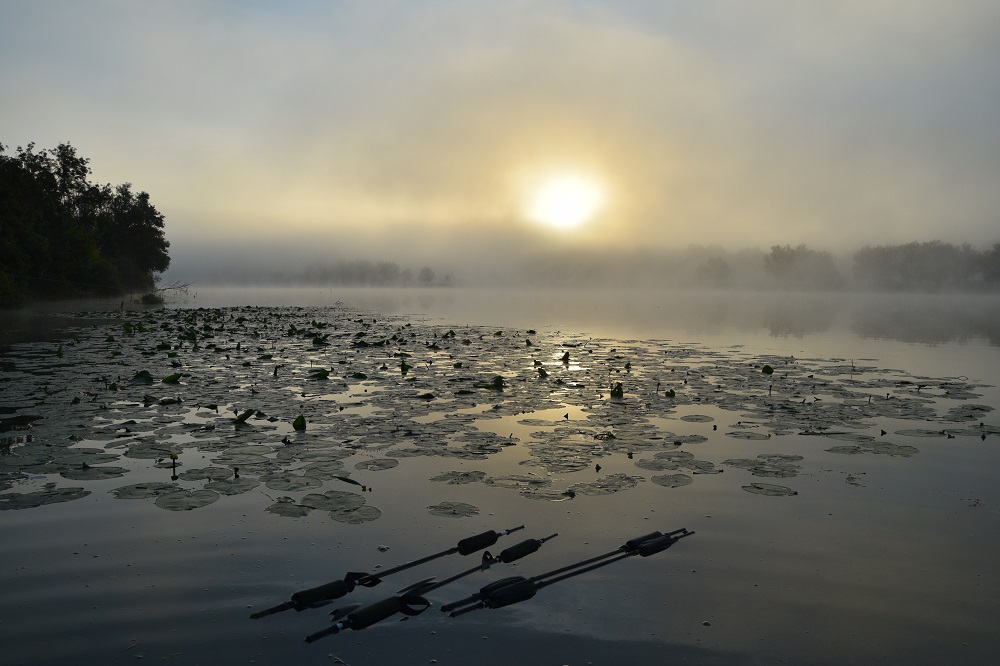 For those that don't know, carp match fishing in Europe is massive, they are hardcore though, with most of the French matches being large numbers of anglers 100+ pairs, in one competition over seven days or as they refer to them "enduro style" matches, rather than the UK format of a qualifier, semi and final, so something that was not too familiar to us in format or duration.
Jake and I have been fishing matches for the last eight years, and have fished in nearly all aspects of fishing, from silvers matches to sea fishing, but fishing a large river in France was something neither of us had ever experienced, we had talked about it, and doing it, but never actually managed it, so when we were offered the chance to participate in the Open de Chalon for Dynamite as the UK representative pair, we jumped at the chance…One week in France, big river..big carp…and competition format fishing…awesome stuff!!
The Open de Chalon is run by carp alliance Chalon, a local group of carp anglers who help in looking after the river, keeping pegs open and bank accessible for fishing as well as being a well-respected local carp movement, the main sponsor is Carp Spirit, who supply a huge prize table, and alongside Dynamite Baits help make the competition what it is, a very well respected and known event in France. Pegged over 60km with 112 pairs entering this year, 7 days of fishing, hot sunny 30C temperatures forecast every day, and low river, was going to make this an interesting match for us and the other competitors.
Our journey starts in May, after the World Carp Classic Qualifier at Horseshoe Lake, when we were invited to fish the open. Our research started in the usual way, scouring the internet for info, and finding everything we could on French river fishing. Our local river is no more than 30 yards wide, and a glorified canal really, even thou it holds good numbers of carp it holds nowhere near as many as the French rivers, and nowhere near so big!! We had reports of fish exceeding 24kg from the Saone which is huge, as well as VERY big catfish up to 2.8m long!! The usual species such as bream, chub etc. were also present and we had been told that small hookbaits were a waste of time, a 14mm pop up, or bottom bait just gets picked up all the time by the bream…me being a bream master, this was something I could not handle for a whole week…I need my beauty sleep! So we made our baiting plans, and stated to identify the kit we lacked.
The kit list was headed by a new item for us, a boat, motor, and echo sounder, neither of us have properly used a boat for carp fishing, just the normal use on our syndicate lakes for baiting up, and removing snagged fish etc, so the thought of using echo sounders to find spots sounded awesome, we knew we would need some practice but decided we had a week to learn on the bank. We looked about and decided to buy a Carp Spirit black boat 270 and kitted this out with a 50lb thrust electric motor, 2 leisure batteries, and a Lowrance Elite 4 echo sounder.
The black boat was delivered to us directly in France, and all the kit we required comes with the boat, Oars, pump, repair kit etc. The 270 model comes with an aluminium floor and is super stable, more than capable of carrying 2 hyper excited carp anglers around there swim for several hours! We also acquired some large banksticks, and a euro style pod for the river, to get the tips up over the marginal weeds, and most importantly some large watch style leads in the form of 6,7 and 8oz. Lines we covered from the ever reliable Sufix brand, we opted to carry 50lb gyro braid, and 90lb fluorocarbon leaders, as well as leadcore leaders in 45lb to deal with the possible snags, and Dressen (zebra mussels) that were abundant in the river. All the rest of the kit was our usual set up, rods, Shimano ultegra 14000 reels, bite alarms, springer arms and additional weights, and all the normal items we would use on a normal match at home.
Once the kit was sorted, it was very important to carry the correct bait with us for the match. Dynamite supplied everything we need, so it was a choice of what we would require form the available ranges they offer. After speaking to some locals we had a good idea of what we needed, we opted to take Frenzied Maize and Tiger Nuts on the particle front, with Monster Tiger Nut Red Amo, CompleX-T, and The Source boilies, in 20mm and 26mm donkey chokers. The reasoning for such large baits was that if we encountered Poisson Chat, bream and the like we could step up size, as well as feeding large baits, and know we still had feed in the swim for the carp to find when they arrived. We could always acquire more baits in France should we need too with Chalon sur Saone being a large town, with several tackle shops and places to buy feed, as well as our friends helping with extra baits too should they be needed. We also had an array of liquids with us, very much like how we would approach rivers like the Severn when we barbel fish, lots of scent and attractant to draw fish in from as far down stream as possible, we had CSL Liquid, Garlic liquid, and the Evolution Oil in Tiger Nut as well. We also had matching boilies, glugs and lots and lots of matching TUFF Pastes for each bait. With all this I think we had all bases covered, no matter what mood the fish were in, it was time to get everything loaded, and the adventure begins!
As always the last night is madness, loading the truck, double checking everything, making lists, loads of phone calls back and forth, checking things, and making sure we had spares of spares and finally organising a departure time..2.45am meet at the local services to hit the Eurotunnel for 5am. We didn't sleep much, just an hours nap still fully dressed, and ready to leave, the excitement of knowing what was coming for the next week was too much, we love new adventures, things that push us from the normal routine and comfort zone, its all part of the fun figuring out the puzzle, sorting the tactics, getting the spots right, bait right, and the ultimate high of the 1st run…the sound of that bite alarm screaming into life….that's what we carp fisherman live for….that's the buzz….the dream of uncaught monsters…from a river!
The crossing and journey saw us land in Chalon sur Saone about 1pm. It was hot….with the truck saying a steady 36c and it felt all of that after leaving the comfort of the air conditioned truck. We had arrived at the boulodrome which was the main control centre for the week, with the match being pegged 30km each side of Chalon s/S this is the hub for the whole event, the draw, redraws, (you can move swims twice more in the week should you wish) battery charging station, showers and general hub for all the army of marshalls, as well as the final prize giving and results, and with great eagerness our limited French saw us registering and introducing ourselves to the Carp Alliance guys, and our main man from Carp Spirit, Christophe. All our permits were sorted for fishing on the river and we had caught a glimpse of the river through the double doors of the hall, time for a wander and see what we were up against for the week…
Its not often we get daunted looking at a new water, but we knew this was going to be a learning curve and fast….the river was huge..and the cruise liners and gravel barges were like sea going vessels, we had found out the depths ranged down to 8m in sections of the river with the average being 5-6m in the main channels, stories of huge boulders, underwater trees, mussel beds, boats picking up lines and getting spooled were all fresh in our mind, and a walk into the main town soon saw us spotting our first carp grazing the margins and in the weed…carp are carp hey…no matter where they live!!
All the time the excitement was building for the draw, we found a bar on the river bank, ordered some ice cold beers, and sat down to chat out a game plan, and look over the pegs on google maps… Back to base, and an early night was needed, we were soon snoozing in the corner of the hall and catching up on some much needed rest from the day before, we needed all our energy for the next day….draw day..match time…FISHING TIME!!
After an eventful morning dashing about collecting stuff from the local tackle shop we were back and in time for the draw, we figured out the draw procedure (I really should learn better French) with help from Bruno and a couple of other chaps and awaited our name..we must have come out somewhere near 100 and we had watched lots of our fancied pegs slowly vanish, now this draw is different from any other format we had seen, you pick three swims, and choose the 1 you want, the other two go back in the bag to be drawn by someone else and at the end of the draw there are still 24 vacant swims. As luck would have it, we drew three swims we wanted, and soon jumped into peg 135, the second to last peg on the match, and furthest from the base, not noted for huge numbers of fish, but we had been told it was a good consistent spot for bigger fish, and we stood a good chance from there should the big fish be on the feed, time would tell, and as soon as we had said our goodbyes we were off on the half hour drive to our swim…game time.
As we bumped up the gravel track alongside the river we passed the huge weir we could see on the map and eventually found our marked peg, abandoning our vehicles on the track we bailed out to get our first look of home for possibly the whole week.
Again we had been met with a scorcher of a day, mid 30s, and as we set up in a pool of sweat we frantically went about getting everything sorted, boat set up, bivvys, bait, correct lines, rigs, H blocks, leading rod and prodding stick, and once we were all sorted land side, it was time to hit the water to see what we had in front of us. For most part we had 16ft all over a slope from our bank, with weed out to 14 feet then pretty much barren sandy firm bottom everywhere. We must have spent two hours out in the sun chugging up and down, dropping a pair of H blocks to pinpoint a drop off in our swim where it went from 16ft down to 20ft, this took 3 rods on the first night as we were running out of light, and had a good dump of maize and boilies smattered over the spot (about 15kg of bait all in).
The left set of rods were fished short to the back of the weed beds in 9ft, and 12ft, over Frenzied Maize and Red Amo boilies. We sat back to re-hydrate, and try and recover from the heat and soon found ourselves in the dark, sipping a cider and watching fish show all over the river. It was alive, we have never seen so many fish in a river, it was truly heaving with fish, and by some of the splashes we could hear in the dark, some big ones too!
There was an intense screaming coming from the right set of rods, one of them was in meltdown, we must have nodded off, it was still dark, and the alarm light was glowing, I could hear the spool spinning from 20ft away, launching from the bedchair saw me connect with one angry fish, this spot was 180 yards out and the fish was doing its best to increase that distance, Jake took the rod, I readied the boat, put the lifejacket on and we slid out into the dark to go to retrieve our prize. Five minutes later and an angry torpedo common sat in the net..YESSSSSSSS we hadn't blanked, we chugged back to shore, hopped out the boat and lifted the fish into the sling to transport it to the mat, as we were doing this the middle rod fished alongside the one that had just gone screemed off as well….double take…we looked in disbelief as I picked the rod up, threw the second net in the boat and slipped out into the darkness again whilst Jacob sorted the fish on the bank. Again I returned with a mid double common in the net, and we were well and truly up and running…awesome!
A bream made its way into one of the short range rods and that completed the action for the day as the sun came up, and the promise of another hot day came to bear. This is where the wheels fell off a bit… We had neglected to really look after ourselves, working in full sunshine, no shade, going out on the boat looking for more spots, finishing setting up camp etc, and not drinking enough, coupled with no dinner the night before, no breakfast due to the excitement of having two carp and getting all the rods back out took its toll.
Stupidly we hadn't realised quite how rough we were, and getting an early night seemed like a good idea to shake the headaches we had…should have seen the signs but neither of us did. A screamer at 11pm on the 180 yard spot resulted in a huge three rod wipe out, and the H block getting dragged too, but between us we netted another mid double common. With me feeling particularly rough and Jake suffering too we made it back to dry land, dealt with the fish, and I promptly started vomiting.
I had sunstroke, my head felt like a drum being banged, and we were both in a sorry state, we decided it wasn't safe for us to boat out again, so grabbed wet towels, bottles of water, some food, and sat in the air conditioned truck for a while, trying to reduce our temperatures, it was still 28C at midnight! We had made a huge mistake not taking care of ourselves, we had got so engrossed in the match and fishing we actually lost the whole night and most of the next day to illness, we left our peg, went and recharged our boat battery, had a shower, went for lunch, and visited the supermarket to stock up on more fluids and food. Back to the swim refreshed and eager we had well and truly learnt our lesson…"enduro" it was turning out to be. Look after ourselves to fish effectively, an important lesson that could have easily gone bad had we not been looking out for each other.
For our punishment we had no carp for the next 48 hours, just bream, I had notched up eight bream on various baits and on different spots, and a tiny catfish as well. We had continued to bait the 180 yard spot but had also been looking for other spots, we had seen carp showing on the far bank in the boat channel as it ran into the lock so decided to go long..280 yards to be exact, the 14000 spools were nearly empty and we went into the fifth night (Wednesday) hoping something would happen.
We had moved two of the short rods on the left onto the 180 yard spot, and pushed three rods long to 260 plus yards, and one rod short down the right margin in 7ft on a clear spot in the weed. All spots were topped up with Tiger Nuts and Red Amo, as we had found the bream had a special liking for maize, and decided to stop using this. We upped our Tiger Nut input as the bream were leaving the spots alone a bit more, and out of three carp takes, two had been on tigers, one on boilie.
We were now putting in 5kg of boilie, and 3-5kg of tigers on each rod due to the amount of activity on the spots from various fish.
At midnight one of the left set of rods stuttered into life, after a hefty tussle, we had both taken to the boat to retrieve something going mad and fighting hard, and as we got 30ft from the bank Jacob's margin rod went into meltdown, a pure one toner, there was no mistake on what that was, so a quick reverse on the boat saw Jake bail over the side into the river and wade to the bank to pick his rod up, I landed an angry looking cat about 20lb and chugged back to the bank, picked Jake up, and went to retrieve another fish weeded up down the bank.
Jake slipped the net under a 20lb common and we boated back to the peg, the swim resembled a bomb site, but we had a carp in the net, and that's all that counted, we boated the rods back out and topped up the spots, and returned back to our BBQ to finish off the sausages and chops we were half way through. Just as we were finishing our buffet of meats, Jakes middle rod fished at 260 yards harpooned off the rest…the image of Jake running across our swim and swan diving into the river in the pitch black by fire light to catch his rod will never leave me. Truly one of the funniest things I have ever seen!
After remembering to breathe and recomposing ourselves, Jake took to the boat and returned with yet another good upper double common, and we were in good spirits. As we pegged the carp out in the retainer just as Jake waded up past my rods the right rod pulled from the rest and he grabbed my Ultegra as it sped past his head into the alarm, fish on!! Back out on the boat and carp number three of the night returned in the net, what a night this was turning out to be!
We hadn't changed anything, we were fishing triple stacks of tigers topped with pop-ups, wrapped in TUFF Paste, with more paste jammed in the lead. It was working and the fish were clearly on the bait and spots. This took us to six carp and had us sitting about 60th in the rankings, but still with these three fish to weight, things were picking up, and we knew these fish would help push us back up the standings.
Thursday passed by in a blaze of heat 38C and another sweltering day saw us waiting for dark. All spots were baited up and we went into the night confident of more fish. We had the first take about midnight off the long rod at 260 yards, and that resulted in a cut off, a carp followed from the shorter rod at 180 yards and another mid double was landed. Another take on the long rod followed into the net, and then two more cut offs on the long spots, another five takes and two landed. We had fish passing zebra mussels in the sacks, so knew these were the problem. They were slicing 50lb braid straight through so we stepped up to 0.92mm suffix fluorocarbon leaders to combat that which worked.
Thankfully we didn't lose any more fish for the match but three lost fish in one night hurt..lessons learnt again! Friday came and our last night, we had crept back up into the 30's and managed to scrape one last common on the final night of the 260 yard rod which we felt could have been the start of another good night, but by this point we had seen 7 days of 35C and the water temperature had got up to 28C…unbelievable! We were swimming in the river every day to keep cool, the rest of the night passed fairly uneventfully, and the 8am Saturday morning finish was upon us, a week had gone…and it was time for the pack up.
We made our way back to the final results in the control hall, and watched the closing, and results ceremony, and said our Au revoir's, ready for the journey home. A fantastic week, with fantastic people and the best match we have ever had the privilege to participate in, lets hope we can return for 2019 for another go at this awesome river.
If you have ever thought about fishing the big French rivers GO FOR IT! There are miles and miles of unfished public river, with carp over 25kg present, huge catfish and just about every other species that you find in the rivers. These were the hardest fighting carp I have ever seen. The takes are so savage we ended up tying our rod butts to tent pegs to stop them getting dragged in and nearly all the rivers hold carp in France. Our advice would be use big strong gear as we were using size 4 hooks, 25lb hooklinks, 45lb leadcore leaders stepping up to 100lb fluro leaders due to mussels. Strong mainline of 0.4 and stronger or 40lb braid and tie the rods down!
Bait choice we would advise using Hardened Hookbaits to stop them from being whittled down by small fish, and Frenzied Tiger Nuts seem to work best for us. We had takes on boilie and tigers, and we found that staying off the fishy baits was best as the cats homed in on the fishy baits we used. Frenzied Maize was good but attracted too many bream so we backed off this tactic. Tuff Paste wrapping the hookbaits worked really well, and protected the baits and hook. This also added the extra pulling power we needed on the hookbaits, helping to focus the fish in on the hookbait over the beds of bait in the swim. We utilised the glugs for everything, the Red Amo were all dosed in it for 24 hours, and we were feeding whole and chops, as well as flaked boilie to lengthen the time we had bait in the swim. Particles were soaked in the Evolution Oil, garlic or CSL liquid to again aid in the flavour trails in the water flow, and we were re-baiting twice a day on each spot, to keep them topped up, along with top ups after every take. The carp are defiantly nomadic, and you need to keep them in the swim as long as you can, the volume of total fish in the river is huge, so it required a lot of bait to make sure there was always something in the swim for them to find. I would confidently say you could not over-bait these fish, fishing into open water. Sitting here trying to sum up so much into words has been fine, I have found myself laughing at the thought of certain things again, smiling and looking at all the pictures….Thats what fishing is about for us these days..living the dream! Making memories.
Bonne chance!
Matt