30 dubna, 2018 | Články | Kapr
0 Poznámky
Nativní překlad není k dispozici, chcete strojový překlad?
Dave Williams looks back on his Yateley campaign from early 2018.
Fishing with small PVA bags, Dave details the carp fishing tactics that accounted for yet another stunning Yateley mirror….
Well after what can only be described as a dire winters fishing I find my self on the side of the lake again with a fresh new permit in my pocket and a head full of expectations for the forthcoming season. I'm staying on the same water I fished all last season and will relatively be sticking to the same approaches and tactics that served me so well last year, along with the addition of some of the wicked new products Dynamite have released for this season.
My first session this season was on the 9th of April and I'd got 48 hours fishing at my disposal. Much to my dismay the car park was rammed when I arrived after work but there were a few favourable swims still free. I had a quick walk round the lake to see if I could see anything. Most of the middle area of the lake was free and as I stood in a swim called the round I saw a carp roll and that was enough for me! Water bottle left in the swim I hurried back to the car and got the rest of my gear round and commenced setting up and finding a spot in the pouring rain. I'd fished this swim before so knew where the spots were already so it was just a case of sticking a grappling lead out there to find the cleanest patches of gravel out there.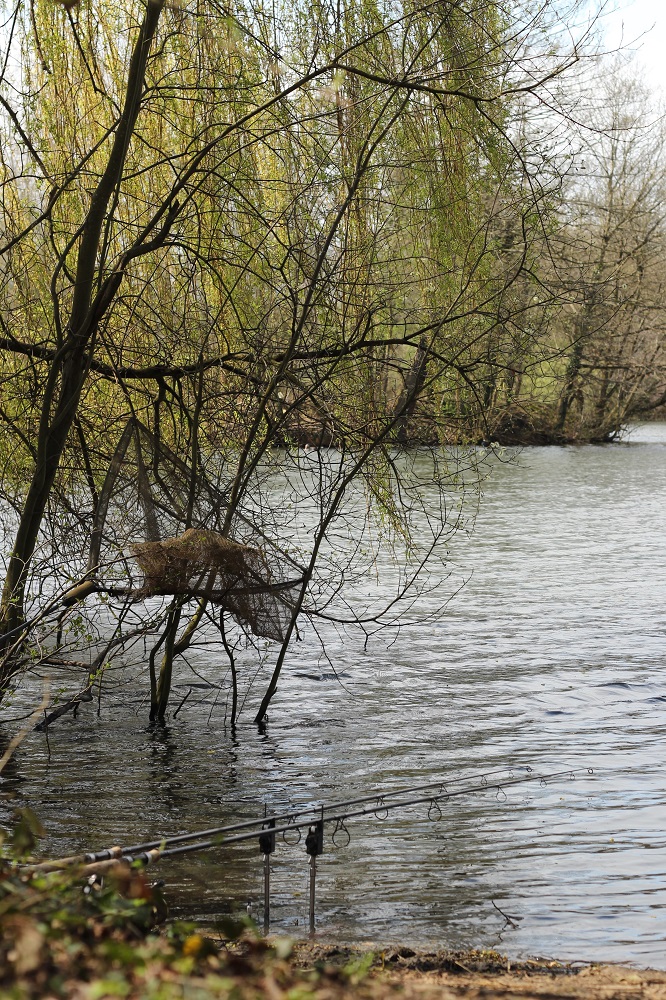 Most of the spot was now covered in dead leaves and weed with a few green shoots starting to creep up through but I did find two particularly clean areas. I clipped the rods up, baited the rigs with a CompleX-T Fluro pop up, hooked on a small PVA bag of CompleX-T pellets and Red Krill pellets soaked in the new Salmon Evolution Oil and red krill liquid and followed that up with a good scattering of 15mm CompleX-T, Spicy Shrimp & Prawn and The Crave freebies.
The rain was relentless and didn't ease off until about 4am, when I was woke up to a savage liner on my left hand rod. I sat up then until lunchtime in expectation of some action. It wasn't to be however and I re did the rod that had the liner at about 3pm in case it was now not presented as perfectly as I'd want it to be. The rain had now started up again and I retreated under the brolly to make a brew. That evening my friend Ryan popped down and informed me that early the day before somebody had chucked a load of bait in the swim before I got here and my confidence sank again. The final night was even less eventful than the first and I left disgruntled but determined for the following week.
I got down again for another 48 hours worth of fishing the following week. It was forecast to be warm with a nice southwesterly breeze blowing. I settled in a swim called the right hand party swim as it fished towards the mouth of a bay that gets the full brunt of a southwesterly wind. I found two nice spots both about 50 yards out. I fished a 10mm Complex-T Fluro pop-up on each rod, wrapped this with some of the matching Tuff Paste, hooked on a small PVA bag of CompleX-T Pellets and then put about 2kg of boilies over the top.
The first night passed and I only received a few liners for my efforts. The guy next door had a catfish at about 8 o'clock which probably spoiled my chances. The day past uneventfully until another catfish interrupted the bbq we were having and we went to bed. The following morning was a similar story to the previous, another catfish to next door and no carp for anyone.
The five days of work passed and I was making my way down the M3 again before I knew it. I'd been told there was a few fish in front of a swim called split beach so that's where I headed. To my delight it was free when I got there. I knew the spots in this swim from fishing it the season before and quickly had both rods out fishing. I'd got one down the margin to a set of lily pads I'd caught from before and the other to a silty spot out into open water. Both rods were fishing CompleX-T Fluro pop-ups again wrapped in Tuff Paste fished over about 2kg of CompleX-T Pellets and boilies and a mix of Crave and Spicy Shrimp & Prawn boilies. The weather was much cooler than it had been all week and it felt really good for a bite. I woke up about 6am to a liner on the open water rod so got up and made a coffee. Then out of nowhere the bobbin pulled up and I was into my first fish of the season! Everything went smoothly, the lead ejected and the fish went in the net first time! I got my friend Ryan to help out with photos and weighing. It weighed 35lb 12oz and I couldn't have been happier.
I got the rod back out and settled down with another coffee. The rest of that trip passed uneventfully and I left with a sense of relief to have the first of the season under my belt.