16 June, 2023 | Carp | Angler Blogs | Articles
0 Comments
Low Stock Pit Success: Tom Scarr
Improve Your Coarse Fishing designer Tom Scarr has just completed his most successful ever season on a super low stock pit in the heart of the country. Below, Tom outlays how his season on the lake unfolded and describes how difficult but rewarding these waters can be…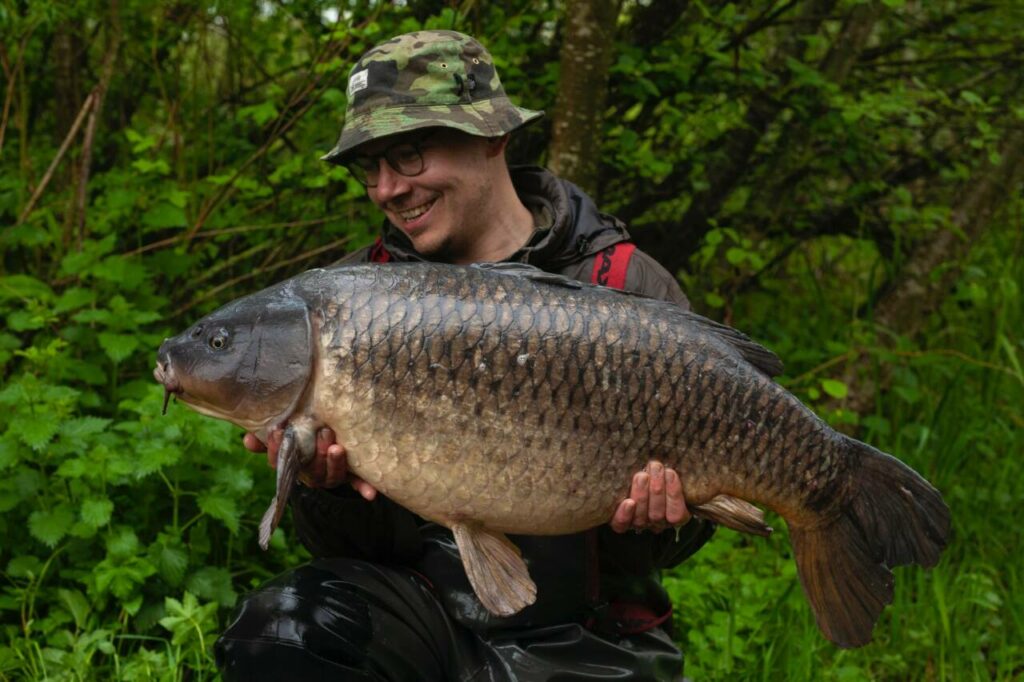 Tom says…
'Spring Forward'
After embarking on a new challenge last year, in the form of very low stock gravel pit containing only around 15-20 carp in 18 acres, it was never going to be an easy campaign, especially as this was my first venture into low stocked lakes.
However, blanking the whole of 2022 was not what I signed up for. Some harsh lessons were learnt and I pulled off at the end of November with my second bout of Covid19.
My season culminated 50-plus nights and my efforts only consisted of a couple of big bream and a load of Tincas and one potential carp loss. I now had the whole of winter to reflect, adjust my approach and attitude, and even question whether I was even going back!?
Well, spring forward to 2023 and after getting out for some social sessions; getting a couple of bites on the more stocked lakes… the bug was biting and I couldn't resist but to venture back on the lake that had beaten me up the year before.
I returned to the lake and on arrival there was a fresh Northly wind blowing, and I was stood in the teeth of the wind and within half an hour I heard a good fish lump out! I grabbed the barrow from the van and spread some rods in the area for the night.
I blanked, but it was enough for me know the time was right to be on there and I was full of confidence (for some reason), and I planned a couple of more overnighters over the next couple of weeks.
These sessions were also blanks, however, I did hear or see carp activity so knew it was game on! On a lake with so few carp, seeing or hearing one is an achievement in my head. I started to build up an idea of where they were moving from and to, and getting an idea of times that shows might be possible.
I had at this point started to prep some areas, as although it was great seeing and hearing the carp knowing their activity levels were increasing… I did know that they would have a feed at some point as soon as those temperatures rose high enough.
I wanted to get some spots primed with bait so they could feed confidently whilst I was away from the lake, knowing I was getting ahead of the lake's natural food larder, that is truly vast and unmatchable in terms of any amount of anglers bait!
I had a good lead around in areas that I knew carp were visiting, or close by… and I started baiting. I initially fed Frenzied Hemp and Crushed Tigers to clear the spots, along with some whole tigers and a scattering of boilie. I didn't go crazy with amount and limited myself to around 1-2kg every 4-5days. I baited two spots just in case I couldn't get in my baited swim when I wanted to fish.
However, I was keen not to fish my baited spots! As daft as it sounds I wanted to create a feeding haven for the carp where I had a better chance of catching them.
Again, with so few carp in the lake you really do have to put all the odds in your favour. Plus, I wanted to keep on my toes, not camp or be lazy sat behind rods (lessons that I learnt the hard way last year) which isn't my usual style of angling anyway.
So, with my renewed motivation and dedication on watercraft and legwork… I was determined to make something happen. I was constantly walking, climbing trees, looking in edges to try and locate my quarry.
I did have some close encounters in sun trapped bays on the end of warm winds… but these opportunities fizzled out just as fast as they came but again, seeing them was everything!
Natural-acting carp sunbathing up in the layers in the warm April sunshine, tasting the water with their white edged lips…
By this stage I really am getting into the lake and enjoying my regular searching for them. I check my regular tree viewing points… scoot round the lake time and time again before I settle in a peg with the best view of the lake.
It's also worth mentioning that I've stripped my gear down to a minimum. Its making getting around the lake easy as it can be. I've gone back to my brolly, which gives great visibility while sat under it, and it offers speed and lightness for moving to and from pegs… this was to be a key fact, in the end!
So, after a few overnight blank trips already endured, I decided to book a few days off work here and there and planned to maximise my time on the bank around these periods – to give my baited spots a real good go over the next 5/6 weeks.
During the first 36-hour session, after watching the water like a hawk without so much as a few tench roll at first light, I opted to move into a different area of the lake to look at a different part of water.
My initial peg I chose gave me the view of the whole lake, yet I moved into one with a similar view but just a different angle facing the water. I did the night in there, for nothing but tench, but that morning a big low-pressure system came in with humid conditions and persistent, sideways rain battering me… it was definitely a 'day for ducks'.
Just as morning bite time was ebbing away, I glanced across the lake and instantly spotted what I judged to be a carp slide out on the opposite marginal shelf… It was a big, dark shape and it just slid up and down once… it wasn't a duck, a coot, a moorhen, a Grebe or a tench!
I did have a doubt, but I also was acting on instinct and experience… I chucked everything on the barrow and ran around the lake asap (in my waders), the humidity was making it very uncomfortable, the rain was drenching all my gear and the clay ground was making pushing a barrow, treacherous… but I had to do it!
I got into the swim and deployed 2 chod rigs asap, and as quietly as possible… Little 1.5oz leads with 15mm Pink and Yellow Hit&Run pop ups on each.
I then stood back and watched like a hawk. Two hours passed and I had seen nothing, gutted and despondent I was coming around the idea that another opportunity had passed me by… I cooked my last bacon sandwich of the trip with the last of my Colemans fuel… one last tea with the last of my water and milk… and then packed my gear down properly ready for going home.
To say I was given a slice of luck, well yes… I was!
With all the gear (but my last rod) packed away and ready to push back to the van, my decision to flick the lead into the area 3 or 4 times to understand the substrate a little more, would ultimately catch me my first carp from the pit.
On the last of those casts, in fact I was reeling it in… I saw a big dark head slide out again… a trembling wreck I carefully and stealthily positioned the chod rig straight away as they baits were still on and the hook points perfect.
I then got my packed away rod out and walked the water's edge when I saw it again! I cast a Yellow Hit&Run into the rings of this show… the rod couldn't have been in the water 5 minute, when it tore off and a mega battle ensued!
After a few sketchy lunges towards nearby snags and a few stalemate moments in big weed beds, steady pressure and an even steadier head, meant that I was soon looking down in my net at my first low stock gravel pit carp!
The moment is one I can only describe as pure elation and joy! I was lucky enough to share it with a couple of friends who helping me weigh and photograph the fish as they were on the lake at the time. The fish ended up weighing over 33lb and it was a true relic of an old common carp! I did go home soon after this, as nothing else materialised that day, after all I was soaked through and now totally run out of supplies! Anyway, I can't grumble!
Now that I had my first carp under my belt, I felt a renewed sense of confidence and motivation to keep my spots baited, to work harder and I felt hungrier than ever to catch another one!
I kept the pre-baiting up, upping the quantity of boilie the more I baited. By this stage I am baiting with 3kg particle and 3kg of boilie every 3 days and using a mix of the new Hot Crab and Krill, along with my ever faithful Monster Tiger Nut and a few other Dynamite boilies I had from last autumn.
With a new moon phase due, it came the time to drop onto my baited spot and see if it had worked. After putting my usual 3kg of seed and 3kg of boilie in on the Monday evening, I arrived Thursday evening to fish for 2 nights and baited with the same amount.
I flicked the rigs out to the spots, and were happy with the drops, although I still fished popups as these are largely unfished for carp and I assumed they would not be 'riggy'. To my amazement, at first light the next morning the middle rod signalled a screaming run and I donned on the waders and clambered into the water to play another low stock gravel pit carp!
I couldn't have asked for more, even though my first capture was a real achievement as I had seen, moved, and cast to a show and then caught… this was equally rewarding as my baited spot had come good on the first night!
This fish weighed 18lb and was super made up with the result! I blanked the next night but left them with bait and topped the spots up throughout the week to return the next week and fish another 36-hour session.
I repeated the process of baiting with 3kg of boilie and 3kg of seed, and sat back in anticipation… however that first morning and day was a blank… was the spot blown already? Had I overdone it with the bait? Had they eaten it all and left me with nothing?
It was a dilemma I didn't ponder too much though, after all there are so few carp in the lake that I'm sure they were not in the area all the time, or any given day for that matter.
After catching a few Tench that day, and also observing the tufftys diving on my spot, I was confident there was at least some bait down there. On my second night I decided to bait at 11pm to avoid the tench and birds wiping out all my bait…
To my amazement and only half an hour after Spombing on the spot, my reel started churning and I was looking at another common in the bottom of my net! This one weighed 23lb.
I baited the spots again that week, but spawning was just around the corner, and although I didn't see the carp spawn, after seeing the tench spawn that next weekend while fishing I knew my chances were diminishing.
Anyway, it has been a great mini spring campaign and I can't wait go back after the heat of summer has passed and try for some more action!
Tom Scarr