9 February, 2021 | Match & Coarse | Tips | Articles
1 Comments
Alex Dockerty's Late Winter Bait Tips
As winter comes to an end, Angling coach, Alex Dockerty discusses the changes he makes to his hookbaits and feed in preparation for warm weather fishing…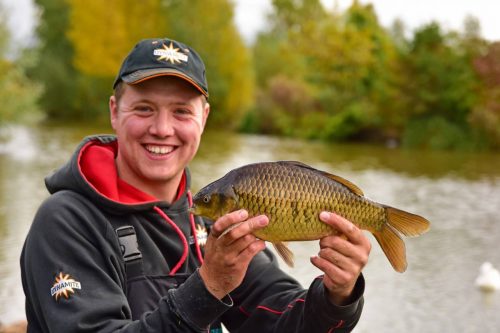 With matches currently unable to go ahead it's time to start looking forward to the warmer weather when the fish will start to have a proper feed. This transition between winter and spring is an important one for me as it means the beginning of switching to more selective baits to target a better stamp of fish. This enables me to fish in a more positive manner to amass bigger weights as the temperatures start to climb.
Bait Texture
First up and a very important aspect for me is the texture of the bait. In the cooler months I'll use soft 4mm expander pellets and softened micros which are palatable to most fish in commercial venues. However as the temperatures increase and the weights do with them, I feel its important to target the bigger fish in the venues you visit.
I fish to ensure I'm putting the best possible weight together to stand me in good stead to frame or win a match, so as soon as air temperatures start to rise I'll be looking to fish with and feed hard pellets to pick out the bigger carp and F1s. Initially I'd choose to start on the harder 4mm pellets as although they're more selective then a soft expander you're still likely to catch an odd skimmer amongst the carp and F1s whilst using them. My choice is more often then not a normal carp pellet with the Dynamite 4mm carp pellets being perfect for this. They're nice and symmetrical in shape and the batches are consistent which is what I'm looking for when choosing a pellet to base my fishing around. I also opt for the same pellet in the height of summer but in a 6mm version.
One key point to mention is that I might not always fish with the same pellet as I'm feeding. For instance, if I find I'm getting pestered by smaller fish whilst feeding micros I may opt to feed a 4mm hard pellet but still continue to fish a soft expander on the hook. I do this especially in early spring as the softer bait is more palatable to the carp and F1s but because of the large amount of activity from nuisance fish, I'm unable to feed such baits as I'm going to be 'bitten' out.
In contrast in the shallower water where the fish are less willing to come into the peg I'd opt to feed the smaller micro pellets to create attraction and competition in the peg but I might opt for a hard pellet or piece of corn to help single out the better stamps of fish amongst the greater numbers of fish I'm attracting into the peg by feeding the smaller pellets.
Switch to Groundbait
Next up would be to begin changing the baits I use around my feeder and also feed in the shallower water such as up to islands and in the edges. Predominantly throughout the winter I'd always select micro pellets as these are a safe bet and will always catch a few fish even on the hardest of days. However in the spring and throughout the summer feeding quantities of ground bait can be a winning method and we all know how popular feeding groundbait down the edge is. But in cooler temperatures you have to be very careful about the groundbait you choose to use. Too strong a mix might be overpowering and deter the fish from feeding rather then attract them into the peg. This is often why I'd opt for micro pellets as it is the "safer" option.
Throughout winter if I am using groundbait my mixes are based around toned down fishmeal's such as the Coolwater F1 and the Black Swimstim. As the weather begins to warm up my go to mix for all shallow water and method feeder work has to be the Green Swimstim and Marine Halibut mixed 50:50. Without doubt this is my favourite mix and one that has caught me thousands of fish whilst I've been using it. However, it isn't suited for the cooler months due to the high amount of oils within the mix. But when the fish are coming out of that winter mode and on the hunt for bait this proves to be the perfect time to fish a stronger more attractive mix to draw them into the area and is certainly one to bear in mind over the next few months.
Pellet Soaks
Another more subtle change I make would be the pellet soaks I opt for when preparing my micro pellets. Throughout winter I'm a huge fan of the original F1 soak. This helps create a brighter pellet that stands out in the clearer water conditions when the fish are hunting more by sight for food as opposed to smell. However, as it warms up commercials become heavily coloured as fish spend their time hunting for every last morsel of food on the lake bed. For this reason I prefer a much more potent bait – with the Green Betaine pellet soak and also the Tiger Nut Rehydration Liquid being two of my favourites that create a pungent bait that the fish can really home in on once its been fed regularly into the peg.