Dynamite Big Fish Groundbait Golden Ticket Competition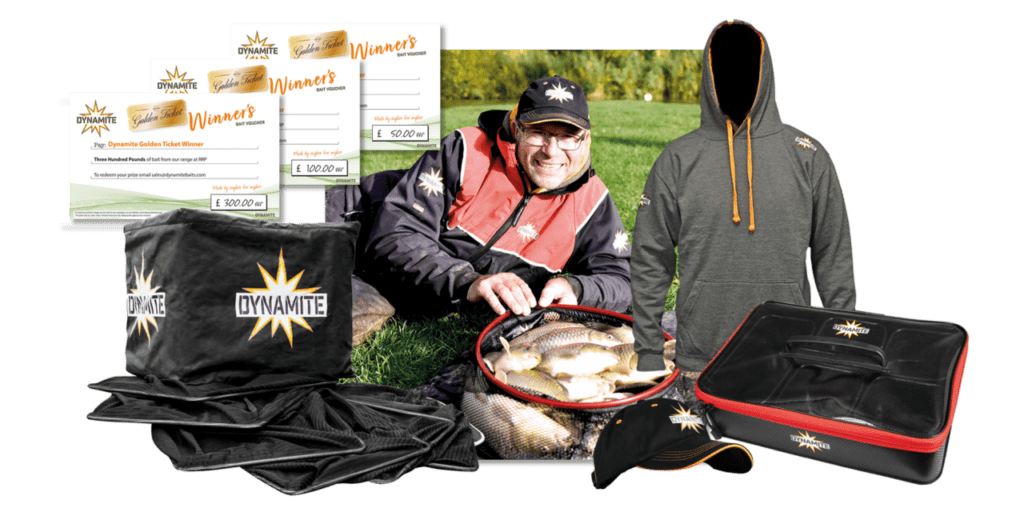 We have placed 10 Golden Tickets into bags of our Big Fish Groundbait range, giving you the opportunity to win some fantastic prizes.
How you can win
An opportunity to win ten prizes, set at four different levels (see details below), during the period of the 3rd May – 31st August 2023. The prizes can be won by purchasing a bag of Dynamite Big Fish Groundbait (list of applicable products below) containing one of the Golden Tickets. Each Golden Ticket will have a specific prize and a unique Golden Ticket code.
The Golden Tickets can be found in 1.8kg bags of the Big Fish Groundbaits listed below –
Sweet Banoffi Method Mix, Chocolate Orange, Sweet Tiger Specimen Feeder, Marine Halibut & Frenzied Hemp, Krill Method Mix, GLM Fishmeal Method Mix, Mega Margin Mix or Explosive Caster Feeder Mix.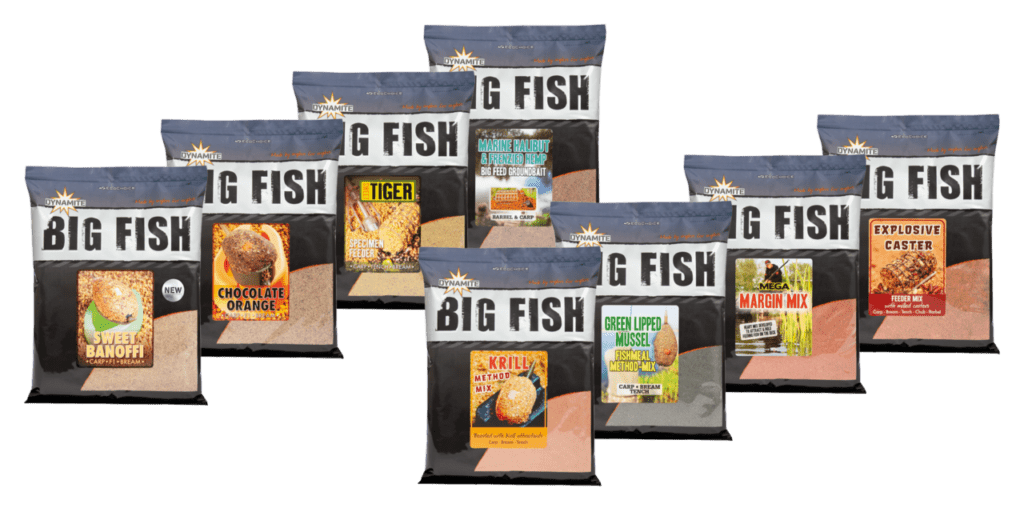 Prizes
1st Prize – 1 x First Prize worth £337.98 (RRP).
The first place prize winner will receive a £300 Dynamite bait voucher (RRP value), Dynamite Charcoal/Orange Hoody RRP 29.99, Dynamite Match Cap £7.99, a Dynamite bait factory visit and a fantastic opportunity of a fishing session with match fishing superstar Nick Speed.
2nd Prize – 2 x Second Prizes worth £204.97 (RRP) each.
Each of the two second place prize winners will receive a £100 Dynamite bait voucher, Dynamite EVA Bait Station worth £49.99, Dynamite Commercial Keepnet 3m worth £46.99 & a Dynamite Match Cap worth £7.99.
3rd Prize – 3 x Third Prizes worth £107.99 (RRP) each.
Each of the three third place prize winners will receive a £100 Dynamite bait voucher and a Dynamite Match Cap worth £7.99.
4th Prize – 4 x Fourth Prizes worth £57.99 (RRP) each.
Each of the fourth place winners will receive a £50 Dynamite bait voucher and a Dynamite Match Cap worth £7.99.
How to claim your prize
Simply complete the entry form below. Claimants must fully complete the mandatory fields of the Entry Form to qualify for entry into the Competition. The unique Golden Ticket number submitted on the Entry Form must be valid and eligible for the entry to be entered into the Competition. If your claim is valid, the Promoter will contact you within 28 days of the Closing Date using the details provided to arrange delivery of the prize (the delivery address must be within Mainland UK and excludes NI).
Terms & conditions
These terms and conditions ("Terms") are the terms and conditions that apply to the "Dynamite Big Fish Groundbait Golden Ticket Competition" ("Competition") as promoted by Rapala VMC UK Ltd (Registered in England number 04338458) whose registered office is at The Development Centre, Fosse Way, Cotgrave, Nottingham, NG12 3HG, UK ("Promoter").
Participation in the Competition constitutes acceptance of the Terms. By entering the Competition all entrants will be deemed to be bound by the Terms.
To enter: Purchase necessary. Those customers that purchase a 1.8kg bag of Dynamite Big Fish Groundbait (SKU'S – DY1479 Sweet Banoffi Method Mix, DY1478 Chocolate Orange, DY1477 Sweet Tiger Specimen Feeder, DY1470 Marine Halibut & Frenzied Hemp, DY1476 Krill Method Mix, DY1471 GLM Fishmeal Method Mix, DY1472 Mega Margin Mix or DY1475 Explosive Caster Feeder Mix). Find a Golden Ticket inside the one of the above listed products. To claim your prize simply complete the above entry form. Customers must fully complete the mandatory fields of the Entry Form to qualify for entry into the Competition. The unique Golden Ticket number submitted on the Entry Form must be valid and eligible for the entry to be entered into the Competition. If your claim is valid, the Promoter will contact you within 28 days of your claim submission, using the details provided to arrange delivery of the prize (the delivery address must be within Mainland UK and excludes NI). Prize claims cannot be made through the post.
The Competition comprises of 10 golden tickets (Golden Tickets) being placed in randomly selected Dynamite Big Fish Groundbaits bags. Each Golden Ticket will include a unique reference number which will be needed to claim the prize.
Competition runs from the 3rd May 2023 until 31st August 2023.
The 1st prize winner will need to travel without assistance to the Dynamite factory and to the pre-arranged fishing session with Nick Speed and at their own risk.
A fishing session with Nick Speed, is approximately 5 hours.
The fishing session with Nick Speed is at Rapala VMC UK Ltd discretion (for the date, time and location).
The Competition is open to residents of Mainland UK (excl NI).
Employees of the Promoter and their immediate families, their affiliated brands and companies or any other persons professionally connected with the Competition or their immediate families are excluded from entering the Competition.
The Competition is only open to people over the age of 18.
The prize is non-transferable and no cash alternative will be offered
In the event of any dispute regarding the conduct of the Competition and all matters relating to the Competition, the decision of the Promoter is final and binding and no correspondence or discussions will be entered into.
Internet access and a valid email address are required.
No entries from agents, third parties, organised groups or entries automatically generated by computer will be accepted.
The Competition is only available through the Rapala VMC UK Ltd official stockists.
All winning claims are subject to a full verification process and the Promoter reserves the right to refuse fulfilment of any prize if there is a suspicion of fraud or if the Promoter has reason to believe any winner has acted improperly or is not eligible. In addition the Promoter reserves the right to disqualify any winner if it has grounds to believe that the entrant has breached any of the Terms.
All winning claims must be received by the Promoter by 11.59pm (GMT) on 31st August 2023 (Closing Date). Failure to claim your prize by the Closing Date will disqualify the winning claim.
When registering to enter the Competition entrants may opt in to receiving marketing material from the Promoter. If the entrant opts in to receiving such material, the entrant consents to their registration details being added to the Promoter's mailing list and they may receive newsletters from the Promoter via email. Entrants can leave the mailing list at any time by following the simple 'unsubscribe' instructions included on the newsletter.
The Promoter reserves the right to amend, extend or terminate the Competition and the Closing Date if it deems appropriate and without notice. The Promoter also reserves the right to amend the Terms at any time.
Only one prize per person.
The names & counties of the winners can be obtained by sending a written request along with a self addressed envelope to: Big Fish groundbait Golden Ticket Competition, Rapala VMC UK Ltd, The development Centre, Fosse Way, Cotgrave, Nottingham, NG12 3HG, UK, within ten weeks of the Closing Date.
The winners of the Competition may be required to participate in publicity and/or promotional activity at no cost to the Promoter.
By entering the Competition the entrant hereby gives the Promoter consent to use his or her name and address for the purposes of the administration of the Competition and in any publicity relating to the Competition.
The prizes consist of: 1st Prize – 1 x 1st Prize worth £337.98 (RRP). The 1st place prize winner will receive a £300 Dynamite bait voucher (RRP value), Dynamite Charcoal/Orange Hoody RRP 29.99, Dynamite Match Cap £7.99, a Dynamite bait factory visit and a fishing session with Nick Speed. 2nd Prize – 2 x 2nd Prizes worth £204.97 (RRP) each. Each of the two 2nd place prize winners will receive a £100 Dynamite bait voucher, Dynamite EVA Bait Station worth £49.99, Dynamite Commercial Keepnet 3m worth £46.99 & a Dynamite Match Cap worth £7.99. 3rd Prize – 3 x 3rd Prizes worth £107.99 (RRP) each. Each of the three 3rd place prize winners will receive a £100 Dynamite bait voucher and a Dynamite Match Cap worth £7.99. 4th Prize – 4 x 4th Prizes worth £57.99 (RRP) each. Each of the four 4th place prize winners will receive a £50 Dynamite bait voucher and a Dynamite Match Cap worth £7.99. The Prizes are non-transferable, unless agreed in writing by the Promoter and no cash alternative is available. The Prizes will only be awarded directly to the Winners and the Promoter reserves the right to substitute the prizes for similar prizes of equal or greater value at any time.
Upon receipt of the Winner's claiming their Prize, the Promoter will make arrangements for the Prize to be delivered. If the Promotor is unable to contact the Winner within 28 days of the first attempt to contact the Winner, the Winner shall forfeit their right to receive the Prize.
Delivery of the Prize is only available if the Winner's address is situated in Mainland UK (excl NI). If the Winner's address is outside Mainland UK, the Winner will be required to collect the Prize, at their own cost, from a location to be agreed in advance with the Promotor.
Late, incomplete or corrupted entries or those not made in accordance with the Terms will be automatically disqualified. No responsibility will be accepted by the Promoter for entries delayed for any reason whatsoever. No responsibility will be accepted by the Promoter for incorrectly completed entries. Incomplete entries will be disqualified.
Personal data provided by entrants will only be used in accordance with the Data Protection Act 2018 ("Act"). For the purposes of the Act, the Data Controller is Rapala VMC UK Ltd. Information provided by entrants will be used for the administration and management of the Prize Draw, including (without limitation) for making arrangements with third parties for the dispatch of the Prize to the Winner (as detailed in clause 20).The first name and home town/county of the Winners will be published on the Promoter's website at https://dynamitebaits.com within 28 days of receipt of the Winner's email claiming the Prize, or as soon as reasonably practicable thereafter. The first name and home town/county of the Winner may also be obtained up to 10 weeks after the Closing Date by sending a request in writing along with a stamped, self-addressed envelope to: Big Fish Groundbait Golden Ticket Competition, Rapala VMC UK Ltd, The development Centre, Fosse Way, Cotgrave, Nottingham, NG12 3HG, UK. By entering the Competition entrants agree to their personal information being used in the way set out in this clause 29. By entering the competition, the Winner also agrees to participate in publicity relating to the Prize Draw at no cost to the Promoter. This may include, but is not limited to, the use of the Winner's name and image in online and offline publicity, communications, and in any other media worldwide. For more information regarding how the Promoter uses and collects information about you, please read our Privacy Policy. For more information regarding your use of the Promoter's website at dynamitebaits.com.
Subject to clause 33, if the Promoter fails to comply with the Terms, the Promoter shall only be liable to the entrant for any losses that she or he suffers as a result of the Promoter's failure to comply (whether arising in contract, tort (including negligence), breach of statutory duty or otherwise) which are a foreseeable consequence of such failure.
Subject to clause 33, the Promoter will not be liable for losses that result from the Promoter's failure to comply with the Terms that fall into the following categories:
loss of income or revenue;
loss of business;
loss of profits;
loss of anticipated savings;
loss of data; or
waste of management or office time.
Nothing in the Terms excludes or limits in any way the Promoter's liability for death or personal injury caused by its negligence or the Promoter's liability for fraud or fraudulent misrepresentation.
By entering the competition entrants hereby warrant that all information submitted by them is true, current and complete and that they are of the appropriate age to enter the Prize Draw. The Promoter reserves the right to request proof as to the eligibility of entrants.
If a court or any other competent authority finds that any of the Terms (or any part of any term) is invalid, illegal or unenforceable, that term or part of that term shall, to the extent required, be deemed deleted, and the validity and enforceability of the other Terms shall not be affected.
The Terms will be governed by the laws of England and Wales and any dispute will be subject to the exclusive jurisdiction of the English courts.